Can green energy cooperatives help solve the UK's energy challenge?

Tuesday, 29 January 2013 from 18:30 to 20:00 (GMT)
Event Details
HUB Eco Series Debate: Can community owned, green energy cooperatives be part of the solution to the UK's energy challenge?
Join us to debate the exciting rising phenomenon of community energy ownership in the UK

In this age of escalating fuel prices and imported gas and oil, could green community energy cooperatives play an important part in achieving a low-carbon, energy independent future for the UK? How realistic is this and what's holding us back in comparison to Scandinavia and Germany, where community energy is a long established, effective part of the energy mix? What's the potential to make this an increasingly urban phenomenon?
Join us to debate this exciting topic and hear from people on the front line of this expanding UK sector, such as Brixton Energy the UK's first urban energy cooperative, Southern Solar leading installers of both solar PV and thermal systems in Southern England, Energise Barnet who facilitate mass take-up of energy saving measures and renewables in London's largest borough, and Carbon Leapfrog, a business-led charity that accelerates the delivery of low carbon projects through the input of donated time from leading services professionals.
Everyone is invited to join us for some networking after the event at the HUB (which will kindly remain open until 20.45) after when we will move on to a nearby bar.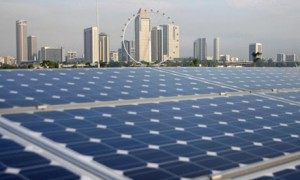 Guest speakers:


Nigel Farren, Founder of Energise Barnet CIC
Nigel has 35 years' experience in finance, property and communications. He is member of the 'Community Energy Contact Group' convened by Energy Minister Greg Barker to help DECC formulate policy on the role of communities in delivering the green energy agenda and on the management committee of the Low Carbon Communities Network. In 2011, he founded Energise Barnet with the aim of  facilitating mass take-up of energy saving measures and renewables in order to deliver social, economic and environmental benefit.
Clare Hierons, CEO of Carbon Leapforg
Clare's experience within the climate change sector primarily derives from over five years with the Carbon Trust. In this time she worked with organisations in the public and private sector to develop their carbon reduction strategies and, as Head of Partnerships for the Trust, led projects across a whole range of sectors and topics. This not only gave Clare the broadest possible understanding of the barriers and opportunities that exist in implementing low carbon projects but has ignited in her a true passion to actively support their successful delivery. Prior to the Carbon Trust, Clare spent time as a change management consultant supporting projects in the financial services and utilities sectors and has worked as a senior operational manager in areas as diverse as business process outsourcing, media and manufacturing. Clare started her career as an engineer with a degree from Brunel University and has an MBA from Cranfield School of Management as well holding qualifications in project management, training & development and executive coaching.

Howard Johns, Founder of Southern Solar and OVESCo

Howard is the founder of Southern Solar Ltd, and has been installing small scale renewable energy systems for over ten years.  After completing a degree in Environmental Technology, Howard retrained as a plumber to enable him to install solar energy systems. After a few years of working in the sector, he set up Southern Solar Ltd which now has a team of over 90 people operating from seven locations across the south. Southern Solar installs both solar PV and thermal systems for a range of clients and on a range of scales, and are recognised leaders in the sector. In 2007, Howard also played a pivotal role in setting up OVESCo, a pioneering local energy co-op project in his home town of Lewes. OVESCo successfully built one of the country's first community owned PV power stations in 2011, installing 100kW on the roof of the local brewery "Harveys"
Agamemnon Otero, Director of Brixton Energy
Aga is experienced in providing finance solutions for the energy sector including business development, management, and operations. He is a founding member of Repower South London, and a Director & Project Manager for Brixton Energy Solar 1 co-operative. He has previously been Director of Renewable Energy Project Finance and Social Responsibility at Better World Finance and the CFO of Energy Bank Ltd. A community activist and speaker on sustainable low carbon economies, Agamemnon has a Master's degree in Architecture in Advanced Environment & Energy and a Baccalaureate in Pre-medicine, Literature and Fine Arts.

Organisers:
Contact the HUB Eco Series Coordinators, Kirstie Wielandt & Anders Lorenzen, via hubecoseries@gmail.com with any questions. Email them direct to subscribe to updates about this and future HUB Eco Series events.

Location:
HUB Islington - just behind Angel tube which is served by the Northern Line and numerous buses.

The HUB Eco Series:
The HUB is a global movement of 4,000 social entrepreneurs and innovative start-ups based in 30 co-working spaces across the world. This event is kindly being hosted by HUB Islington, the original Hub in a converted warehouse in Angel where it all began. This is the first HUB 'Eco Series' talk; an event series with the intention of creating a positive debate around the key national and international environmental issues of our time.
Media partners:
New Start magazine are kindly media partnering with us for the event series.

******
Brixton Energy:
The UK's first urban energy cooperative. Following a model that has been successfully used elsewhere in the UK, Brixton Energy Solar 1 & 2 have been established as co-operative societies.Co-operatives are not-for-profit organisations that are jointly owned and operated by a group of people for their mutual benefit. They are democratic enterprises, operating with a one member, one vote policy. This means, for instance, that the members of the Co-operative will decide collectively who will serve on the Board of Directors and how to divide and distribute the income generated from the project. Brixton Energy Solar 1 & 2 are social enterprises which seek to achieve real social and environmental outcomes.
Carbon Leapfrog:
Carbon Leapfrog ('Leapfrog') is a business-led charity that accelerates the delivery of low carbon projects through the carefully managed input of donated time from leading services professionals. We support projects that make a real, tangible and measurable difference, ranging from community energy efficiency, renewable energy generation, microgrid deployment and behavioural change initiatives to international development and support for social entrepreneurs. We have become the 'go to' source of advice and support for community groups and social entrepreneurs and have developed an incredible network of corporate supporters. From top legal firms to leading financial institutions, accountancy firms, environmental consultancies and international engineering firms, the Leapfrog network represents a powerful combination of like-minded individuals.
Energise Barnet CIC:
Energise Barnet is a community-led project to increase the energy efficiency of homes and buildings,  reduce fuel poverty and make renewable energy more affordable in London's largest borough.  Energise Barnet CIC is a social enterprise, has been established to deliver the project, not a commercial organisation. Any surplus income from the project is used to alleviate fuel poverty. Serving as a trusted intermediary, they help local homeowners, businesses and other property owners install energy / water saving measures and renewable energy systems that help them save and make energy and money.
Southern Solar:
Established in 2002, Southern Solar are specialists in the design, installation and maintenance of Solar Thermal and Solar Electrical systems for commercial, public sector and domestic clients across the south of the UK. Currently with six regional bases in Sussex, London, Bristol, Oxford, Winchester and South Wales, their regional teams survey, specify, install and maintain solar systems within a 100 mile radius of each base.
When & Where

Hub Islington
5 Torrens St
EC1V 1NQ London
United Kingdom


Tuesday, 29 January 2013 from 18:30 to 20:00 (GMT)
Add to my calendar
Organiser
Impact Hub Islington is an open community of purpose-driven entrepreneurs, creatives, doers and dreamers, powered by a shared workspace and learning environment. We are part of a global network of over 15,000 passionate individuals and organisations in more than 100 cities around the world.