About this Event
Fashionistas who are interested in fashion design and creating some amazing designs we're holding a intro to fashion workshop Masterclass making a basic block to create your designs. You will learn how to manipulate a dart, dart supression, how to make a toille, pleats and how to transfer to a basic pattern to start creating your designs. Hosted by experienced pattern cutter Jeff Best who has over 50 years experience in the fashion & clothing trade.
We are also hosting a session for those who wish to model their designs and initial fashion makeover for the day for those aged 16-25.
Networking opportunities and matching the first 20 young people aged 16-25 with industry professionals to mentor them through the next step of the programme.
Light refreshments provided. This is a free event however RSVP is appreciated as places full up quite quickly and are therefore limited .
Please whatsapp for further details to : Creative Genies /07908097202
Alternatively log on to the website: creativegenies.org or Twitter @geniescreative.
Intro into the Fashion Pattern Cutting Masterclass with Jeff Best...The absolute best, with
over 50 years experience in the fashion & clothing business and who knows his stuff! If Jeff Best doesn't know it, it's not worth knowing...
RSVP to the first 20 people as places are limited!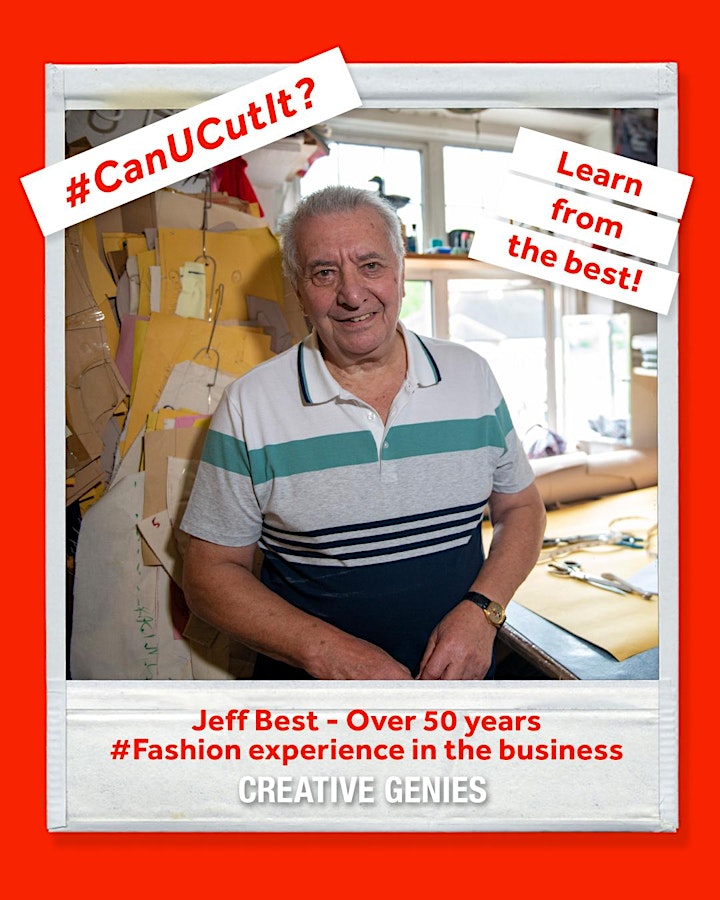 Jeff Best, has had extensive knowledge in the fashion & clothing trade, If Jeff Best doesn't know it; then it's not worth knowing! He'll be taking you through the steps of how to manipulate a dart, make a pleat, dart supression, how to check measurements, and start you off making your basic block from which you can make all other garments, and I mean anything