FluoretiQ start this virtual Tekki Brekki with a deep dive into the possibilities of diagnostics, followed by a brief Q&A session
About this event
Join us for our second virtual Tekki Brekki morning. FluoretiQ CEO and Co-founder Neciah Dohr and product manager James Preece will explore the question "Can we achieve effective antibiotic stewardship without rapid diagnostics?"
FluoretiQ
REVOLUTIONISING BACTERIAL DIAGNOSTICS
FluoretiQ Limited (FQ) was founded to solve the £1.1 Bn problem of using broad spectrum antibiotics as an alternative for accurate diagnosis of infection. They have developed NANOPLEX™ technology to ensure that Primary Healthcare professionals can prescribe the most effective antibiotic treatment from day one
Learn more about FluoretiQ at www.fluoretiq.com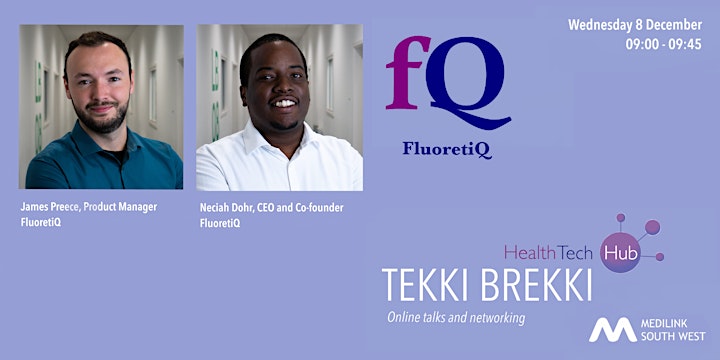 Neciah Dohr / CEO and Co-founder
Neciah leads FluoretiQ's vision to safeguard antibiotic use with rapid bacterial diagnostics. Since co-founding the company in 2017, he has attracted grant and investment funding opportunities and forged long-term strategic partnerships to ensure patients receive the most effective antibiotic first time; Saving Time, Saving Money and most importantly Saving Lives.
James Preece / Product Manager
James is responsible for understanding global healthcare markets to inform FluoretiQ's business development, commercialisation and tactical marketing strategies. He is able to translate his experience within SME, consultancy and drug discovery environments to ensure NANOPLEX™ is part of the solution to tackling Antimicrobial Resistance.
Organiser of "Can we achieve Antibiotic Stewardship without rapid diagnostics?"