Description
CLIMATE CHANGE IS HAPPENING NOW!
In the last years, global environmental problems have attracted ever more attention and public debate, leading to demonstrations around the globe, including the recent School Global Strike in March 15th 2019.
But, what do we really know about climate change? Which statistics can we believe? And what can we do in our everyday life to help tackle the problem?
InterSci is delighted to host an event to help us understand the challenges of climate change and answer all your questions about it.
We are going to screen National Geographic's "Before the Flood": a critically acclaimed 2016 documentary produced by Martin Scorsese. It features Leonardo DiCaprio on a journey around the world as a United Nations Messenger of Peace, travelling to witness the dramatic impact of climate change and discuss the problems with scientists and politicians.
After the screening, a group of three specialists in different fields (Sustainable development, Biodiversity and Engineering) will present their work and lead an interactive Q&A discussion with the audience.
Speakers will answer your questions about the threat of climate change and give advice on daily best practices to protect the environment.
Venue: Edinburgh centre for carbon innovation
Door open 18:15
Film screening starts at 18:30 *Popcorn will be provided*
20:15 panel discussion
You are welcome to continue your discussions over a drink at OX184, InterSci has reserved a space from 9pm.
We are delighted to announce our sponsors for this Mondays climate change event, IntelliDigest Ltd
If you have 2 minutes please follow this link to complete a quick survey from our event sponsor: http://ow.ly/wcCa50suTBo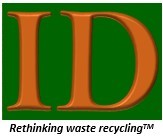 This event is FREE - Please register for a ticket through Eventbrite as we have a limited capacity. If you arrive after 18:30 we cannot guarantee your space.
If you would like to attend only the panel discussion please arrive for 20:15 and DO NOT register for a ticket - priority is given to those attending both film and Q&A.