CANCELLED 2-4pm Sunday Hammock Sessions: Sleep Lab & Sound Journey Meditati...
Description

PLEASE NOTE THAT DUE TO COVID-19 THIS EVENT HAS BEEN CANCELLED UNTIL FURTHER NOTICE.
---
OUR ONLINE EVENTS SCHEDULE (for your information)
Please click on the links to find out more about each activity and to register.
DAILY:
11am - 12pm Shaking Medicine
2pm - 3.30pm Yoga Nidra Meditation
4pm - 5.30pm Active Meditations
8pm - 10pm Ecstatic Dance & Live Music Sound Journey
MONDAYS & FRIDAYS:
6pm - 7pm Bioenergetic Alchemy
---
Sunday Hammock Sessions: Sleep Lab & Sound Journey Meditation
An Electronic Music Sonic Meditation featuring our Aerial Relaxation Pods™
A Sunday Afternoon Chill-out Aerial Relaxation event with Live Ambient & Electronic Music!
Join us for an Experiential and Immersive Multi-Sensory Sonic Journey on Sundays, in Hammocks, and in a Beautiful Church!
*Our youtube video to give you a taste of the experience!
When: Sundays 2-4pm (Please book the date you would like to attend)
Two sessions to choose from: 2-4pm or 4:15-6:15pm
(for the 4.15pm session please click here)

Where: Venue is 2 minutes walk from St. Pauls station. You will receive full address in booking confirmation email!
What: 1) A Multi-Sensory Aerial Relaxation Experience, 2) in Hammocks, 3) on Sundays, and 4) in a Beautiful Church!
Cost: £25 Earlybird / £35 Regular price
Online bookings only, as we have very limited spaces!
---
This is an immersive relaxation experience that includes Guided Meditations, Electronic and Acoustic Ambient Soundscapes, Aromatherapy, and featuring our Aerial Relaxation Pods™!
It's is a unique immersive performance, aiming to reconnect us to experience our relaxed nature.
Join Musicians and Soundscape artists Diana Upite and Seth Newman as they guide you to explore their Anti-Gravity Aerial Relaxation Pods™, Sonic Soundscapes, Breathwork and Deep Relaxation.
They have been running Thursday evening Aerial Relaxation Pods™ for a few years now but many people have requested a weekend session.
Here is the video of their Thursday evening sessions: https://www.youtube.com/watch?v=yxlR9u44llw

"Creating an Oasis of Calm in Our Busy Lives"
The perfect Sunday plan, walk down the South Bank, have a delicious brunch in one of the many restaurants, then come and dive into one of our Sunday Hammock Session events.
Feel calm, rejuvenated and restored!
Join us on Sunday afternoon for this very special multi-sensory, Immersive Chill out laboratory! (Just 5 minutes from St Pauls Cathedral and a 15-minute walk from the South Bank over the Millenium bridge.) Full Venue details given after booking!
Held in a beautiful Church space with amazing acoustics join us for this Multi-Sensory Relaxation Experience!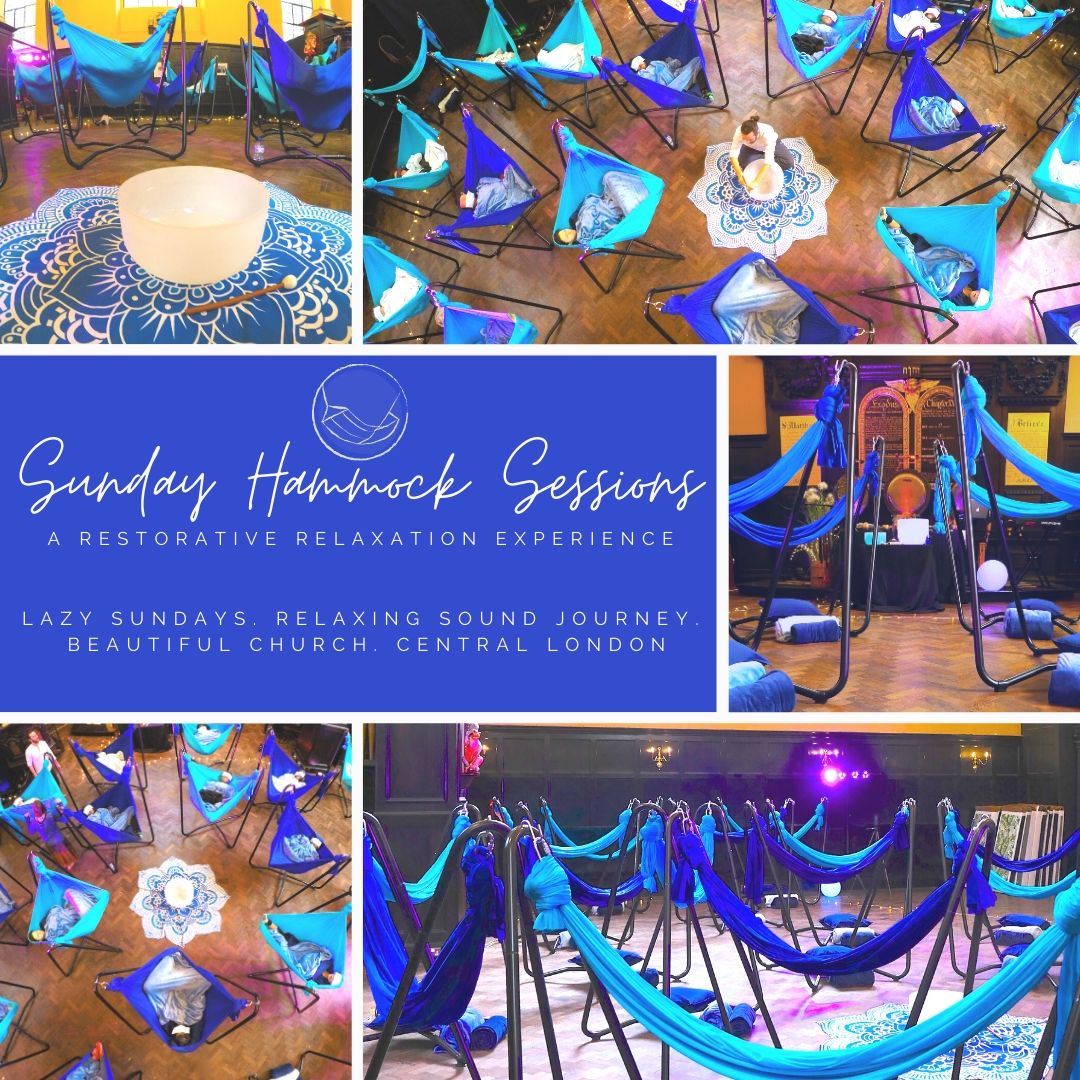 1) Cosmic, Ethereal Electronic Sounds, and Textures, Crystal Singing Bowls and Gongs
2) Beautiful Aromatherapy Scents and of course
3) Our gorgeous Aerial Relaxation Pods™. the whole experience inviting your body and nervous system into a deeply relaxed state!
Why Hammocks? Repetitive motions, like those experienced in the gentle rocking of a hammock, can soothe anxiety. Dr. Herbert Benson, founder of Harvard's Mind/Body Medical Institute, recommends repetitive movement to elicit your body's relaxation response. This reaction allows a lower heart rate, blood pressure, and muscle tension.
---
SUNDAY HAMMOCK SESSIONS: Ambient Dreams
a Deep-Listening Sonic Meditation with live Ambient & Electronic Music & featuring our Aerial Relaxation Hammocks!

"A Multi-Sensory, Immersive Chill out laboratory!"
"Cosmic, Ethereal, Evocative Soundscapes and Textures"

Our Electronic Music Sonic Meditations invite listening as a fully embodied activity —an invitation to attend wholeheartedly to sounds and to the world. They are essentially Listening experiments...

Considered as a healing practice by many, our aerial relaxation sound healing and sound journey events are an act of tuning our minds, body and nervous systems to a creative flow state; a deeply positive relaxed state of feeling good.
Our Sunday Hammock Sessions are a unique offering in the world of sound journeys. We hope you can join us!

---
We are also running a monthly 3-hour SYSTEM RESET workshop featuring Bioenergetics Breathwork & Aerial Relaxation Pods.
More information can be found here: https://www.eventbrite.co.uk/e/system-reset-bioenergetics-breathwork-aerial-relaxation-pods-tickets-84730411943

---

Please note:
1) Strictly no latecomers! - Sorry, please arrive on time! Unfortunately, if you are more than 10 minutes late, you will not be allowed entry, (and there can be no refunds if you are more than 10 minutes late, very sorry!) as we need to make it calm & peaceful space for people who are already here.
2) Please ONLY ARRIVE 5 minutes BEFORE the start of the session, as there is no waiting room.
3) No refunds are available as we need to have enough time to fill the space left.

Clothing
- Please wear a sleeved shirt that covers the armpits and leggings or yoga trousers that cover your knees.
- Wear form-fitting clothing. Please do not wear baggy clothing as they can snag and catch on the sling's fabric causing accidents.
- Ensure that your clothing is "zipper free" and remove all jewelry (body piercings, watches and hair clips. These items can snag and damage the silk hammocks.

Private & Corporate events - Why not book us and we will come to you!
For more information please contact Seth & Dee on: urubu@mail.com
"A Unique Experience!"
Our Electronic Music Sonic Meditations are a unique offering in the world of sound journeys. Hearing and feeling the vibration of these sounds is a powerful method for reducing stress.
During these Sunday Hammock Sessions: Musicians, Diana Upite and Seth Newman will create an ocean of sound that is profoundly relaxing; inviting a state which activates the parasympathetic nervous system to balance the over-amped, over-taxed sympathetic nervous system.
"Our sounds will gently reverberate over, around and through your entire body-mind to calm, relax and soothe." - Dee
Typically, in our sessions, the listener's heart rate slows, blood pressure drops and breath is restored to its natural rhythm. The sounds induce a holistic resonance in the body and a spontaneous meditative state in the mind, resulting in a sense of expanded awareness and wholeness.
FOLLOW US ON INSTAGRAM (and use #aerialrelaxationpods)
---
Aerial Relaxation Pods™ - Lift Your Spirit
London's first multi-sensory, aerial relaxation experience with live ambient music, aromatherapy and featuring our silky Aerial Hammocks.
---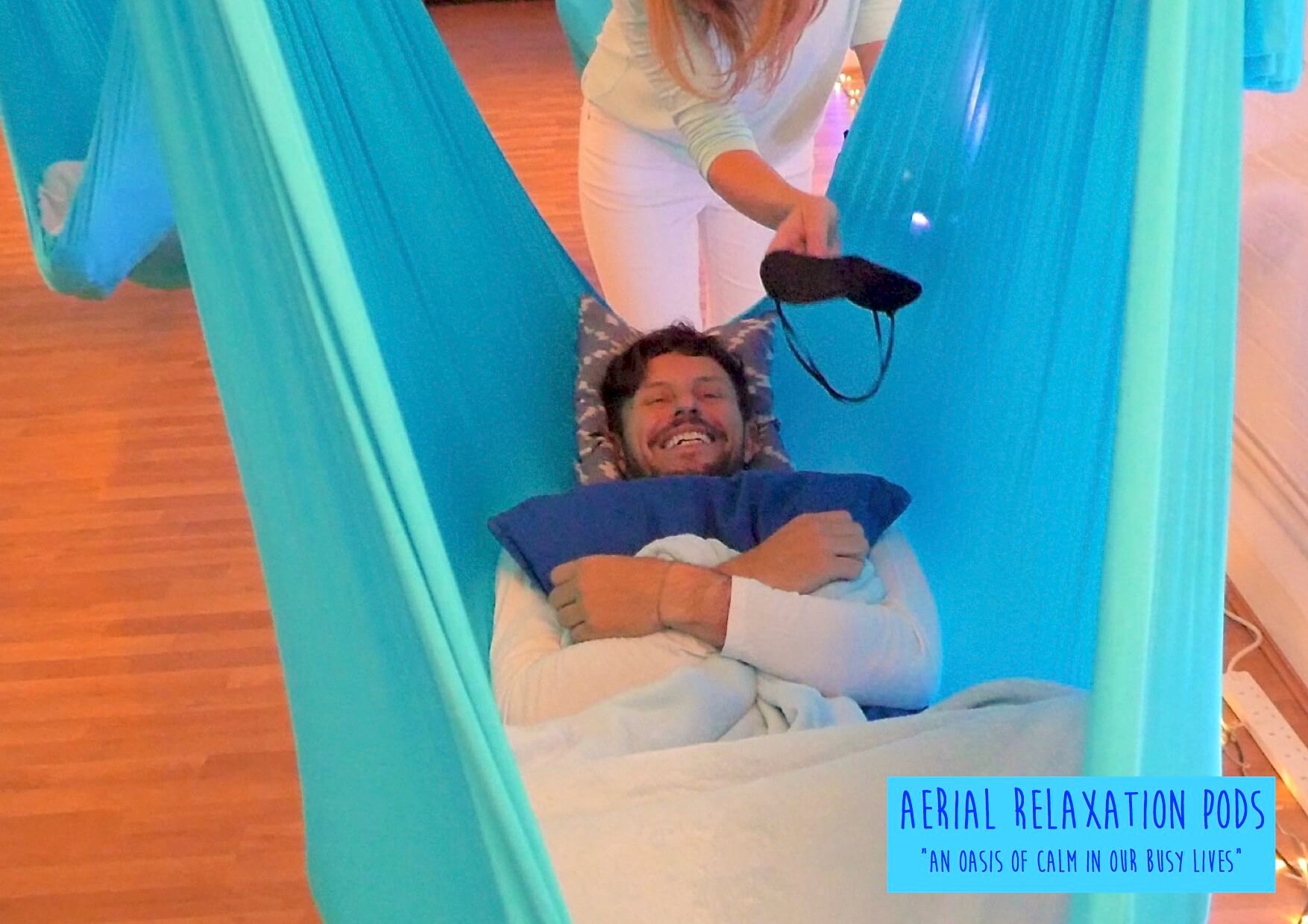 ---
Rock-abye-Baby
Research provides insight into why rocking is calming to babies. The brain wave synchronization occurs much easier through a rocking motion and allows the baby to feel more at home (i.e. it feels closer to being in the womb).
The gentle rocking of a hammock will boost brain wave oscillations associated with better sleep and has been shown to provide a fertile ground for deep relaxation. More specifically, the rocking fortifies the brain waves that are naturally present during sleep which help maintain deep relaxation.
Seth Newman, from Bioenergetic Alchemy, says: "Our pods are here to help Londoners relax. As a former teacher myself, I am fully aware just how busy and stressed a lot of people are. And most of us just don't find the time to unwind. Our Aerial Relaxation Pods are going to help you alleviate stress, providing time & space to allow your body to deeply rest, harmonising your nervous system. You'll feel rejuvenated and refreshed after one session."
We all instinctively know about the power of a soothing, repetitive rocking motion and this in combination with live ambient soundscapes, colour therapy and aromatherapy is a potent synthesis for deep relaxation.
Aerial Relaxation Pods™ - featuring Live ambient music and nurturing electronica to soothe your stresses away!
"Words are inadequate to express the uniquely nurturing experience I had during your Aerial Relaxation Pod class and the music was amazing! The feeling of being securely wrapped in a silk hammock from head to toe, suspended in the air, slowly rocking, with the crystal bowls and ambient music created a sublime and profound atmosphere. It was as if I was in a cocoon of total support, allowing peace to flow into my entire being." - Alison
---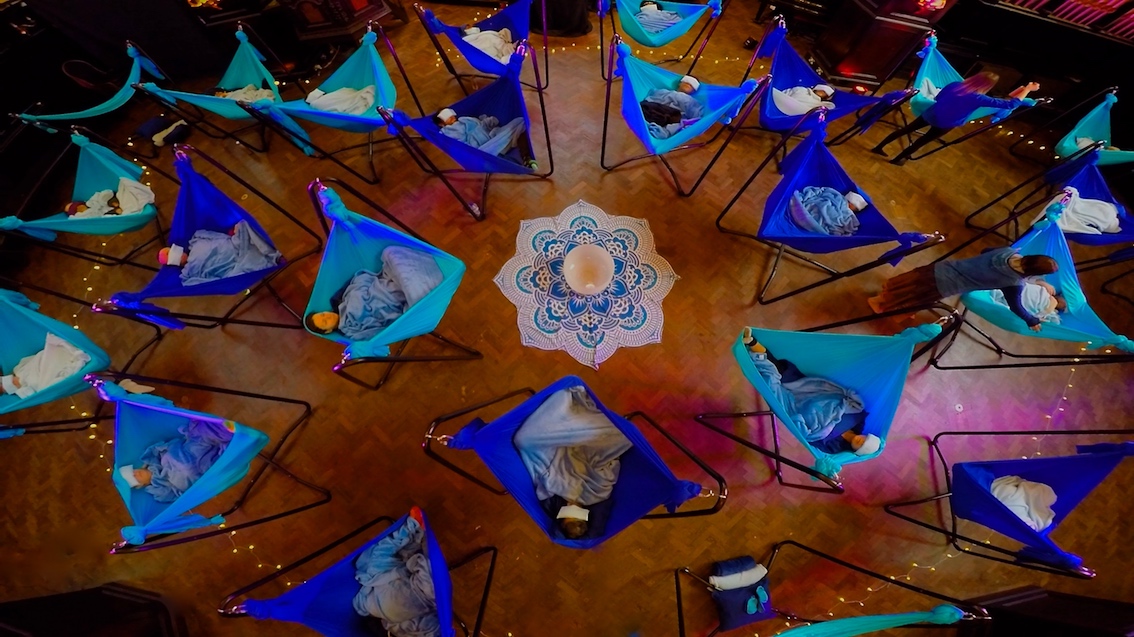 Date and Time
Location
Sunday Hammock Sessions
2 minutes from St Paul's Station
London
EC2V 7BX
United Kingdom
Refund Policy