Description
Unfortunately it has been necessary to cancel this event. If you purchased a ticket via Eventbrite, your refund has been issued. If you paid in the shop, please call us on 01223 463200 or pop in to arrange this.
At 6.30pm on Monday 4th June, join acclaimed author and historian Alison Weir for an illustrated talk on Jane Seymour: The Haunted Queen - the third novel in her epic Six Tudor Queens series.

In this sparkling novel, acclaimed, bestselling historian Alison Weir draws on new research for her compelling portrait of Jane Seymour, the third of Henry VIII's queens, casting fresh light on both traditional and modern perceptions of her. A young woman of courage and compassion, come from a family tainted by scandal, Jane was driven by the strength of her faith, and a belief that she might do some good in a wicked world. All will be well if she can give the King what he wants.
Bringing new insight to this compelling story, Alison Weir marries meticulous research with gripping historical fiction to re-create the dramas and intrigues of the most renowned court in English history.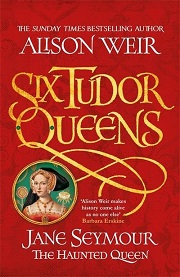 Alison Weir is the top-selling female historian (and the fifth bestselling historian overall) in the United Kingdom, and has sold over 2.7 million books worldwide. She is an Honorary Life Patron of Historic Royal Palaces. The Six Tudor Queens series of novels about the wives of Henry VIII began with Sunday Times bestsellers Katherine of Aragon: The True Queen and Anne Boleyn: A King's Obsession.
Alison's books will be available to purchase at the event, with Jane Seymour: The Haunted Queen at a special discounted price. She will be signing copies after the talk.

Tickets for the event are priced at £8 in advance (£10 on the door) and can be purchased through this page, by calling 01223 463200 or in person at Heffers bookshop.

Please note that tickets are transferable but not refundable. The event will take place at the Wesley Methodist Church in Cambridge. Click here to see a map.

If you are unable to attend but would like to request a signed copy of Jane Seymour: The Haunted Queen, please send an email via the contact button on this page.
Like this? See a full list of our events here.