Sales Have Ended
Registrations are closed
Sorry this event is now fully booked. However, it is worth putting your name and contact details on the Waiting List. As the system does not let us capture how many places you would like please e-mail us at swbookings@rspb.org.uk and let us know. Please also let us know if you could attend with short notice (ie if we get a cancellation how much notice would you need?)
Sales Have Ended
Registrations are closed
Sorry this event is now fully booked. However, it is worth putting your name and contact details on the Waiting List. As the system does not let us capture how many places you would like please e-mail us at swbookings@rspb.org.uk and let us know. Please also let us know if you could attend with short notice (ie if we get a cancellation how much notice would you need?)
Description
We do apologise - due to unforeseen circumstances we have had to cancel this Saturday's walk (18 August) from Darts Farm to our Bowling Green hid. This was the last of this season's walks
Join us on a Saturday for an enjoyable stroll to find out more - not only about the birds and diverse wildlife that lives here but also why the Exe and these reserves are so important for the resident wildlife and visiting waders.
Meet us upstairs at the RSPB Shop, Darts Farm, Topsham to join our expert naturalist for a gentle stroll over the boardwalk and through our Goosemoor nature reserve to our revamped Bowling Green hide. (This part of the walk takes approximately 20 minutes.) If time permits, there will be an optional visit to the Viewing Platform overlooking the Clyst.
You are then welcome to continue on to the Goatwalk and Topsham High Street, go back to the hide or to return to Darts Farm with Tony, our guide. These walks co-incide with hight tide and will last approximately 1 - 1.5 hours.
Something for everyone - from the absolute beginner to the more advanced.
What birds are you likely to see?
Summer (June-August)
Look for black-tailed godwits returning from Iceland, many still in their rich, ruddy breeding plumage. Early migrants such as ringed plovers, little stints, ruffs and sandpipers may be seen as they start to head south on migration.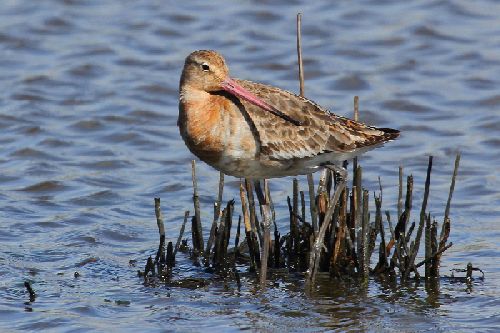 Autumn (September-November)
The marsh comes alive with flocks of redshanks, greenshanks and dunlins, together with hundreds of curlews, as they all gather for the high tide roost. Look out for passing ospreys fishing in the upper estuary, or even perched up on posts and trees. As the season goes on, Avocets start to arrive on winter migration, with numbers building up slowly from a few birds to several hundred birds come winter.
Our guided walks help you to discover and explore more - whether you are local or on holiday.
Booking essential
Adult RSPB member free; adult non-member £4 (payable on the day); child £1 (payable on the day)
When booking please provide a valid phone number and e-mail as your booking confirmation will be sent via e-mail. We need a valid phone number (landline and mobile) in case we need to get hold of you urgently to update you with changes/cancellation. Thank you for your co-operation
IMPORTANT: We respect your privacy and will not sell your personal data to any third party.
Any personal data you provide here is collected and used only for the purposes of booking this event. Your details will only be used by this event's RSPB co-ordinator and will not be shared with anyone else.
Images: Shelduck and black-tailed godwit by Nick Stacey