About this Event
Following the latest government advice on social distancing to tackle the coronavirus pandemic, we have decided to cancel Birmingham Coffee & Natter for March 2020. The safety and wellbeing of our community is of topmost priority and we would not wish to risk jeopardising the health of our attendees or our team by running the event.
Join us on the last Friday of each month at NatWest Birmingham for Coffee & Natter, free business networking from Pathway2Grow. Attendees are invited to network over complimentary drinks and snacks before a high-quality presentation from a monthly Guest Speaker presenting on a topic of interest to any business owner, freelancer or entrepreneur. Delegates are encouraged to introduce themselves to the group via a 60-second pitch (however there is absolutely no pressure to do so). 1:30pm to 3:00pm is the formal part of the event with open networking before and afterward to give those who need to leave for the school run or other meetings the opportunity to take part.

Agenda for Friday 27th March 2020 will be:
13:00 – 13:30 Registration & Open Networking
13:30 – 14:00 Welcome & Delegate Introductions
14:00 – 14:40 Guest Speaker
14:40 - 15:30 More open networking


About Pathway2Grow
Founded in 2012, Pathway2Grow is a networking organisation that hosts 100+ events across the Midlands annually. We provide an informal environment for delegates to expand their professional network, gain knowledge and grow their business. Our events are all ran by independent business owners who host regular networking events as a means of building a community around their business and positioning themselves as leaders in their local area. If you would be interested in running an event with Pathway2Grow please send an email to: kasim.choudhry@pathwaygroup.co.uk
We believe in building an online and offline community and there are plenty of ongoing opportunities to converse and share with a Facebook Group, WhatsApp group (send a message to 07583 044 624 to join) as well as our monthly meets.
So come and join us to Network, Learn & Grow!
Kind Regards
Simone Bell - Regional Director, Pathway2Grow (@simone_s_bell)
#Pathway2Grow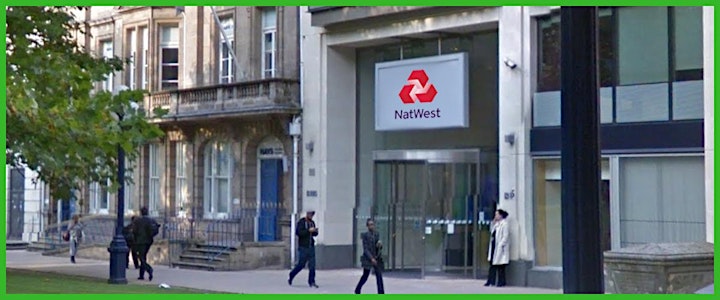 How to find us:
Join us in the NatWest building (Formerly the RBS building) just round the corner from the main NatWest branch in St Philip's Place.