CANCELLED DUE TO ILL HEALTH - Autumn Fireside Sing & Fundraiser
CANCELLED DUE TO ILL HEALTH - Join us for a family-friendly Autumn Fireside Sing AND raise money for vital refugee services.
About this event
SINCERE APOLOGIES - CANCELLED DUE TO ILL HEALTH
How much do you LOVE this crisp, autumn air and sunshine?
Now imagine now being surrounded by nature 🌲 all wrapped up and cosy by a bonfire 🔥 toasting a marshmallow and enjoying a coffee with your friends and family... And then you are invited to sing some gorgeous, uplifting songs 🎶 which make you smile and feel even more amazing...🥰
Join us this Saturday 9th October at Explorers Forest School in Wylam for family-friendly fireside sing.
The details:
Saturday 9th October.
2pm - 4pm.
£11.50 per ticket (inc. service fee) & Under 12's are free.
First hot drink and marshmallow for toasting included.
Payment in advance.
DDA venue.
Outdoors event - Weather appropriate clothing required.
Tell me more about the singing bit...
We'll sing simple, beautiful songs in our natural voice and create soothing harmonies.
You don't need to have singing experience or be able to read music as we'll learn everything by ear.
Some songs you'll probably know, like a David Bowie mash up, and some songs will be new to you. We'll absolutely singing a song about fire!
Who are you fundraising for?
We are fundraising in aid of West End Refugee Service Charity No: 1077601. WERS are a really active and impactful service which supports refugees in the North East.
Please note...
The event is organised and led by Singing Mamas Choir CIC (Northumberland) and hosted by Explorers Forest School in Wylam, Northumberland.
Find out more about...
Singing Mamas Choir CIC (Northumberland)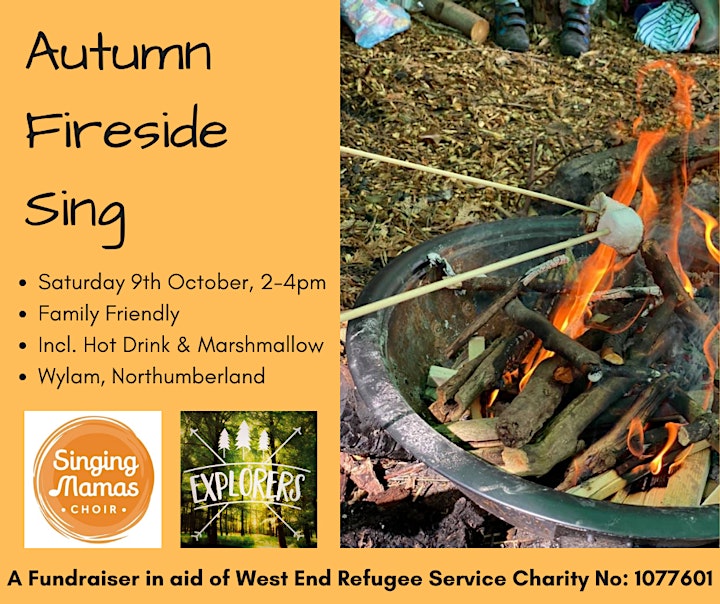 Organiser of CANCELLED DUE TO ILL HEALTH - Autumn Fireside Sing & Fundraiser