Cancelled. Exodus Gods and Kings Movie Breakdown Part 2/2

Friday, September 23, 2016 from 6:30 PM to 9:30 PM (BST)
Event Details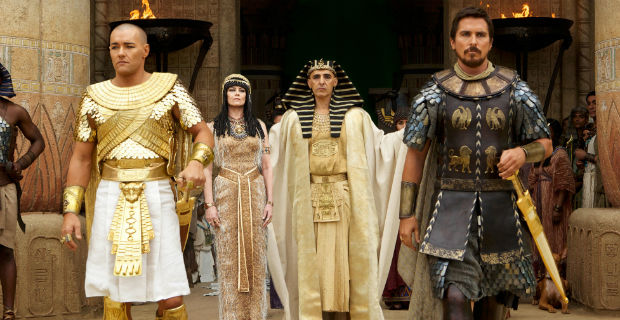 Apologies, this event is now cancelled as of 14.9.2016 8pm due to a change in policy of the venue management.  We will arrange another event as soon as possible 
Many people are upset by the all white casting of films set in ancient Africa. They  are  less able to explain the extensive and insidious mis-representation of African culture; history, architecture and art which occur in every frame of those  movies. This is just as damaging but often goes unnoticed. It  affects people who have'nt even seen the movie due to the massive promotional advertising that comes with such films, the brainwashing continues indirectly and subconsciously.
In this double blockbuster movie breakdown spread over 16th and 23rd September we will cover: 
Scene by scene comparisons of Gods and Kings and actual African history with dates and comparative European history

The actual African identity of Gods and Pharoahs in the film

The Hollywood perversion of Kemetic Spirituality

The people behind this film, similar films and reasons for  the whitewash 

12 Hollywood movies where the stars were supposed to have been Black but were changed to white

The Black Lives matter  and the White Supremacy/Saviour connection

Psychological warfare: reasons, examples and effects

Product placement and 'Race' placement

Did slavery build the pyramids, who were the Hebrews ?

Racist Hollywood Studio conspiracies with proof

 

The Indian who became white to portray an African

10 Hollywood historical movies you thought were true but were total lies  

How we can use such films to our advantage: flipping the script and un-brainwashing

Where and how to get accurate information on African history

Black people in Fantasy/Science Fiction Season ?  Where to get those images and stories

We will also be eviscerating the  more recent movie,  Gods  of Egypt, A movie so racist that the directors and studio apologised for it when it came out ! This presentation will be jointly delivered by Brother Andrew Muhammad and Tony Warner who in 2013 teamed up to present the  X Men and Superman movie breakdowns.
This event will start at 6.30pm Latecomers may not get a seat. Bring pen and pad and be on time! £8.00 entry book early !

About the Breakdowns: 

Since 1994 Andrew Muhammad has been conducting Hstory Tours nationwide and internationally to Kemet (Egypt), Tunisia, Ireland and Spain. Andrew Muhammad has also designed what is widely known as the 'Hidden Truth Movie Breakdown'. This delivery is based on the Chinese proverb that a picture paints a thousand words.

The movie industry has perfected the art of using signs and symbols to convey many hidden truths to a very unsuspecting and susceptible audience. This type of communication was first invented in Kemet (Egypt) and was used throughout their society. Many Hollywood blockbuster films and cartoons such as The Matrix and Lion King contain secrets that will amaze the viewers.

More info on Andrew Muhammad here http://www.theinvestigator.org.uk/about.html


A www.blackhistorywalks.co.uk production
When & Where

Karibu Education Centre
7 Gresham Road
SW9 7PH London Borough of Lambeth
United Kingdom


Friday, September 23, 2016 from 6:30 PM to 9:30 PM (BST)
Add to my calendar
Organizer
__
Black History Walks offers guided Walking Tours of London to include its African history which goes back 3500 years. Walks take place in St Pauls/Bank, Docklands, Soho, Trafalgar Square, Elephant & Castle and Notting Hill.
We also offer films, talks and workshops on a variety of related topics every month all year long to complement the walks. The talks are interactive multi-media presentations designed to suit, schools, colleges, universities, tourists, staff associations, community groups and public events. We arrange public filmshows on history and current afairs in venues all over the country. We provide teacher and parent training, inset days and run long and short term interventions in primary/secondary schools, with classes or individual pupils. Check out the website and join our mail list for details of more events. www.blackhistorywalks.co.uk

Cancelled. Exodus Gods and Kings Movie Breakdown Part 2/2