Description
Unfortunately it has been necessary to cancel this event.
John Julius Norwich (at 88) has finally written the book he always wanted to write, the extremely colourful story of the country he loves best - France: A History from Gaul to De Gaulle. On 30th May, Heffers is thrilled to welcome this celebrated author to Cambridge for a witty romp through 2000 years of French history.

'This book is written in the belief that the average English-speaking man or woman has remarkably little knowledge of French history. We may know a bit about Napoleon or Joan of Arc or Louis XIV, but for most of us that's about it…So here is my attempt to fill in the blanks.'
From frowning Roman generals and belligerent Gallic chieftains, to Charlemagne through Marie Antoinette and the storming of the Bastille to Vichy, the Resistance and beyond, France is packed with heroes and villains, adventures and battles, romance and revolution. Full of memorable stories and racy anecdotes, this is the perfect introduction to the country that has inspired the rest of the world to live, dress, eat -- and love better.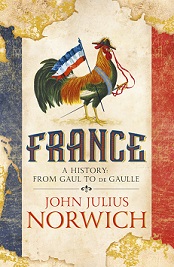 John Julius Norwich's many acclaimed books include Venice, Sicily, The Popes and The Middle Sea. Lord Norwich is chairman of the Venice in Peril Fund and Co-Chairman of the World Monuments Fund. a Fellow of the Royal Society of Literature, the Royal Geographical Society and the Society of Antiquaries, and a Commendatore of the Ordine al Merito della Repubblica Italiana. He was made a CVO in 1993.
Tickets for the evening are priced at £8 in advance (£10 on the door) and can be purchased through this page, by calling 01223 463200 or in person at Heffers bookshop. Please note that tickets are transferable but not refundable. The event will take place at the Wesley Methodist Church, Christ's Pieces. Click here for a map.

France: A History from Gaul to De Gaulle will be available to purchase on the night for a special price and the author will be siging copies after his talk. If you are unable to attend but would like to request a signed copy, please send an email via the 'contact' button on this page.
Like this? See a full list of our events here.