Location
Old Theatre
Old Building, London School of Economics
Houghton Street
London
WC2A 2AE
United Kingdom
In his single largest research project yet, Dr Greger turns his attention to the leading causes—and remedies—of obesity.
About this event
DR MICHAEL GREGER
The Groundbreaking Science of Healthy, Permanent Weight Loss
In his single largest research project yet, Dr Greger turns his attention to the leading causes—and remedies—of obesity. Greger's new book How Not to Diet examines the competence of numerous recent trendy diets and weight loss advice. He presents actionable advice to put an end to dieting—and to replace those constant weight-loss struggles with a simple, healthy, sustainable lifestyle.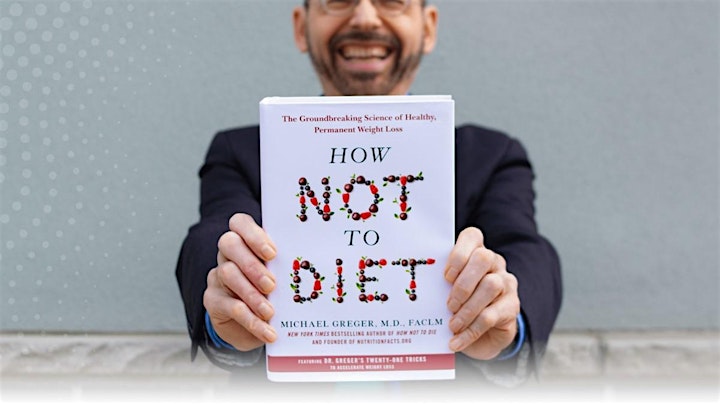 Dr Michael Greger's new book, How Not to Diet hones in on the optimal criteria to enable weight loss while considering how these foods actually affect our health and longevity.
How Not to Diet will be available for signing at this talk.
About Dr Michael Greger
Dr Michael Greger, MD, FACLM is a physician, author and internationally recognised professional speaker on a number of important public health issues. Dr Greger has lectured at the Conference on World Affairs, the National Institutes of Health, and the International Bird Flu Summit, among countless other symposia and institutions; testified before Congress; has appeared on shows such as The Colbert Report and The Dr. Oz Show; and was invited as an expert witness in defence of Oprah Winfrey at the infamous "meat defamation" trial. Currently, Dr Greger proudly serves as the Director of Public Health and Animal Agriculture at the Humane Society of the United States.
In 2017, Dr. Greger was honored with the ACLM Lifestyle Medicine Trailblazer Award. He is a graduate of Cornell University School of Agriculture and Tufts University School of Medicine. His first book How Not to Die became an instant New York Times Best Seller. He has videos on more than 2,000 health topics freely available at NutritionFacts.org, with new videos and articles uploaded every day. All proceeds he receives from his books, DVDs, and speaking engagements is all donated to charity.
Dr. Greger is also licensed as a general practitioner specializing in clinical nutrition and is a founding member and Fellow of the American College of Lifestyle Medicine. He was featured on the Healthy Living Channel promoting his latest nutrition DVDs and honoured to teach part of Dr. T. Colin Campbell's esteemed nutrition course at Cornell University.
Doors open at 18:00. Dr Michael Greger's talk starts at 18:30. During the event there will be a Q&A section and book signing opportunities.