Cancelled:Dancing with Trees -Bioenergetics, Chi-gong &Eco-Therapy Workshop
Event Information
Location
a Secret Location in a beautiful Central London Park...20 min walk from Baker Street/ Swiss Cottage/ Chalk Farm
Exact Location will be in your Eventbrite order confirmation email.
Please check spam folder.
London
NW
United Kingdom
Join us for a body-mind integration workshop outdoors that includes Bioenergetics, Chi-gong & Eco-Therapy! Respectfully Socially Distanced
About this event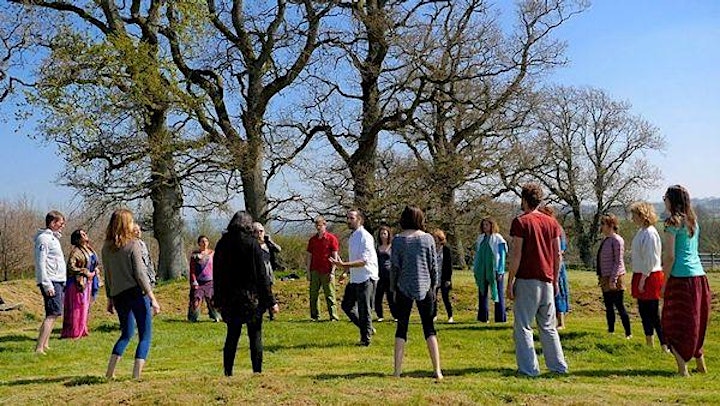 Dancing with Trees- Bioenergetics, Chi-gong & Eco-Therapy: Outdoor workshop
***PLEASE NOTE THIS EVENT HAS BEEN CANCELLED DUE TO RAIN***
*Respectfully Socially Distanced*
There is no physical contact with other participants during this workshop BUT there might be physical contact with trees :)
Experience the Profound Healing Energy of the Earth
- Learn techniques for tapping into Nature.
- Open to your senses, relax your body, feel rejuvenated and grounded.
- Cultivate a sense of serenity and peace within you.
- Experience an oasis of calm right here in London.
ABOUT THE WORKSHOP:
This work is a synthesis of Chi-Gong, Eco-Therapy, Bioenergetic Alchemy™ and Humanistic Embodiment Practices.
The foundation is learning how to deeply connect with your physical body and the sensations within, and then expanding this awareness out into Nature and Planet Earth.
The invitation of this workshop is to open yourself up beyond your usual armoured self, to the power of the Earth's powerful healing energies, and receive the vibrational charge and more subtle energies from the Earths core.
We will be using Bioenergetic Alchemy™ exercises, Chi-Gong & Humanistic Embodiment Practices to release tension, ground our BodyMind in the present moment and let in the healing energies of the Earth. Bioenergetic Alchemy™ is a unique movement experience, where we begin to soften the muscular tension and chronic holding in our bodies through a series of gentle stretches, grounding and self expression exercises. Relieving stress, enhancing our emotional well-being and sense of self and beginning to open our heart to life.
You will learn how to tap into the abundant energy of the earth beneath your feet. At the personal level, the highly experiential nature of Bioenergetic Alchemy™ is a catalyst for transformation, as participants work in the laboratory of their own process and their relationship to others. The work opens the heart, brings grounded empowerment to the personality, and a deeper connection to the Core; centre of your authentic self and divine essence.
We would love to support you through creating opportunities for you to connect and be in nature whilst respecting covid safety measures at the time.
Limited spaces !
SCHEDULE:
◈ 11am-11:05am Arrival & Welcome
◈ 11:05am-1pm Workshop
◈ 1pm-2pm Picnic/ Social - optional
🎧Stay on for Outdoor Ecstatic Dance & Cacao 1:45pm-4pm or 6:15pm-8:30pm
Please join here for more info about our outdoor classes and you'll get priority booking before we announce our outdoor classes to the general public: https://www.facebook.com/groups/ecstaticdancelondon
⛺ JOIN US FOR A DEEP DIVE CAMPING ADVENTURE:
ECSTATIC CAMPOUT - Join us for an eco, off-grid & back to Nature eco-camping adventures in beautiful countryside! We are offering 4x different camps/micro retreats from 5-30 August 2021 in South Devon. Book the whole month or individual retreats. More details and sign up here: https://www.eventbrite.co.uk/e/136823461657
1)ROOTS&WINGS: Bioenergetics, Breathwork & EcoTherapy Camp (Thu,5-Mon,9Aug)
2)RECLAMATION: Tantra & Conscious Connections Camp (Wed,11 - Mon,16 Aug)
3)RESTIVAL™: Yoga, Dance & Relaxation Camp (Wed,18 - Mon,23 Aug)
4)FLY HIGH: High On Life Ecstatic Dance Camp (Wed,25 - Mon,30 Aug)
LOCATION:
Exact location coordinates of the class will be in your Eventbrite order confirmation email 'Additional Information', please check your spam folder. We will send another email via Eventbrite with location & map 1.5h before the class start time.
-Nearest stations: 20 min walk from Baker Street, Swiss Cottage, Chalk Farm, Camden Road stations. Please check tfl.gov.uk for latest travel updates.
-If cycling, you can bring your bike to the dance location.
-If driving, please check the parking parkopedia.com (you can select more accurate location once you've booked your ticket and have exact location details).
COST:
PAYMENT: We love creating beautiful events for you all and our experienced facilitators invest a lot of time, energy and skills to make these events happen. Your support is greatly appreciated. *We have set a donation option to reduce your ticket fee cost, feel free to donate more and give from abundance. Thank you in advance! Any tickets booked below the indicated donation amount will be refunded immediately. 1 ticket per transaction please. Limited spaces & ticket availability. Please book via Eventbrite .
15 Low Waged/ Concession
£20 Regular for those who are financially secure
Number of participants for our outdoor workshops are limited at the moment. Register now to reserve your place.
Please note - this workshop is not suitable for children.
CANCELLATION POLICY: We do not offer refunds or ticket transfers to another date if you cannot attend and you give us less than 72h notice. If we need to cancel class due to a *heavy rain, we will issue a full refund . *In case of a heavy rain forecast, we will cancel the class at least 3h prior to the event and notify all attendees via Eventbrite.
EVENTBRITE ORDER CONFIRMATION: Email might be in the spam folder. Please check. Do not print any paper tickets, we will check you in by your name.
ANY QUESTIONS? PLEASE FEEL FREE TO SEND US AN EMAIL: youareyoubeyou@gmail.com
WHAT TO BRING:
1. Loose-fitting clothes that let you move your body and free yourself. Dress in layers in case you get warm/cool. Bring a warm jumper/ jacket or blanket for the relaxation part and waterproof jacket with a hood in case of a light rain.
2. We encourage being 'barefoot' for this workshop but it's up to you. Ensure that you wear comfortable shoes and bring some wet wipes in case you want to wipe your feet afterwards.
3. Reusable water bottle and extra water to keep hydrated. Thermo-flask with a hot drink if you wish to.
4. Picnic/social - in groups of max 6 participants, keeping at least 1m distance, please bring your own food, no food sharing.
5. This workshop is not suitable for children.
SAFETY GUIDELINES & PREVENTION MEASURES:
- We will provide antibacterial wipes and hand sanitisers during the event.
- There is no physical contact with other participants during this workshop BUT there might be physical contact with trees :)
- We ask that all participants keep at least 1m physical distance at all times and gather in groups of max 6 participants. We reserve the right to exclude any participant who does not honour physical distancing rules.
ABOUT FACILITATOR:
◈ Workshop is facilitated by Seth Newman. For more than two decades now, Seth has been practicing and exploring an unusual form of therapeutic bodywork. It is known as Bioenergetic Alchemy™ and has its origins in the bodywork philosophies that emerged originally from Alexander Lowen and John Peirrakos (the founders of Bioenergetics) and their interpretations of Reich, Freud and Jung. He has deepened his knowledge of Bioenergetics with therapists & teachers Guy Gladstone and Amadis Camell at the Open Centre, the longest-running personal growth centre in the UK. Seth teaches an adaptation of his studies and training and is continuing to develop this profound body of work.
◈ His inspiration comes from many sources including Humanistic & Body Psychotherapy, the Human Potential Movement, 5 Rhythms, Tantra, Active meditations and from the teachings of the Indian Mystic Osho whom he grew up with in India in the 1970s.
◈ Seth brings a holistic approach to his work with groups and individuals and wealth of experience holding heart-centered spaces.
◈ Seth is the pioneer of Ecstatic Dance in the UK, who started Ecstatic Dance journeys with his band Urubu & Ecstatic Dance London in 2009 and has been running conscious dance & sober rave events as well as various body-mind integration classes and workshops for many years.
FEEDBACK FROM OUR PREVIOUS DANCING WITH TREES WORKSHOPS:
"What a release. Feeling all light & open by the end!" - Alison
"Highly recommended: felt tensions slip away" - Marrianne
"What an incredible time I had last night! When I arrived, I was feeling very low and in my head. The Bioenergetic Alchemy session brought me back to my body and allowed me to connect to some suppressed sadness. The ecstatic dance afterwards allowed me to express my joy and freedom. I feel alive, connected and expanded. I cannot put into words my deep gratitude for this experience!" - Yvonne
"Really loving the sense of a developing community that's forming from these classes." - Claudia
"Thank you! it was amazing to dance in the nature and connect with so many wonderful people! " - Alex
Date and time
Location
a Secret Location in a beautiful Central London Park...20 min walk from Baker Street/ Swiss Cottage/ Chalk Farm
Exact Location will be in your Eventbrite order confirmation email.
Please check spam folder.
London
NW
United Kingdom
Organiser of Cancelled:Dancing with Trees -Bioenergetics, Chi-gong &Eco-Therapy Workshop
Our intention is to offer a VARIETY OF TRANSFORMATIONAL EXPERIENCES designed for supporting you in your personal life journey, enhancing community wellness and togetherness. We bring a wealth of experience, knowledge, heart centred and humanistic approach into all our work. We create and facilitate all our workshops and continue to develop new practices which we are very excited to share!
Originally formed in 2008 as a Live Music Ecstatic Dance Collective 'Urubu' by founder Seth Newman, has since developed into a holistic wellness event organiser based in London facilitating Workshops, Retreats, Festivals & Trainings for living a Healthy and Embodied Life!
Pioneering Conscious and Wellbeing Events since 2009 in London and UK!
Ecstatic Dance London (DJ, Live Music & with Silent Disco Headphones)
Body-mind Integration Practices
Active Guided Meditations
Creativity Coaching
Cacao Ceremonies
Gong Baths & Sound Journeys
Aerial Relaxation Pods & Sunday Hammock Sessions
Conscious Connections & EcoTantra
and much much more! COME ON A JOURNEY WITH US TO DISCOVER YOUR TRUE SELF!
URUBU - You are you, be you! 
INSTAGRAM: @urubu_school_of_transformation, @ecstaticdance_london  #urubu #youareyoubeyou #ecstaticdancelondon
FACEBOOK: www.facebook.com/EcstaticDanceLondon, www.facebook.com/urubucollective