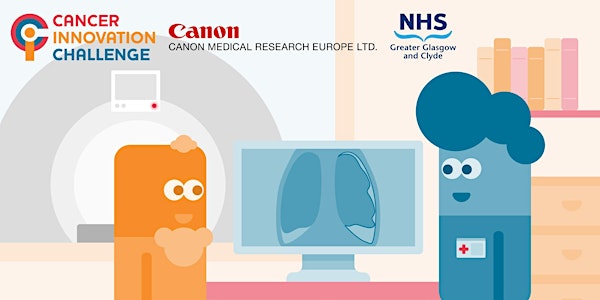 Cancer Innovation Challenge Mesothelioma Project and AI in Healthcare Event
Location
Imaging Centre of Excellence (Collaboration Zone)
Queen Elizabeth University Hospital
Langlands Drive
Glasgow
G51 4LB
United Kingdom
Sales Have Ended
Registrations are closed
Thank you very much for registering! We look forward to seeing you at the ICE on 24 September 2019. As this event is by invitation only in the first instance, please let us know if you have a colleague or associate that would like an invitation. If you have any questions in the meantime or if you are no longer able to attend, please email steph.wright@thedatalab.com
Description
We would like to invite you to join us for the close event for the Cancer Innovation Challenge funded project on using deep learning to automate RECIST reporting in mesothelioma from Canon Medical Research Europe and NHS GGC.
The first part of the day will be focused on the project.
The second half of the day will cover the wider area of AI in Healthcare and will be an opportunity for organisations working in the space to share and network.
Attendees will be able to register for the whole event or for the morning or afternoon only.
FINAL AGENDA
Morning Session – Project specific

Chaired by Professor Andy Mount, Dean of Research (CSE), University of Edinburgh and Chair of the Cancer Innovation Challenge Strategic Management Board
10.00-10.15 Welcome and intro to event and CIC - Prof Andy Mount, CIC SMB Chair
10.15-10.45 Background on mesothelioma and its prevalence in Glasgow. Current problem that the project was hoping to provide a solution to - Dr Kevin Blyth, Consultant Respiratory Physician, NHS Greater Glasgow and Clyde
10.45-11.15 What the project set out to do and technical overview - Dr Keith Goatman, Principal Scientist and Owen Anderson (EngD candidate), Canon Medical Research Europe
11.15-11.45 BREAK
11.45-12.15 What the outcomes were - Dr Kevin Blyth and Dr Keith Goatman
12.15-12.30 Challenges faced/lessons learned and next steps - Dr Sandy Weir, Senior Technical Manager, Canon Medical Research Europe
12.30-12.45 Q&A with Dr Kevin Blyth, Dr Keith Goatman and Dr Sandy Weir.
LUNCH – 12.45-13.30
Afternoon Session – AI in Healthcare in Scotland
Chair: Gillian Docherty OBE, CEO of The Data Lab
13.30-13.45 Introduction to afternoon - Ivan McKee MSP, Minister for Trade, Investment and Innovation
13.45-14.10 Potential of AI In healthcare – Dr Ken Sutherland, Canon Medical Research Europe
14.10-14.20 Developing an AI Strategy for Scotland - Steph Wright, The Data Lab
14.20-14.35 AI and Health: Exploring Affect, Ethics and Care - Dr Giulia de Togni and Prof Sarah Cunningham-Burley, University of Edinburgh
14.35-14.50 BREAK
14.50-15.05 iCAIRD: Pathology Update – Dr Peter Caie, University of St Andrews
15.05-15.20 iCAIRD: Radiology Update – Dr Sandy Weir, Canon Medical Research Europe
15.20-15.35 AI and Transformation in Unscheduled Care – Dr David Lowe, NHS Greater Glasgow & Clyde
15.35-15.50 AI in Healthcare: Quickfire Presentations (5 mins each)
Using Clinical Text to Predict Patient Outcomes - Andrew Conkie, Red Star Consulting
Colon Capsule Endoscopy and Machine Learning - Dr Campbell Macleod, NHS Highland
Smart Referrals - Improving the patient pathway - Dr Paul Nelson, Digital Treetop
15.50-15.55 Nesta's AI Radicals - Kyle Usher, Programme Manager (Scotland), Nesta
15.55-16.00 Closing remarks – Gillian Docherty, The Data Lab
16.00 Informal networking