Christmas Edition of Cancer, Sex & Intimacy! This session will focus on pleasure solutions for women whose lives are affected by cancer.
About this event
Pour yourself a drink and stock up on your favourite snacks because this Christmas Edition of Cancer, Sex & Intimacy will be full of laughter, pleasure & toys!
This online event is open to all women regardless of age, cancer type, sexuality or relationship status. We will focus on navigating sex and cancer, so leave bashfulness behind and book your free ticket today!
---
Sex and relationships are two of the key concerns for people living with cancer, and unfortunately, the associated shame and stigma can prevent people from getting help, which in turn can put them at risk of deteriorating physical and mental health. While progress has been made in both cancer diagnosis and treatment, and with survivorship increasing, sexual problems as a result of cancer treatment is a taboo issue that needs addressing.
Cancer, Sex & Intimacy and Fruit Fly Collective, in partnership with Sh!, Macmillan Cancer Support, and Psychosexual Therapist Charlene Douglas, is developing a series of virtual sex and cancer workshops and educational resources for women affected by cancer.
---
Useful Info:
• You don't have to have your camera on, and you don't have to speak during the session. You can take a break anytime you like, and you can log off if you find that you are not in the right headspace to think about intimacy.
• You are welcome to post questions relating to the topic in the Zoom chat box during the session. Our team of experts will endeavour to answer as many as possible.
• There will be a Psychosexual Therapist present, but this is not a therapy session.
Each individual will have a unique pathway along their journey. We encourage participants to seek the support of their medical team for advice should they have any concerns.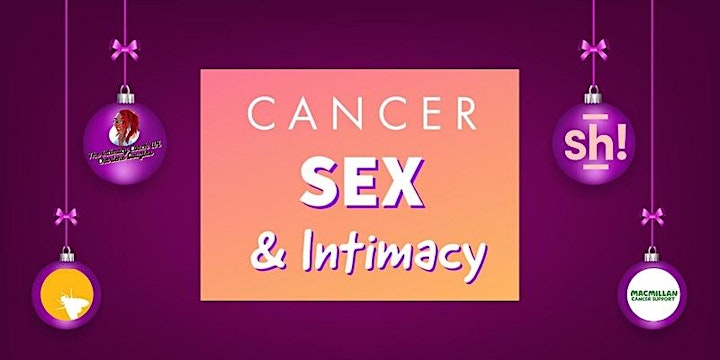 Organiser of Cancer, Sex & Intimacy: Pleasure
Established 1992, Sh! is a pioneering brand dedicated to female pleasure, on a mission to help women and those that love them to discover their true sexual selves, whatever their age, sexuality, health or relationship status.
Understanding that a healthy sexuality is key to self-esteem, well-being and happiness, we passionately believe that women deserve a place where they can explore their own unique relationship to sex, desire and their bodies away from pressure and stereotypes.
By providing tailored advice, unique pleasure-enhancing products, trusted information, fun and inspiring classes, Sh! is a safe have where honest conversations about sexual well-being are encouraged within a comfortable and judgement free environment.