Description
The Searchologist School | Bite Sized Social Media Recruitment Training by Katrina Collier
Join one lesson or join the lot | Join in person or live online
---
December's Class: Candidate Engagement: The Curse Of 2017
Led by globally recognised social recruiting expert, Katrina Collier.
Want to know how to get candidates to reply? It's the number 1 problem I am hearing.
Sure we have Brexit hanging over our heads but the candidates are in control; there are more jobs than job seekers. That means if you are recruiting people with highly sort after skills, you need to work smarter. You'll discover how in this lesson.
- Why candidate engagement is even a problem and why it's getting worse.
- How to be profersonal, because who really wants to talk to a robot?
- The essential elements of messaging; how to craft communication that's irresistible to the recipient
- Free tools; find out more about potential recruits to quickly assess cultural fit and use as conversation starters

---


December's Guest speaker: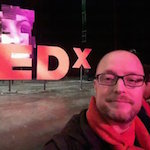 Chris Le'cand-Harwood, Head of Social Media at Havas People
"The rise of chatbots and the implications for candidate relationship management."
---
Why learn in bite-sized chunks?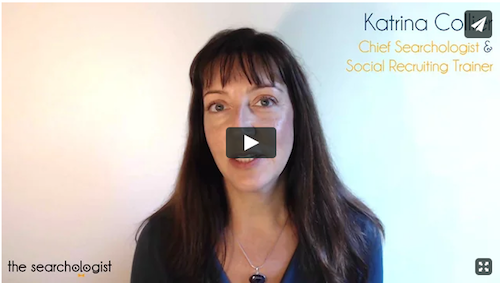 ---
What do you get?
8.30 am: Coffee, tea & croissants
9.00 am: In-depth Social Recruiting Session - a power hour of social media recruitment nuggets.
10.15am: Playtime to practise what you've just discovered so bring your laptop!
11.15am: Dynamite guest speaker presentation and time for your questions.
11.45am: Action plan, commit to what you'll do before your next class
12.00pm: Head off and implement your new wisdom



Can't make it to London?
Don't worry, I've got you covered! Join in the training session and the presentation live (or recorded if you'd prefer) by webinar.
---


Join The Searchologist School and...
Improve your quality of hire

Decrease your current time to hire

Increase your employee referrals

Improve cultural fit and retention

Increase diversity

Reduce time wasted in the hiring process, and

Save bucket loads of cash on upfront and failed recruitment (which the CIPD estimates at £8,000 per employee!)
Learning in bite-sized chunks ensures:
Retention
Ease of implementation
More time to play with your new techniques
More interaction
Accountability (join more than one lesson and you'll be part of an amazing support network)
The highest return on your investment!
---
Come along in person or join by webinar!
If you're in London, come along!
If London is too far, you can join live via webinar. Perfect!
---
Book 12 sessions for 9
If you'd like to maximise your return on investment, click here and book 12 classes for the price of 9.
---
Huge thanks to our sponsor: