About this Event
Ancuta Nite-Doyle (piano) and Quintin Doyle (cello) play in the beautiful candlelit surroundings of St Ninian's Church in Stonehouse. Free refreshments following the performance. In aid of Kitega Community Centre, Uganda and St Ninian's Church Project Fund
Programme to include:
Chopin - Works for solo piano
Bach - Suite No. 1 for solo cello
Sibelius - Valse Triste
MacMillan - Northern Skies
Bruch - Kol Nidrei
Ancuţa was born in Piatra Neamt, North East Romania, and began studying the piano at the age of 7. After winning a Silvestri Scholarship she studied with Graeme McNaught in Scotland, before returning to the Royal Conservatoire of Scotland where she studied with Fali Pavri and Aaron Shorr on a Stevenson Scholarship and an ABRSM international Scholarship. Graduating with a post graduate master's degree she won many prizes including the Mozart Concerto Competition performing K271 the "Jeunehomme" Concerto and performed C. Saint-Saens 2nd Piano Concerto with the Royal Scottish National Orchestra as part of her final exam in March 2008. Ancuta has performed across Europe as well as in the U.K. in venues such as Edinburgh's Usher Hall, London's Purcell Room at the Southbank Centre and the New Auditorium at the Glasgow Royal Concert Hall.
Ancuţa has also participated in masterclasses with great pianists such as John Lill, Steven Osborne, Katia Veekmans, Roy Howatt, Alexander Korsantia and Pascal Roge. Recent performances include Beethoven's Third Piano Concerto with the New Edinburgh Orchestra and the Warsaw Concerto with Helensburgh Orchestral Society.
Quintin has worked in architecture for over fifteen years with JM Architects and Atkins. He was worked on many prestigious projects across the UK and was recently the lead designer for Cambridge North, a new rail station described by the managing director of Greater Anglia as "a fantastic design, incorporating Cambridge's innovative heritage, and one of the most environmentally-friendly stations on the network". He is currently commuting to India helping to deliver Hinkley Point C, the first in a new generation of nuclear power stations in the UK.
Outwith architecture he is a keen cellist, playing regularly with orchestras such as the Amicus Orchestra (of which he is a founding member), Scottish Sinfonia, The Waverley Consort and the Telemann Ensemble with which he recently performed Vivaldi's concerto for two cellos. Since 2008, he and his wife Ancuţa have held annual Piano and Cello recitals for Hospices of Hope. To mark ten years of supporting the charity they hosted twenty concerts in their house, the culmination of which in December 2108 was a performance by Scotland's Russian Choir, Russkaya Cappella. Their combined fundraising to date has raised over £20,000 and shared the amazing work that Hospices of Hope do to an ever growing base in the west of Scotland.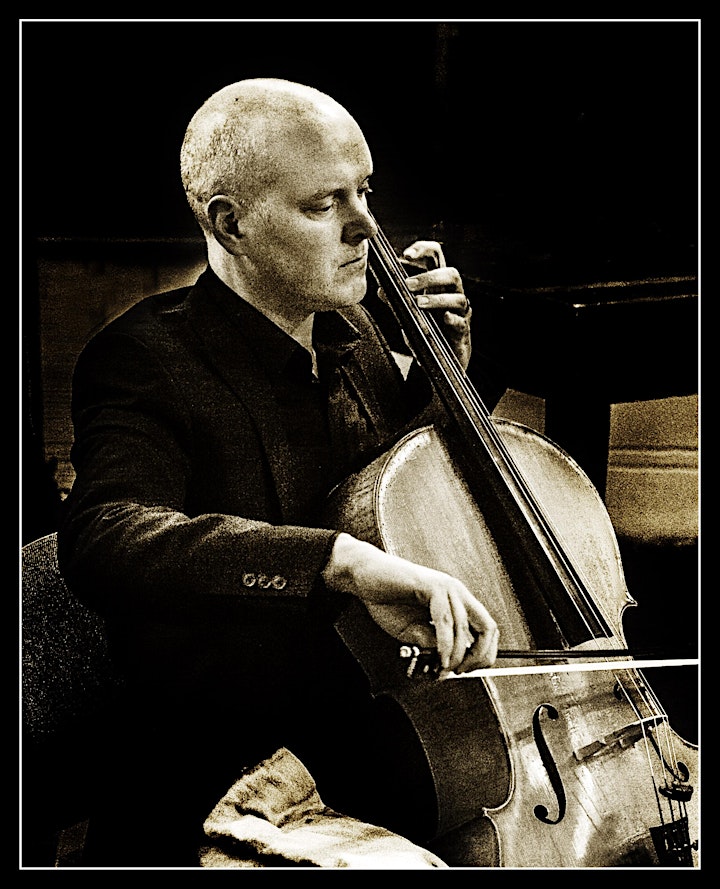 Privacy Notice: You are giving your personal data to St Ninian's Church Stonehouse LEP as the Data Controller.
Your Personal Data: You are being asked to supply your name, email address, and church/organisation affiliation. Your IP address will also be recorded. Your contact information and transaction details will be retained for three months, after which it will be disposed of by removing the data from Eventbrite and deleting any data from the St Ninian's Church Stonehouse LEP servers.
Purpose: The purpose of processing the personal data we ask for is the administration of the Candlelit Concert. Your personal data will not be used for any other purpose without your permission.
If you do not provide the personal data requested, we cannot provide you with a place on the event.
Lawful Reasons for Processing: For event booking: Processing is carried out in the course of legitimate activities of the Church as a not-for-profit organisation with a religious aim.
Sharing Your Personal Data: Your personal data will only be shared with our contracted data processor – Eventbrite - who will process your data according to written instructions agreed by St Ninian's Church Stonehouse LEP.
The purpose of the sharing is processing necessary to administer your booking and for no other purpose.
It may be necessary to otherwise share your personal data in order to comply with a legal obligation or in order to protect your vital interests or those of another data subject.
Data Transfers: Your personal data will be transferred outside the EEA to the USA where it is protected by the EU/US Privacy Shield.
Note that for the purposes of administering your payment for this event, this is handled by Eventbrite and they are the Data Controller for your payment, with St Ninian's Church Stonehouse LEP acting as a data processor on their behalf.
Your Rights: The Data Protection Act 2018 gives you rights over your personal data. These include the right to object to any aspect of our processing and the right to complain to the Information Commissioner's Office (ICO) in the UK.
Under the Data Protection Act 2018 you have the following rights: 1. The right to be informed. 2. The right to access (your personal data). 3. The right to rectification. 4. The right to erasure. 5. The right to restrict processing. 6. The right to object to processing. 7. The right to data portability. 8. Rights in relation to automated decision-making.
If you wish to invoke any of your rights, including for the purpose of a Subject Access Request (SAR), send your written request to: Data Protection Officer, Church of Scotland, 121 George Street, Edinburgh, EH2 4YN. Or email: lawdept@churchofscotland.org.uk.
For more information see the Privacy Policy on our website: https://www.st-ninians-stonehouse.org.uk/privacy-policy
You may also advise us of an incident involving personal data or data breach using the same contact information.
You can contact the Information Commissioner's Office (ICO) as the regulator in the UK at:
Website: www.ICO.org.uk Address: Wycliffe House, Water Lane, Wilmslow, Cheshire SK9 5AF