Location
The Old Truman Brewery
F Block, T4, Ely's Yard
15 Hanbury Street
London
E1 6QR
United Kingdom
Refund policy
Refunds up to 7 days before event
Description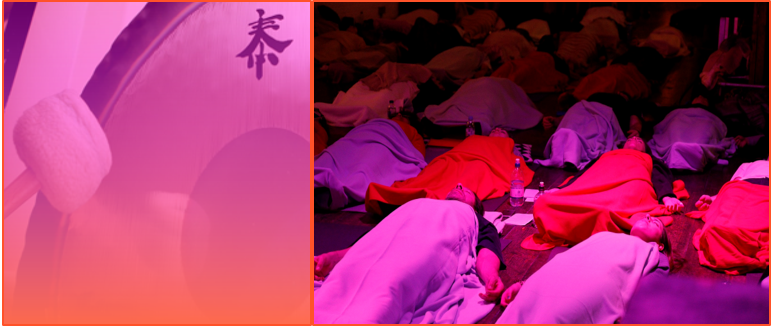 As part of the "V For" festival at the Old Truman Brewery, Nick & Siri have been asked to lead a Gong Bath meditation and relaxation session.
If you have never experienced a Gong Bath, you're in for a treat! The sounds and vibrations of the gong help you achieve a deep sense of relaxation – all you have to do is lay down and let the sounds wash over you. Apart from its mesmerising sound, the gong has been shown to have therapeutic value: to detoxify, reduce blood pressure, relieve stress and stimulate the immune system.
We will be playing two gongs simultaneously in a candlelit space, to create a wonderfully warm, meditative experience. To prepare you for the Gong Bath, we will start with a short set of Kundalini yoga exercises and stretches. After the Gong Bath we will seal the practice with a mantra chant.
Although we provide blankets and mats, please bring a cushion or other support if you need it to sit and lay down comfortably for an hour. Arrive 5 - 10 minutes early to settle in.
30 second film from a previous Gong Bath at Truman's
About Nick & Siri
Nick Stolerman is a long time student of many different types of yoga and meditation. Having trained as a Kundalini and gong yoga teacher, he now runs weekly classes in homes and offices, and at events.
Siri Sadhana Kaur performs internationally in voice, theatre and movement, studying in Paris with the innovative movement master, Jacques Lecoq. She has recorded 6 music and mantra CDs and performs concerts and trains students around the world in mantra dance, acapella singing and yoga.
Taking care of yourself
Although we have never come across any health issues, if you are in the first three months of pregnancy, it's advisable not to do any type of yoga or gong meditation. If you wear hearing aids, it's best to remove them so you experience the gong directly, not amplified in any way. Although the sound is not particularly loud, if you have a sound sensitive condition such as epilepsy, or wear a pacemaker, then a gong bath might not be for you. If you would like to discuss anything about the session, please contact Nick on 0787 966 6921.