CAN.IS HOT

Friday, July 12, 2013 at 8:00 PM

-

Saturday, July 13, 2013 at 12:00 AM (BST)
Event Details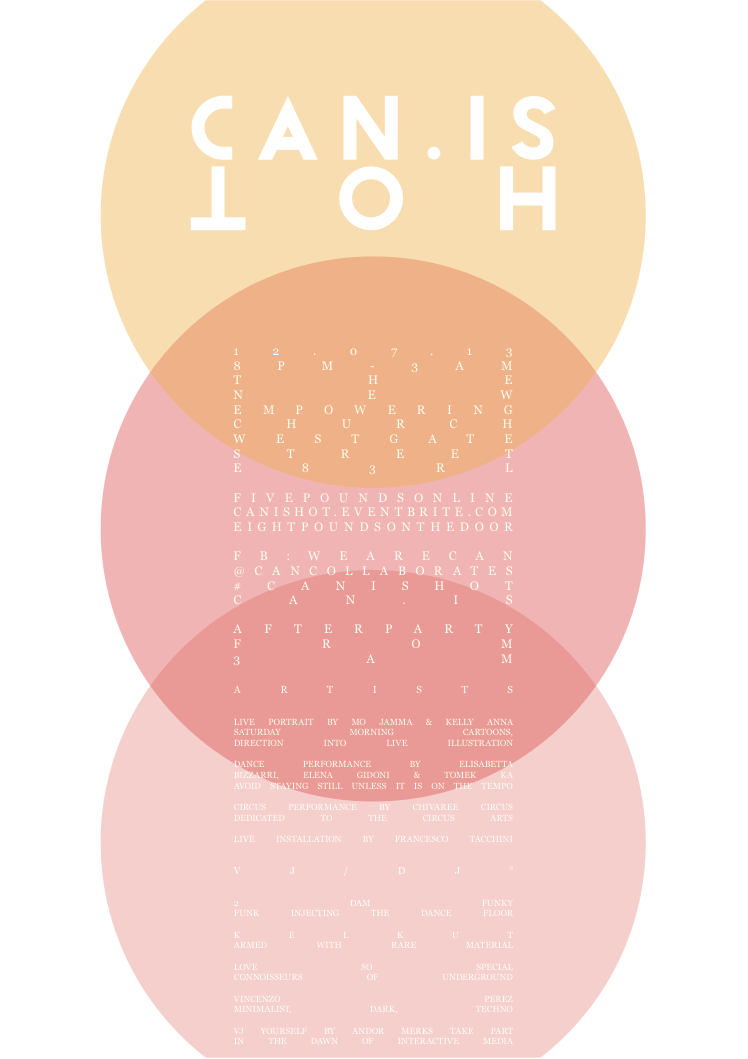 HI ALL,
IT IS WITH TREPIDATION AND EXCITEMENT THAT I INVITE YOU TO THE MOST REFRESHING EVENT I HAVE YET HAD THE PLEASURE TO PRODUCE.
THE VENUE IS THE SAME AS THE LAST TIME, BUT THE SPIRIT IS NEW AND UPLIFTED. THE MUSIC, ARTISTS AND CREATIVE ARE THE BEST THAT MYSELF, FABIANO AND MARTINA AS ARTISTIC DIRECTORS COULD PRESENT YOU WITH.
I LOOK FORWARD TO RECEIVING YOU ON THE NIGHT, CATCH UP WITH AS MANY OF YOU OLD FACES AND MEET AS MANY NEW ONES AS I CAN.
TICKETS ARE £5 ONLINE OR £8 ON THE DOOR. ENTRY IS FREE WITH A MEMBERSHIP CARD SO IF YOU HAVE ONE BRING IT ALONG. IF YOU DON'T, YOU CAN'T BUY ONE NOW AS I'M REBRANDING AND IT WILL BE A FEW WEEKS BEFORE YOU CAN BUY A NEW ONE. THOSE WHO HAVE IT, PUT IT IN A DRAW THE NEXT DAY AS ONE DAY THEY WILL BE WORTH A LOT OF MONEY.
THAT SAID, HERE COMES THE MOST IMPORTANT PART:
*** MUSIC ***
BILLY SHEARS WITH TABASCO
AUSTRALIAN VAGABOND BILLY SHEARS COMBINES DECONSTRUCTIVE LYRICS AND MUSICAL BLUNTNESS TO EXPLICATE EMOTIONAL FLUIDITY. BASED IN LONDON AND PLAYING IN THREE-PIECE-BAND FORMAT AS BILLY SHEARS WITH TABASCO, THE LIVE SHOW ENCOMPASSES A GLAM ROCK SNARL AND A DISARMING ABILITY TO AUDIBLY CANVASS VULNERABILITY, IN A SIMILAR FASHION TO NEUTRAL MILK HOTEL OR KURT VILE.
https://www.facebook.com/BillyShearsMusic
2 DAM FUNKY
ALONG WITH THE CLASSICS YOU KNOW AND LOVE, THEY'LL BE FUNK INJECTING THE DANCE FLOOR WITH AN EXCLUSIVE MIX OF DUB PLATES AND DEEP RARE GROOVE
https://www.facebook.com/2DamFunky?fref=ts
KELKUT
ARMED WITH RARE MATERIAL FROM UNSIGNED ARTISTS ALONG WITH HIS OWN HOMEMADE PRODUCTIONS GUARANTEE HIS SETS WILL MAKE YOUR HEAD DROP AND BODY BOUNCE.
http://www.soundcloud.com/kelkut
LOVE SO SPECIAL
CONNOISSEURS OF THE UNDERGROUND MUSIC SCENE AND INSPIRED BY THE HOUSE PARTY VIBE, THE LOVE SO SPECIAL BOYS CERTAINLY KNOW HOW TO GET PEOPLE DANCING.
http://facebook.com/lovesospecial
VINCENZO PEREZ
HIS APPROACH TO MUSIC IS TO THE TUNE OF EXPERIMENTATION AND PSYCHEDELIA LATER INSPIRED TO COMPOSE HIS ELECTRONIC MELODIES TODAY, MINIMALIST, DARK, TECHNO.
http://soundcloud.com/vincenzoperez
*** ARTISTS ***
LIVE PORTRAIT BY MO JAMMA & KELLY ANNA
SPECIALISING IN PEN DRAWINGS AND CARTOONS, MO GETS MOST OF HIS INSPIRATION COME FROM THE MEMORIES OF WATCHING SATURDAY MORNING CARTOONS
http://mojamma.wordpress.com/
KELLY ANNA'S DIRECTION INTO LIVE ILLUSTRATION STEMMED FROM HER EXPERIENCES ON THE FRONT ROW OF LONDON FASHION WEEK.
http://kellyanna.wordpress.com/
DANCE PERFORMANCE BY ELISABETTA BIZZARRI, LIA ALU, FERNANDO SARAIVA
DANCE-LY AS A DISCIPLINE AND A GAME WITH A FEW RULES: DANCE WITH THE MUSIC, KEEP ON THE RHYTHM, AVOID STAYING STILL UNLESS IT IS ON THE TEMPO AND IF YOUR CREATIVITY RUNS OUT, START TO RUN!
CIRCUS PERFORMANCE BY CHIVAREE CIRCUS
CHIVAREE IS AN INTERNATIONAL TROUPE OF PERFORMERS DEDICATED TO THE CIRCUS ARTS SPECIALISING IN BESPOKE EVENTS
http://www.chivaree.co.uk/
*** VISUALS ***
VJ YOURSELF BY ANDOR MERKS.
SUBMIT YOUR ARTWORK TAKE PART IN THE DAWN OF INTERACTIVE MEDIA AND VIRTUALLY COLLABORATE WITH THE VJ BY SUBMITTING YOUR PHOTOS, IMAGES OR ART. THANK YOU!
http://openartapp.com/
LIVE INSTALLATION BY FRANCESCO TACCHINI
http://vimeo.com/ruffnuff
*** CREATIVE ***
PHOTOGRAPHY IN COLLABORATION WITH EDMUND FRASER
http://www.edmundfraser.co.uk/
VIDEO IN COLLABORATION WITH SIMON LESLEY
http://rawedit.co.uk/
FLYER DESIGN IN COLLABORATION WITH JOSH WALZ
http://1dot2dot3dot4.wordpress.com/

***********************************************************
THE AFTER-PARTY IS NOT CONFIRMED YET, BUT YOU CAN BET YOUR SWEET TITS/ASS THAT THERE WILL BE ONE.
SEE YOU ON FRIDAY.
HONESTY & COLLABORATION,
DAMIANO CAN MARCHETTI
When & Where

The New Empowering Church
1 Westgate Street
E8 3RL London
United Kingdom


Friday, July 12, 2013 at 8:00 PM

-

Saturday, July 13, 2013 at 12:00 AM (BST)
Add to my calendar
Organizer
We believe that communities are what make businesses succeed. Without a vibrant and supportive ecosystem it's very hard to make a business work. Be that for networking, ideas, friendship, support, technical support or just RELAXATION. 
We help brands build meaningful relationships with those around them by using our unrivalled knowledge of the community and creating kick-ass events. Events include: CAN.IS, SPEED COLLABORATION, UNCOVER and CAN PRESENTS.
We also now run 3rd party events, get in touch if you need our help.