Canoeing + Bushcraft Course | Camp Weekends: Fire Starting Masterclass
Description
Join us for an unforgettable long weekend of canoeing and bushcraft. L
earn the traditional art of fire starting during picturesque canoe stops along the beautiful River Wye. You'll learn 3 primitive, time-honoured methods of fire making and cook your own meals on the fire you've created...
Always wanted to know how to light a fire without matches? Ever wondered just how easy (or difficult) primitive fire starting techniques really are? Our fire lighting masterclass will cover the three traditional methods in all the detail necessary to arm you with this ancient and valuable skill.
Some of you will pick things up quickly. It might take some of your several hours. One or two of you may even leave the camp having not been able to single-handedly get a fire going – but, hey, that's okay! We'll ensure that every one of you has a Bow Drill Kit to take home so that you can try and try again, and with the additional help of our YouTube videos (where everyone featured is either beaten or beating their chests like Tarzan) you'll soon be King or Queen of your local jungle, starting fires like your ancient ancestors did on a daily basis.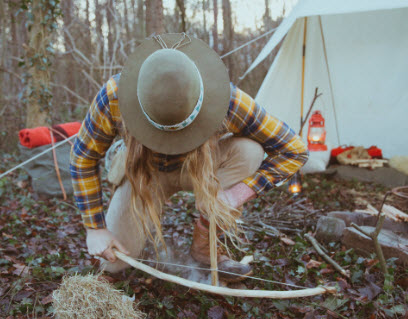 Steve and Kirsty of Axe & Paddle Bushcraft have joined forces with their good friends Aubrey & Clare of Want to Canoe? and Ollie Sandeman, a freelance canoe instructor and expert on all things River Wye, to create an incredible weekend that will combine canoeing with a comprehensive bushcraft course and camping in one of the most beautiful regions of the UK.
Limited spaces are available for this weekend adventure. This is because we want each and every one of you to get as much out of the experience as possible, which means lots of one-to-one tuition, guidance and the chance to soak up skills and knowledge that will stay with you long after you get home, as well as the opportunity to forge lasting friendships with like-minded and equally adventurous people!
All welcome!
Whether you're highly-experienced or a complete newbie, our expert instructors – bushcraft and canoeing - will gladly cater for all abilities, allowing you to practice and build on existing skills or learn completely from scratch.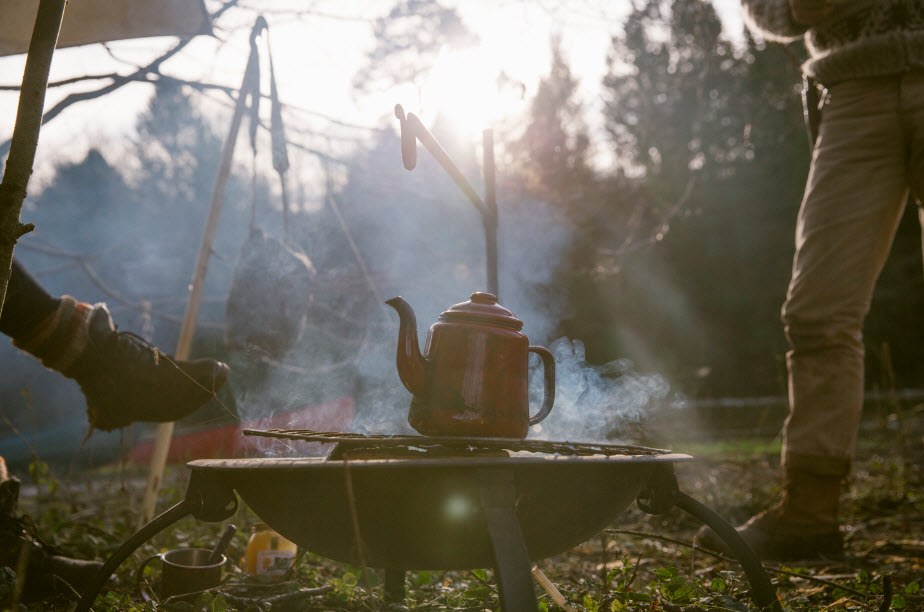 What's included in your weekend of outdoor adventure?
Canoe and kit hire

Canoe instructor and river guide

'Strike a Light' fire starting method using the modern

ferrocium

rod

Flint and Steel fire starting method

Bow Drill fire starting method

Use of the finest tools and materials for your fire starting masterclass

3 nights camping under highest-quality, handmade canvas tarps and bivvies, made by Axe & Paddle Bushcraft

3 hearty, nutritious meals each day (made from local, organic produce and cooked over the campfire, including plenty of marshmallows for toasting!)

As much campfire tea, coffee and mineral water as you need

Oh, and of course the freshest air, the most breathtaking scenery and an abundance of diverse wildlife!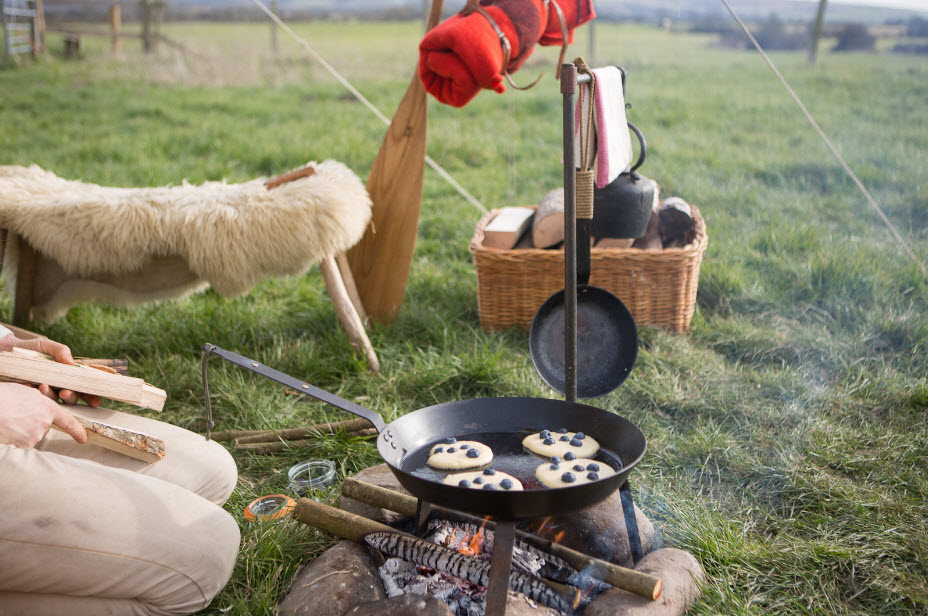 An ancient but forgotten skill...
Just as with the instant availability of water, as a society we've gradually learned to take the instant availability of fire and heat for granted. We just flick a switch, turn a knob, press a button… and it's there; cooking our food and warming our bodies. Bushcraft is about getting back to basics. It's about unlearning that modern complacency and reliance on electric gadgets, gizmos, appliances and 'the grid' in general. We've come so far as a species, and yet simple skills that our ancestors practised up to a million years ago (according to latest archaeological findings) have all but been forgotten.
Bushcraft and learning how to be self-reliant in the wilderness is not only a lot of fun, it also gives you a confidence in your own abilities to survive and thrive [off grid] that you never knew you was missing!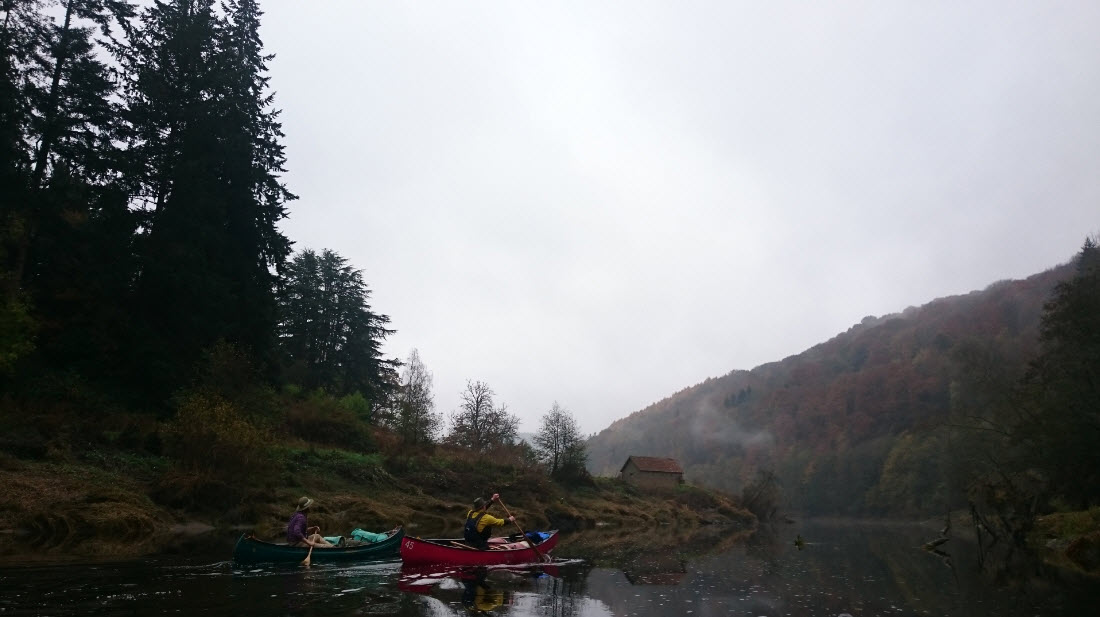 What you can expect during the trip:
Day One:
Arrival and introductions

Camp tour

Firelighting demo to light the communal campfire

Campfire feast, made from local organic produce

Bed down for the night in your cosy canoe camp
Day Two:
Strike a light method using the modern ferrocium rod

Hearty campfire breakfast

Flint and Steel MethodLunch by the river

Canoe skills workshop

Dinner back at camp

A well-deserved night's sleep back at base, in your canoe camp under the stars
Day Three:
Campfire coffee and breakfast

Paddle to a secluded beach spot down-river

Bone Tools and String fire starting workshop

Delicious lunch by the river

Paddle to Oakfield Farm

Overnight canoe camp, learning essential base camp skills and traditional fire lighting
Day Four:
Campfire breakfast

Paddle to Byecross Farm

Celebratory feast with some local craft ales

Shuttles back to base

Farewells and departures
Notes:
We regret that this particular experience is not suitable for under 18s. If you'd like to arrange a similar experience with your child, please do get in touch as we have plenty on offer.
We look forward to meeting you!