Canons Park TSA Conference - Minding the Gap Between Research and Practice
Description
Confirmed speakers at the Canons Park TSA Conference include:
CUREE's Philippa Cordingley, the Education Endowment Foundation's James Richardson, Dr Gary Jones and Ffion Eaton of Tarporley School as keynotes.
Tom Bennett (ResearchED), David Weston (TDT), Sean Starr (University of Wolverhampton), Jason Lowe (Tarporley High School), Diane Leedham, Simon Newton (Canons High School), Nick Rose (TeachFirst), Rachel Lawrence (Researchers in Schools), Candida Gould (Bridgwater College Trust), Renata Joseph (Canons High School), Katie Magee (Canons High School), Dr Karen Smith (University of Hertfordshire), Sam Sims (UCL Institute of Education), Richard Found (Sandringham School), Helene Galdin-O'Shea (Park High School and ResearchED), Keven Bartle, Canons High School), Rob Robson and Bethan Morgan (SUPER Network).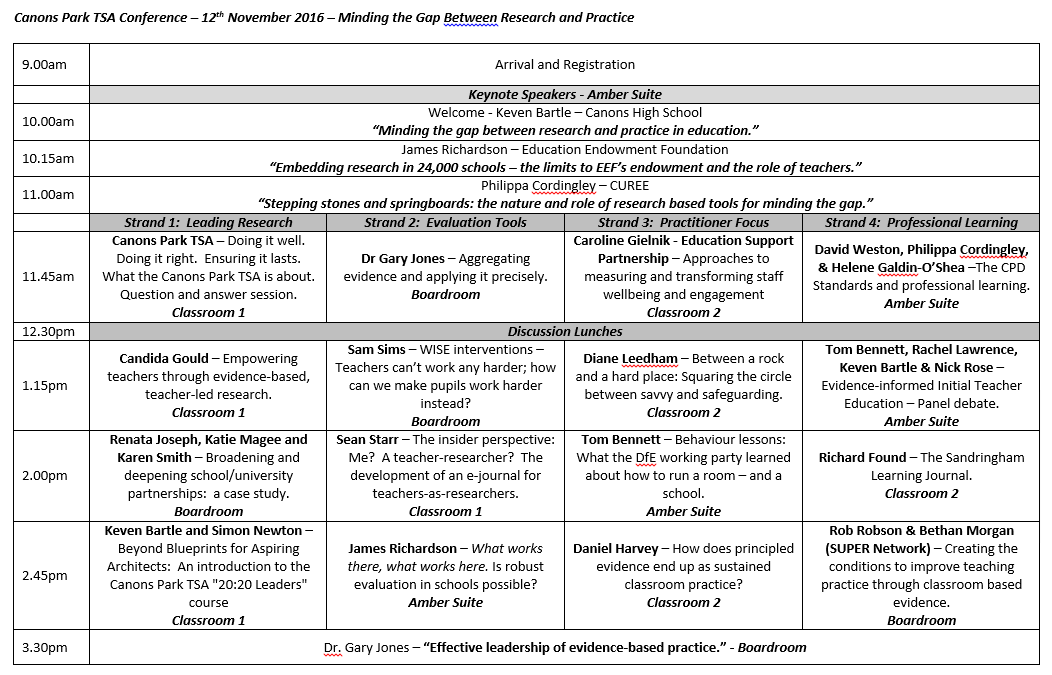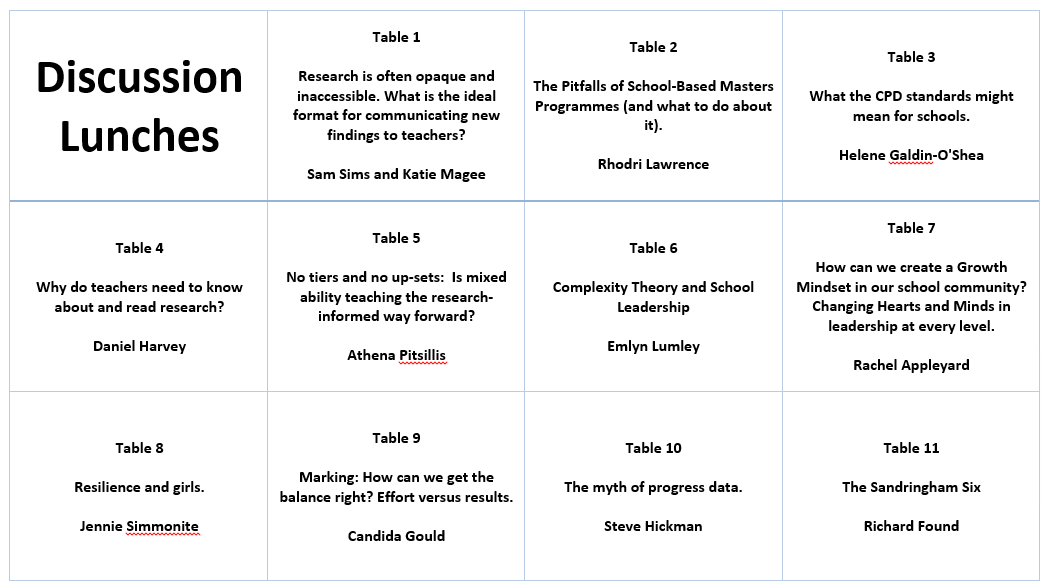 About the Conference
"We think that better use of evidence can make a real difference by helping schools spend money more effectively to improve the teaching and learning of children from low-income families."
Education Endowment Foundation
There are 34 strands to the EEF's Teaching and Learning Toolkit, covering a range of strategies from those that are structural (such as block scheduling) to those that are personnel-driven (such as mentoring) and from those that are classroom-centred (such as mastery learning) to those that have a distinctly extra-curricular feel (such as outdoor adventure learning). The costs, evidence base and impact of these strands vary massively, leaving teachers, school leaders and research professionals with incredibly complex decisions about where to start with the toolkit and how to prioritise the expenditure of those key resources of time, money and effort; not to mention emotion.
At the same time, these same school staff and researchers are constantly engaging in work that is contextually rich and experientially savvy. Such encounters range from the informality of day-to-day reflection to the formality of monitoring processes and from school-mandated CPD processes (such as lesson study) to the individually-driven engagement with action research (such as Masters courses). The costs (including opportunity costs), evidence base and impact of these experiences are also highly variable, leaving teachers, school leaders and research professionals with complex questions about the coherence and overall effectiveness of such 'coal face' work.
The Canons Park Teaching School Alliance Conference, on 12th November 2016 is all about how school staff, leaders and researchers can 'mind the gap' between research and practice so that the strands of the toolkit and the experiences of practitioners can be better woven together in a 'clinical practice' environment: one in which, as BERA have outlined, acknowledges the strengths and limitations of decontextualised research and appreciates the "rich seams of knowledge, understanding and skill" within schools but also the need for all teachers to "test all ideas offered to them".
Amongst other things, colleagues attending the conference will explore:
Strategies for bridging between research and practice
How to use evidence to improve teaching practice
The social processes of enacting research in education
Ways in which to apply evidence precisely
What is working in other schools and research setting
Effective leadership of evidence-based practice
Promising strategies and innovations
The nature of robust evaluations in schools
The Canons Park TSA Conference is supported by ResearchED.