Canterbury Sewage Treatment Plant-February 7, 2018, 12:45 (SE558 Field Trip...
Event Information
Location
Southern Water Canterbury Treatment Plant
Description
[NOTE: THIS IS NOT A PUBLIC EVENT- IT IS EXCLUSIVELY FOR UNIVERSITY OF KENT SE558 STUDENTS]
SE558- The Anthropocene: Planetary crises and the age of humans
A key provocation of the Anthropocene is that the scale, speed and scope of the effects of industrial development have profoundly disrupted the bio-geochemical cycles that maintain the earth system in the state within the conditions which make life as we know it possible. A key problem for us- methodological, epistemological, political, etc.- is how to understand and mobilize around such planetary-scale levels and problems from within our locally embedded perspectives and lives.
The concept of metabolic rift could be a useful for one, and it will be one that we will be exploring in our module. Here is a very simple example. All plants, including the grass that livestock eat, need nitrogen to grow. Before the industrial revolution fields livestock was produced and consumed locally, and the nitrogen cycle would circulate within a closed loop. That loop has been profoundly and repeatedly disrupted through multiple interventions that now form the pillars of society as we know, whether its from the creation of large cities in which a lot of the nutrients from a vast catchment area are dumped, eventually ending in the waterways and sea, or whether its the huge amounts of nitrogen that are extracted from the atmosphere to make fertilizer and replenish all of the nitrogen being pulled out of local production systems and deposited elsewhere. In this module we will be exploring the concept of metabolic rift in terms of our situated lives in Canterbury; we will think about how each of us, individually and collectively, form part of a network of production and consumption that links the very local to the planetary.
The concept of 'waste' will constitute another important thread in our exploration of planetary crises: why, when and how do valuable, life-supporting, resources become waste? What does the concept and the reality of waste reveal and, more importantly, mask?
Where do the materials of all the things we need and buy, which sustain us in our daily lives, come from, and where do they go after we are 'finished' with them? In this module we will try to think through the need, difficulties and problems of rendering this network of hidden, invisible, flows and relations visible and subject to intervention...but what kinds of interventions?
A trip to the Canterbury sewage treatment plants will help us us think through some of these questions by giving us a very specific- highly localized and visible- example to work with in terms of all of the above questions, and more....
We are very fortunate that Southern Water has opened their doors to what is in effect a node within the planetary maze that is the technosphere and the multiple, cascading and interconnected crises signalled by the Anthropocene... I am really looking forward to it and I hope that you will join us!
YOU NEED TO MAKE YOUR OWN WAY TO THE STURRY WATER TREATMENT PLANT- WE WILL BE ASSEMBLING OUTSIDE THE MAIN DOOR, OFF STURRY ROAD, AT 12:45. IF YOU COME AFTER 12:50 YOU WILL MISS YOUR GROUP.
WHAT TO BRING:
Sturdy footwear- no open shoes are allowed on the site! Also make sure you are dressed appropriately for the weather as much of the tour is outside.
HOW TO GET THERE:
CANTERBURY WATER WORKS, STURRY ROAD, CANTERBURY CT1 1DT, is on Sturry Road. The entrance is o about 300m past Macdonalds, on the left. From Canterbury bus station take bus: 8, 8A, 6 or Triangle, leaving from platform 2. Please give yourself enough time- from the university you should allow about an hour to get there.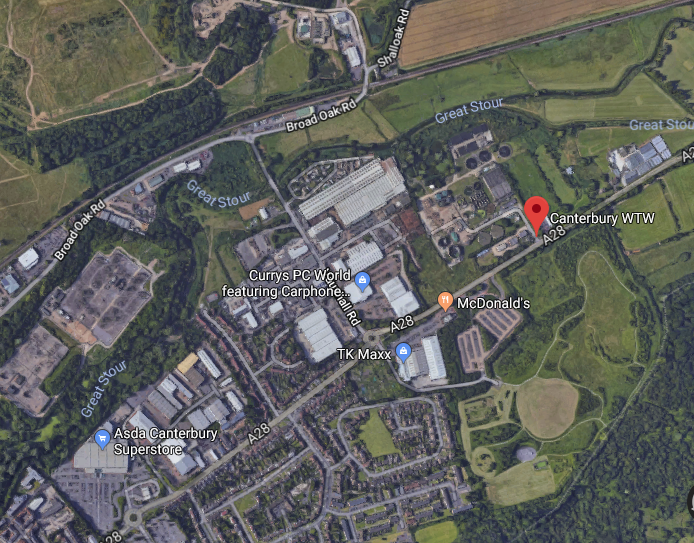 Date and Time
Location
Southern Water Canterbury Treatment Plant