Canvas and Sand : Film

Saturday, 12 September 2015 from 14:00 to 17:00 (BST)
Event Details
THIS PAGE IS FOR INFORMATION ONLY.  TICKETS ARE AVAILABLE.
BOOKINGS MUST BE MADE ON
https://whatson.bfi.org.uk/Online/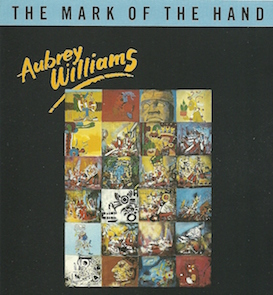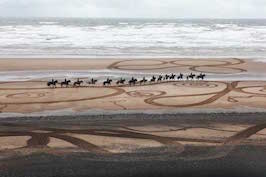 Canvas and Sand
No Colour Bar: Black British Art in Action 1960 to 1990 
in partnership with African Odysseys at the BFI presents two films. Mark of the Hand, (UK, 52mins) from film director Imruh Bakari Caesar, follows Guyanese-born artist Aubrey Williams whose explosive, vibrant abstracts cite influences as diverse as the Maya imagery, Science Fiction and the work of Russian composer Dimitri Shostakovich. Walking Drawings: Across the Estuaries (UK 2015, 42mins) from British born, Jamaican artist film-maker, Evewright (Everton Wright) turns landscape into a canvas in a work of living art as people ride on Cumbrian Heavy Horses and walk the drawings' lines, writing their stories into the earth. 

The event will  involve the screening of these two very different art films from two
very talented filmmakers; The Mark of the Hand followed by Walking Drawings:
Across the Estauries. After each film, Gaylene Gould will have a conversation with
each fillmmaker and  then a 3 way discussion, that opens up to questions to the
audience after both films have been shown.
About the filmmakers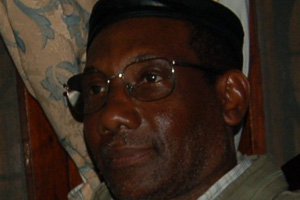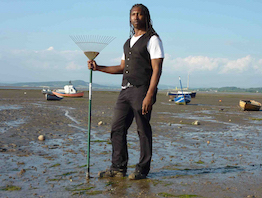 Imruh Bakari Caesar                                                                              Evewright
Imruh Bakari, born in St. Kitts, Eastern Caribbean; is a graduate of the National Film & Television School, Beaconsfield, England. He was a founder/director of Ceddo, the film and video production and training organisation in London [1982-93], and a director of Kuumba Productions. From 1999 – 2004, he was Festival Director of Zanzibar International Film Festival [ZIFF]; and is a founder/director of Tanzania Screenwriters Forum. As a producer/director his credits include fiction and documentary films, most recently: Mwalimu – The Legacy of Julius Kambarage Nyerere [Documentary, 2009 – Tz] – Producer; and African Tales - Short Film Series [Fiction, 2005/2008 - Tz] – Script Editor/Producer. He lectures in Film & Media Studies at the University of Winchester, UK; and has published works on African cinema.
Evewright is a British artist of Jamaica parentage. His work is a conscious 'mash up' of drawing, sculpture, combined with digital film and live installations. Evewright's work explores the intricate connections between the body and our experience of the modern environment, and he communicates this through bold interactive art, also using urban and rural landscapes as his canvas. Evewright studied graphic design at Middlesex University, received a first class degree and continued on to train as an artist in mixed media painting at Central St Martins College of Art, where he did his foundation. He also trained in film and video production at Four Corners London.His exhibitions include: Royal Academy of Arts Exhibition, London, Jeanne Kahn Gallery 2012 and Porters Gallery 2014. Trinidad and Tobago Film Festival, Medulla Art Gallery, Port of Spain, Trinidad and Tobago, 2013, Nominated for the Young Masters Art prize 2014. ELECTRONICS ALIVE VIII Biennial, Tampa Florida USA 2015.
Chair

Gaylene Gould is a Writer, Coach and Presenter working in the UK and internationally. For over twenty years Gaylene has pursued a quest to raise the creative voices of the unheard. This inquiry has led her around the world and to acquire a vast range of experience. She has worked with major organisations such as the Bfi, Toronto International Film Festival, BBC, Arts Council England as an international curator, producer, documentary-maker, creative director and theatre maker. Gaylene now writes fiction, broadcasts for BBC Radio 4 and curates the afrofurturist project Mission Misplaced Memories.
Bookings open on 11 August through BFI on
https://whatson.bfi.org.uk/Online/
When & Where

BFI Southbank
Belvedere Road
SE1 8XT London
United Kingdom


Saturday, 12 September 2015 from 14:00 to 17:00 (BST)
Add to my calendar
Organiser
FHALMA Foundation (Friends of the Huntley Archives at LMA) is a charitable organisation, run entirely by volunteers and a board of trustees. The not-for-profit organisation was founded in 2013 with the aim of promoting the heritage of the Caribbean and African Diaspora through developing education and community projects - by bringing to life the narratives, histories and knowledge discovered in the archive materials found in the Huntley Collections.
Guyanese-born political activists, Jessica Huntley and Eric Huntley, founders of the publishing house Bogle-L'Ouverture Publications – named for Paul Bogle and Toussaint L'Ouverture, two instrumental figures in Black resistance and revolt against slavery – published a wide range of books, including greetings cards and posters reproducing contemporary paintings by artists, and seminal texts by writers from across the African diaspora. Their business and personal papers, conserved and housed at London Metropolitan Archives (LMA) since 2005, have provided rich, academic, cultural content and the socio-political narrative for the educational programmes produced during Huntley conferences, held annually at LMA. The Huntley archives underpin the story of the changing British cultural landscape and the creation of a new form of community activism.