Description
Tickets are now on sale for the seventh edition of 383's Canvas Conference, taking place on the 4th October at the Birmingham Rep Theatre.

Canvas is a one-day event of inspirational and informative talks for people who design, make and market digital experiences. We present 8 insider stories from people at some of the world's most disruptive organisations, who'll share with us their successes, failures and lessons learned.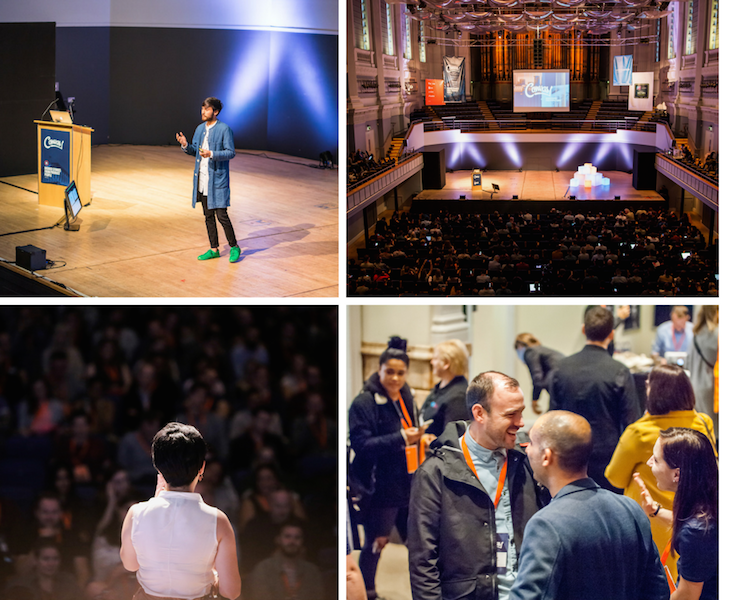 There's no high-level overviews or brand evangelists here, we provide actionable insights from people doing the hard work in the world of digital products.
If you're looking to learn how to do things differently in your organisation and meet like minded folk, Canvas is the right conference for you.
Watch our 2017 Highlights Reel.
Recap on the 2017 talks from Thriva, Monzo & more.

Canvas Masterclasses
As part of Canvas this year, we're holding two separate masterclass workshops the next day (5th October) at 383's studio in Birmingham. Each workshop is designed to give attendees the tools and knowledge to affect change in their organisations, calling on inspiration from some of the Canvas talk content heard the day before. Spaces at these workshops are limited and you can buy a place at them at the same time as your Canvas ticket.

Workshop 1 - Navigating Innovation - Using 383's Zero to One toolkit, we draw on successful innovation programmes with the likes of Eon, HomeServe and London Midland to help you identify the right innovation method for your business. This workshop guides you through a framework to allow you to assess your organisation's capacity for innovation using the latest open innovation techniques. You'll learn how to use design thinking and lean startup methods to respond to an opportunity and begin to move these methods back into the business.

Workshop 2 - Canvas Masterclass - Take a deep dive into 383's thinking on how companies can ensure they are fit for the future, inspired by key speakers from Canvas the day before. Over 6 hours you'll understand how changing customer expectations, competitor propositions and technology enablers are affecting heritage business models and what fit for the future actually looks like. You will understand how businesses need to change, adapt and the processes, tools and thinking to ensure they are fit for the future.

To guarantee your place at either of the masterclasses, select the ticket option when purchasing your Canvas 2018 tickets.
Speakers
We'll be announcing the first of our 2018 speakers very soon!
More Information on Canvas
Group Discounts: We offer discounts for purchases of 5 tickets & over (not applicable on early bird tickets sadly).
5-10 tickets - 10%
11+ tickets - 15%
Drop us an email before checking out and we'll supply you with your code - hello@canvasconf.co.uk
Refund policy: Please note that we offer full refunds for attendees who can no longer attend Canvas, up to 30 days before the event, after this time tickets can only be transferred. Tickets are transferrable up to 5 days before the event upon request.