Capital Market Update - IPO opportunities in London for emerging international companies
About this event
The London Stock Exchange is home to the world's leading international capital markets that welcome companies from around the globe. A trading model proven over 300 years in both good and challenging times offers emerging and established businesses access to equity and debt finance, together with enhanced profile, liquidity and scalability. Many overseas companies have joined and prospered on the London capital markets, particularly those trading in Asia Pacific where the LSE has 17 issuer countries across asset classes, 162 equity and depository receipt issuers, with an equity market capitalisation of circa £1.3tn and 245 active debt instruments.
The London markets should not be seen as directly competing against national stock exchanges in Malaysia, Singapore or Hong Kong. In the majority cases the capital market choice will be self-selecting based on the entrant company's size, capital requirements, location and geographic expansion plans.
This focused and relevant webinar will explore which companies may be attractive to UK based investors, recent activity levels on the AIM and main markets, what are the benefits of listing shares and debt on a public market, how a company can best prepare for an IPO and the principal operational and structural steps involved. The very experienced panel of speakers have been involved in numerous IPOs of overseas companies in London, including the majority of IPOs involving companies operating in Malaysia. The panel speakers are:
Ollie Fox, Business Development South East Asia, London Stock Exchange Primary Markets
Jo Turner, Partner, Cairn Financial Advisers LLP, Nomad and Financial Adviser
Robin Stevens, Senior Advisor, Crowe UK LLP, Reporting Accountants
Clive Garston, Consultant, DAC Beachcroft LLP, Lawyers
Gavin Wilkins, Global Head of Clients and Intermediary Relationships, Hawksford, Corporate Administration and Private Clients
The webinar will provide attendees with an informative and current update on the benefits of raising finance on a capital market and the particular advantages provided by admission to the AIM and main markets in London.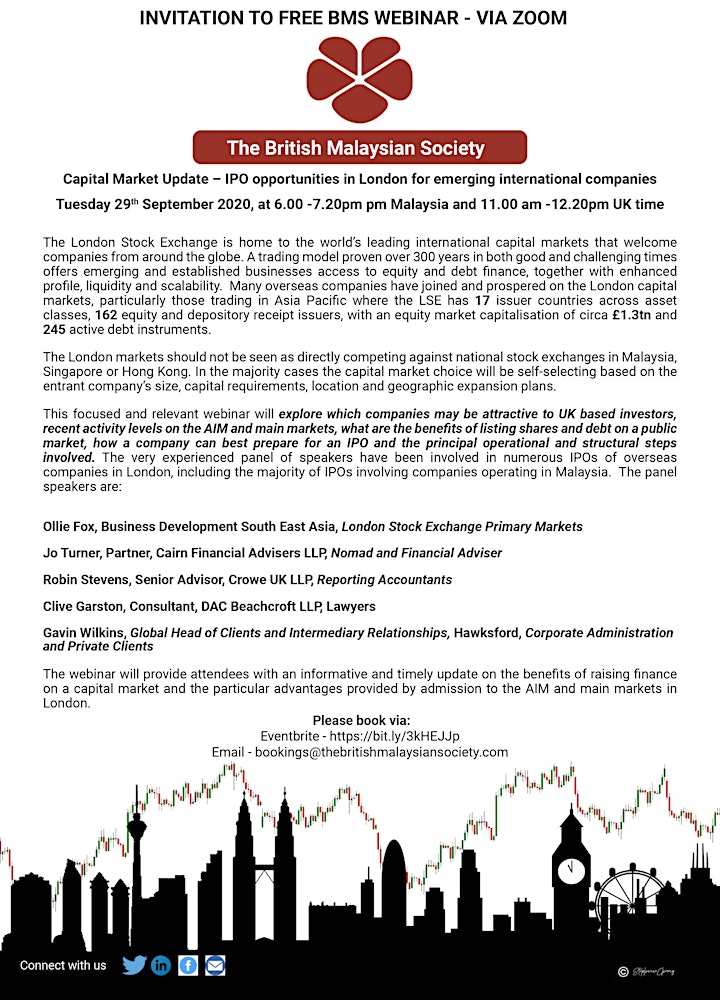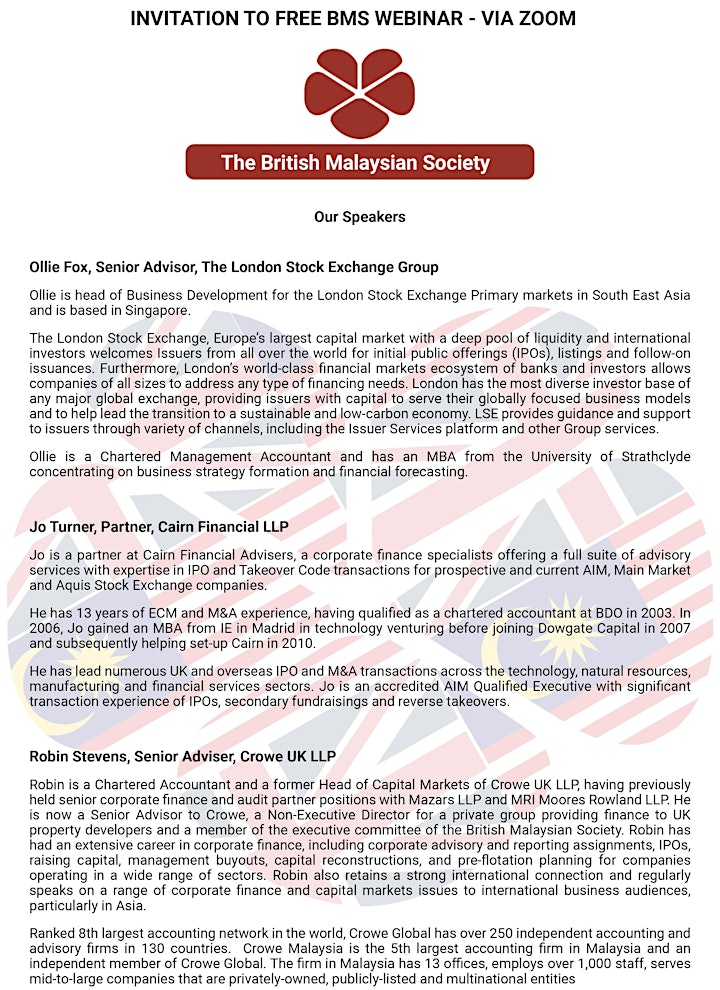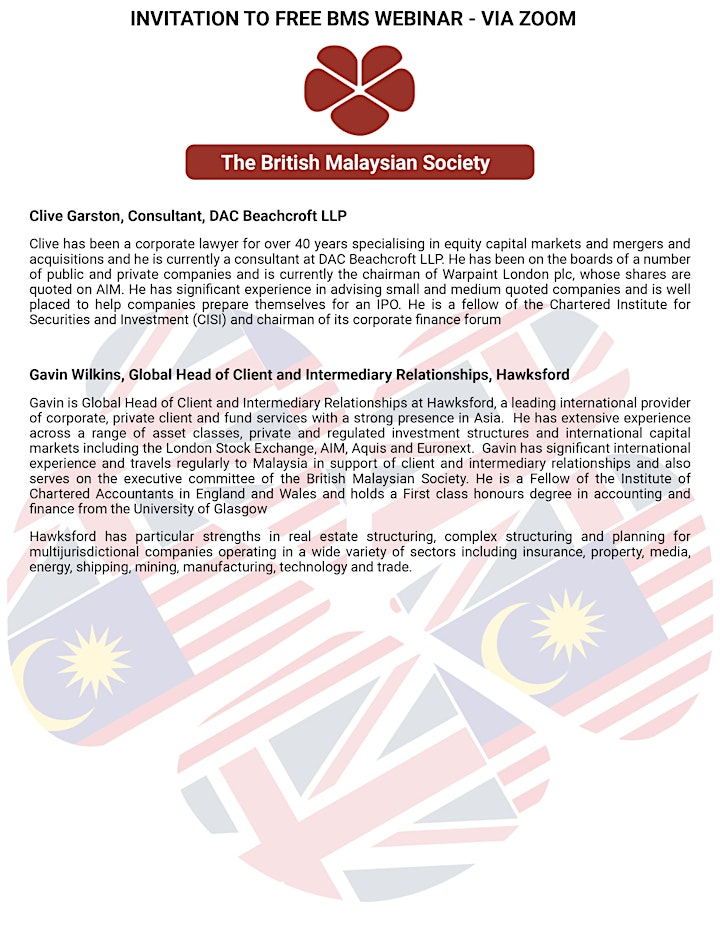 Organiser of Capital Market Update - IPO opportunities in London
The British Malaysian Society was founded in the early 1980s as a bilateral friendship organisation. It has developed it's activities and now seeks to nurture and maintain an array of contacts and valuable friendships that have been forged between Britons and Malaysians whilst living and doing business in both countries.

The British Malaysian Society is an inclusive and growing organisation. Whether your connection with Malaysia is through business, education or simply living there or visiting, you are most welcome to join us. You will then have the opportunity to attend to any event on our expanding programme and meet like-minded people at functions designed to keep you up to date with Malaysian current affairs and business opportunities.

For members wanting more from their membership, there is the opportunity to get involved with the Society's operational and management committees and to help produce timely, relevant and informative events for the benefit of it's existing and potential members.

For more information, please email The Secretary: info@thebritishmalaysiansociety.org

Connect with us on our linktree - https://linktr.ee/BritishMalaysian