Capturing our Coast Survey Day - Corbyn Head, Torquay
Description
This Survey Day is an event for all registered Capturing our Coast rocky shore volunteers (register at www.capturingourcoast.co.uk) to come and practice their surveying and identification skills with the team, whilst also helping us collect vital data for the project!
---------------------------------------------------------------------------
We will provide training and equipment for all recent classroom-trained surveyors, whilst more experienced volunteers are welcome to join in and continue helping us collect fantastic data.
If you haven't completed classroom training for our general quadrat surveys, then we have Marine Invaders invasive species timed searches that we need your help with, as well as our Wading Birds surveys to complete too!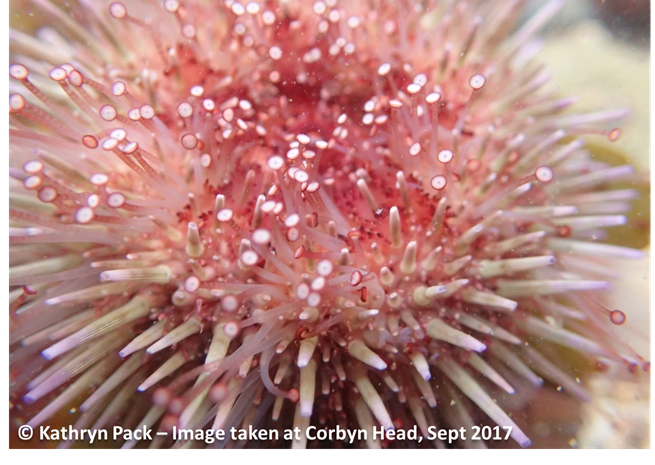 Survey Site: Corbyn Head is a superb survey site that plays host to some remarkable marine wildlife, such as urchins (see image above) and colourful sea slugs (see the bottom of this page); our volunteers and the CoCoast team are always finding superb things at this site!
We will all meet in front of the Corbyn Head beach cafe at 09:45 - if you think you may arrive a little late, then please meet us down at the rocky shore survey location as indicated in the map below.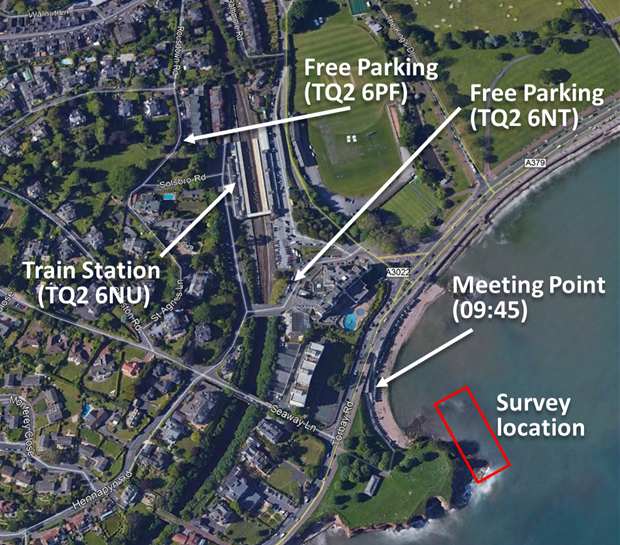 Travelling to Corbyn Head, Torquay: Trains are available directly from Exeter, or with 1 change from Plymouth. The closest station to Corbyn Head is Torquay Train Station, which is at most a 10 minute walk away.
Parking: The nearest available car park is at Torquay Train Station (TQ2 6NU), which is charged at a flat rate of £2.50 all day (after 10.00am). Free parking can be found (subject to availability) on the road outside the Grand Hotel (TQ2 6NT), or on Solsbro Road (TQ2 6PF).

If you haven't surveyed for a while and would like a refresher - absolutely no problem! We're always keen to help hone your ID and surveying skills even if it has been a little while since your last outing.
Don't forget your wellies, waterproofs, warm clothing and a packed lunch.
---------------------------------------------------------------------------
If you are already field trained - please bring your equipment with you;
50 x 50 cm quadrat and 30 m measuring tape (if applicable)

3 x 3 cm barnacle quadrat, hand lens & clicker counter (if applicable)

your clipboard and general protocol sheets

a pencil.
We will provide all the recording forms you need and can also supply you with extras if you want to take some away with you at the end of the day too!
---------------------------------------------------------------------------
Although this is a great chance to add to the CoCoast dataset, we're keen for everyone to enjoy themselves, get to know each other and gain valuable experience along the way!
If you have any questions in advance of this Survey Day, feel free to get in touch: cocoast@mba.ac.uk.