Description
Do you want to have a better understand of what is causing climate change and what you can do about it?
This one-day, certified course covers the basics of climate change science, how we know it's happening now, how climate change will affect us in the future, what is already being done and what we can each do to take action.
It is aimed both at individuals and representatives of local organisations who want to be able to talk more confidently about climate issues with others. Some of you might even decide that you want to go on to learn how to run Carbon Literacy training for your friends and colleagues.

---


What is Carbon Literacy? "An awareness of the carbon costs and impacts of everyday activities, and the ability and motivation to reduce emissions, on an individual, community and organisational basis."
---
Practicalities:
The day starts promptly at 9:00am so please arrive around 8:45am. It finishes at 5:00pm or just after.
Please bring your own packed lunch. Alternatively, there will be enough time to pop out at lunchtime. Coffee / tea / snacks will be provided throughout the day.

Moore Kingston Smith's offices are in Victoria Square, very close to St Albans City Station,

which is well-served by buses. Some parking is available at Moore KS, but please email us in advance so we can send you instructions, or otherwise there is plenty of parking at the station.
Any queries, please contact the trainer, Linda Shall, on linda.shall@sustainablestalbans.org
---
Cost and certification: The day costs £20 - this covers materials, admin and refreshments plus the £10 cost for your certificate, which is levied by the Carbon Literacy Project. Their backing ensures the course meets national standards; over 9000 people have been trained to date. Participants are eligible for the certificate if they take part fully in the day, and pledge to reduce their carbon footprint.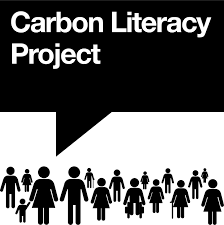 Organiser of Carbon Literacy Training
Sustainable St Albans is a charity (no. 1173118) set up by a group of ordinary people across St Albans, Harpenden and the villages.
Together we find positive and creative ways to act locally to raise awareness and address the challenges of climate change, live more sustainably and move towards a low-carbon economy. We are a member of the UK-wide 

Transition Network
.