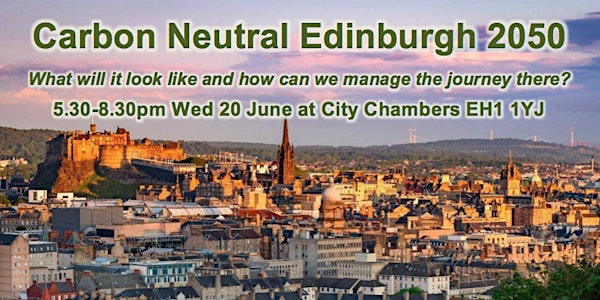 Carbon Neutral Edinburgh 2050: How? 5.30-8.30pm 20June CityChambers EH1 1YJ
Location
Edinburgh City Chambers
253 High Street
Edinburgh
EH1 1YJ
United Kingdom
Description
Carbon Neutral Edinburgh 2050: What will the city's built environment look like? ... and how can we manage the journey there? 5.30 for 6.30-8.30pm Wednesday 20 June at the City Chambers, 253 High Street EH1 1YJ.
Join in a round-table conversation bringing together key people from the City Council - elected representatives and officers - with the Cockburn Association, Edinburgh World Heritage, Built Environment Forum Scotland, Scottish Ecological Design Association, Scottish Solar Energy Group and Edinburgh Architectural Association.
Book via https://2050edinburgh20june.eventbrite.co.uk

Share https://www.facebook.com/events/183481605578069
From the first 5,000 respondents to the 2050 Edinburgh City Vision consultation these aspirations emerged:
Edinburgh becoming carbon neutral
Eradicating poverty as we undertand it today
Reimagining public space in Edinburgh
Making Edinburgh more caring.
This gathering will explore how to achieve the first - and consider how best to balance the many other objectives pressed on those who are charged with running the city:
How can the practical steps be taken to cut emissions from our existing built heritage?

What messages should we be sending to those who invest in our capital city?

How can the co-benefits of the transition to carbon neutral be factored into decisions?
Draft Timetable
5.30pm Transition Edinburgh Open Meeting to review 2017-18
- Raising awareness on climate issues this past year
- Our Participation Request to the City of Edinburgh Council
- Next Steps for Transition Edinburgh and sub-groups
- How everyone can get involved.
6.15pm Refreshments and Registration for Round-table event
6.30pm Welcome by Clr Neil Gardiner, Built Environment & Sustainability Champion
6.40pm Context: Professor Cliff Hague, Chair, Cockburn Association
6.50pm Challenges: Prof Sandy Halliday, Principal, Gaia Research
7.00pm Facilitated Round-table conversations

Refurbishing / upgrading existing buildings [AR+ ]

Standards for all new buildings [RA+ ]

Challenge of Transient populations – visitors and students [JC+JG]

Engaging the whole population [MW+ ]

Air Pollution / Active Travel / public spaces [PA+ ]

Other ideas?! [DS+ ]
8.00pm Bringing together the themes emerging
8.30pm Close
The event is being facilitated by Transition Edinburgh, a community-led network that connects and supports civil society groups, and initiates practical projects that strive for a greener, fairer, healthier and more resilient Edinburgh. We are holding a short annual general meeting from 5.30-6.15pm - to which all are invited.
Registration for the Round-table event with refreshments will be available from 6.15pm. The event is in the City Chambers Business Centre - entered via the main Reception of the City Chambers on the High Street.