Description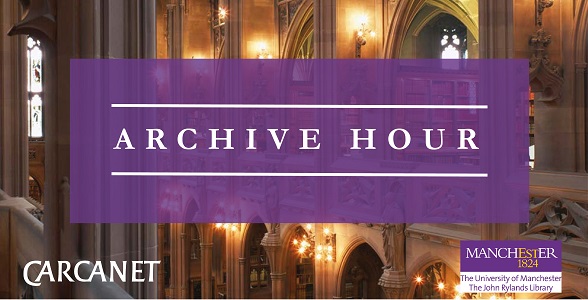 Join us to celebrate National Poetry Day with the second in Carcanet's series of inspiring Archive Hour talks at the beautiful John Rylands Library.
Former Head of Conservation at the British Library, Nicolas Barker will lead us on an exhilarating journey through the changing face of poetry through the ages. Drawing upon his recent Carcanet book, Visible Voices, Barker will trace the development of poetry from an oral tradition to the Ancient pictograms of the Near East, Medieval European manuscripts to the innovations of modernism and beyond.
Nicolas Barker started his own press aged fourteen and went on to work in publishing for Rupert Hart-Davis, Macmillan's and Oxford University Press. In 1976 he became first Head of Conservation of the British Library, retiring in 1992. Since then he has been Libraries Adviser to the National Trust, and consultant to the House of Commons, the Rosenbach, Pierpont Morgan and many other libraries. He was Visiting Professor at University of California between 1986 and '87, and was elected Fellow of the British Academy in 1998. He has written or edited over thirty books, most recently The Roxburghe Club: A Bicentenary History (2012).
Free but booking required.
#NationalPoetryDay #ThursdayLates #poetry #library #archives #reading #cuneiform #medieval #manuscripts #history