Description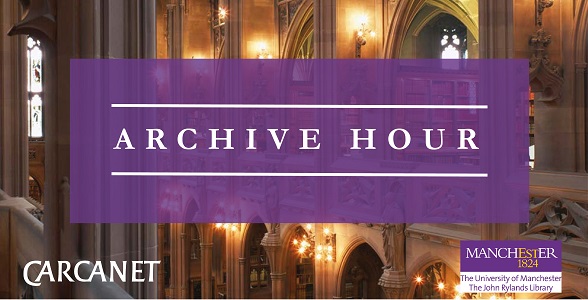 Valediction Forbidden Mourning: Poetry in the Age of Deportation
Another chance to delve into the riches of the Carcanet archives with the third in our series of inspiring Archive Hour talks at The John Rylands Library.
Join the poet and critic David Herd to explore how poetry can play a vital role in the current refugee crisis and how we can change the language through which human movement is currently addressed. Taking the 2016 Immigration Act as its point of departure, this talk will show how the terms of the UK's asylum process seek explicitly to undermine human relations. What we need, the paper will suggest, is a return to the language of lyric poetry.
David Herd is a poet, critic and teacher. He has given readings and lectures in Australia, Belgium, Canada, France, the USA and the UK, and his poems, essays and reviews have been widely published. His collections of poetry include All Just (Carcanet, 2012), Outwith (Bookthug, 2012), Through (Carcanet, 2016) and Refugee Tales (Comma, 2016). He is Professor of Modern Literature at the University of Kent. He is co-Founder of the Refugee Tales project which walks in solidarity with Refugees, Asylum Seekers and Immigration Detainees.
Free but booking essential.
#ThursdayLates #poetry #archives #library #canteburytales #migration #refugeetales #asylum