Cardiff: Music City hosted by Horizons/Caerdydd: Dinas Gerdd o dan arweinia...
Description
Cardiff: Music City hosted by Horizons
This exclusive series of short workshops, demos and performances will explore some of the most innovative work in digital and live music production in the city.
You'll also have a chance to get hands on and kick-start your own music collaborations.
This event, hosted by BBC Cymru Wales and the Art Council Wales new music scheme Horizons/Gorwelion, will give you access to following sessions:
The Anatomy of a Track with Gethin Pearson, international producer, writer and mixer
She Writes Songwriting Surgery: a songwriting workshop with Horizons international artist Violet Skies
Demo and Performance: Ableton music sequencing with BBC Music Introducing performer and Ableton ambassador Rachel K Collier
Making Friends with the Robot: How Artists & Industry can benefit from new technology with Aled Nelms, University of South Wales
A Guide to Digital Marketing with Bethan Miller, University of South Wales
A Guide to Podcasting with blogger Minty's Gig Guide
Let's Create a Track in One Day: a session co-ordinated by Roughion

How to Send your Music into the BBC:

want to work with

BBC Radio

, BBC Music Introducing, or the Horizons project? During this workshop and demo - presenter and project manager

Bethan Elfyn

will explain how
New Music Showcase: introducing emerging Welsh talent Gabrielle Murphy, Rebecca Hurn and Zeb.

Introduction to Music Cities: Rollo Maschietto, Sound Diplomacy
DJ Workshop: with Grl Tlk
Registration is between 12:30 - 1pm. See Programme below for running times.
Please note, we'll be looking for some people to take active part in the Songwriting Surgery, if you'd like to do this, and get feedback on your music – please get in touch with us, bring a track on USB to the session or there will be an opportunity to play live during the session.


Caerdydd: Dinas Gerdd o dan arweiniad Gorwelion
Ymunwch â rhai o'r bobl fwyaf blaenllaw ym myd cynhyrchu cerddoriaeth ddigidol er mwyn gwella eich sgiliau cerddorol eich hun a dathlu Caerdydd fel Dinas Gerdd.
Bydd y gyfres unigryw hon o weithdai byr, arddangosiadau a pherfformiadau yn edrych ar y gwaith mwyaf arloesol sy'n digwydd yn y ddinas ym maes cynhyrchu cerddoriaeth a cherddoriaeth fyw.
Bydd cyfle hefyd i brofi'r offer a chychwyn eich prosiectau cerddoriaeth ar y cyd eich hun.
Mae'r digwyddiad, sy'n cael ei arwain gan gynllun cerddoriaeth newydd BBC Cymru a Chyngor Celfyddydau Cymru, Gorwelion, yn rhoi mynediad i chi i'r sesiynau canlynol:
Anatomeg Trac Sain gyda Gethin Pearson, cyfansoddwr, cynhyrchydd a chymysgydd sain rhyngwladol
SheWrites: gweithdy ysgrifennu a chyfansoddi caneuon gyda seren ryngwladol Gorwelion, Violet Skies
Arddangosiad a Pherfformiad: Ableton. Trefnu cerddoriaeth gyda pherfformwraig BBC Music Introducing a llysgennad Ableton, Rachel K Collier
Gwneud Ffrind da'r Robot! Sut all Artistiaid a'r Diwidiant elwa o dechnoleg newydd gyda Aled Nelms, Prifysgol De Cymru
Cyflwyniad i Farchnata Digidol gyda Bethan Miller, Prifysgol De Cymru
Arweiniad i Bodledu gyda'rblogiwr Minty's Gig Guide
Creu Trac Sain mewn Diwrnod: sesiwn wedi'i chydlynu gan Roughion
Sut i anfon eich cerddoriaeth at y BBC: ydych chi am weithio gydag adran Radio'r BBC, BBC Music Introducing, neu brosiect Gorwelion? Yn ystod y gweithdy a'r arddangosiad hwn, bydd y gyflwynwraig a'r rheolwr prosiectau Bethan Elfyn yn esbonio
Cyflwyniad Cerddoriaeth Newydd: cyflwno talent newydd Cymreig, Gabrielle Murphy, Rebecca Hurn a Zeb.
Cyflwyniad i Dinasoedd Cerddoriaeth: Rollo Maschietto, Sound Diplomacy
Gweithdy DJio: gyda Grl Tlk
Cofrestru rhwng 12.30pm – 1pm. Gweler y rhaglen isod am amseroedd.
Nodwch, fe fyddwn yn chwilio am rhai pobl I gymeryd rhan yn y gweithdy caneuon, os hoffech wneud hynny fe fydd angen ichi gysylltu efo ni, a dod a track ar USB ar y dydd Iau. Mae cyfle I rhai berfformio'n fyw hefyd.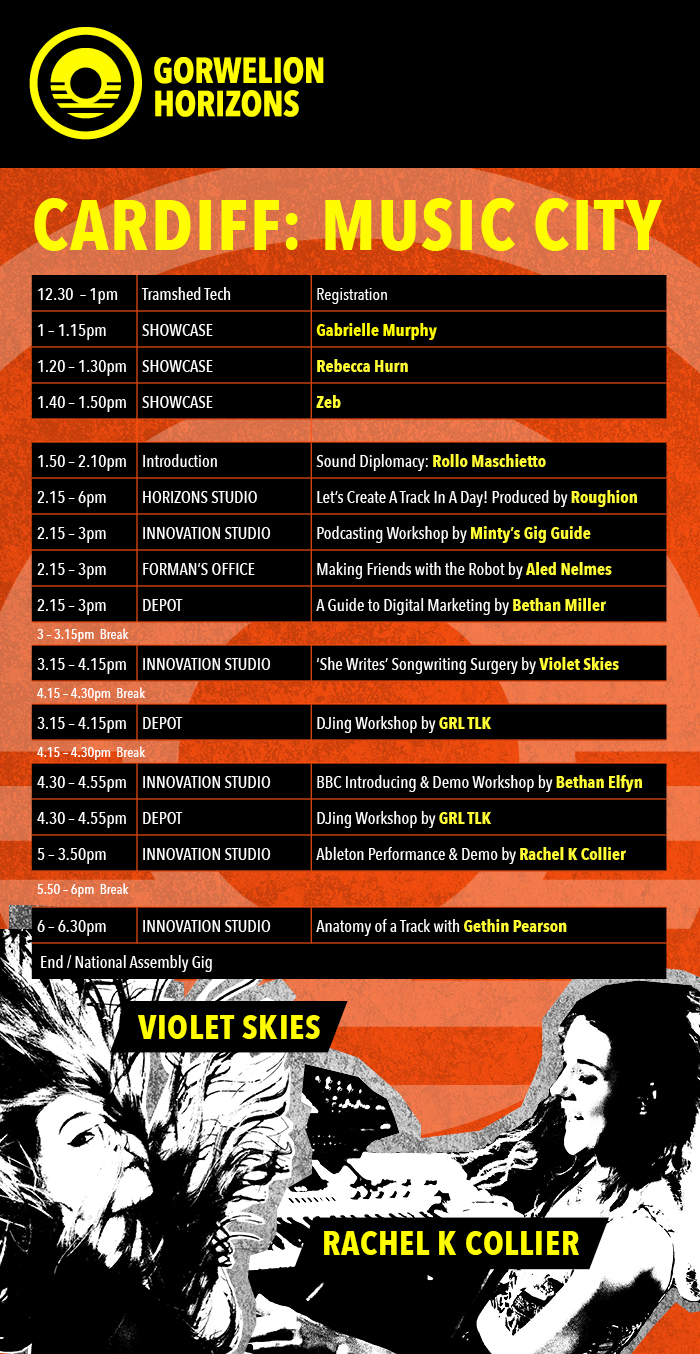 ---
Digital Cities Cardiff 2018 - An exciting series of free workshops, masterclasses and networking events for the creative industries in Cardiff and South Wales, running from 26 February to 1 March 2018.
Dinasoedd Digidol Caerdydd 2018 - Cyfres gyffrous o weithdai, dosbarthiadau meistr a digwyddiadau rhwydweithio yn rhad ac am ddim ar gyfer y diwydiannau creadigol yng Nghaerdydd a'r de, rhwng 26 Chwefror a 1 Mawrth 2018.
http://www.bbc.co.uk/academy/en/collections/digital-cities#