Multiple Dates
Cardiff Uni Medicine Taster Day: choose Fri 21 or Sat 22 June 2019/Diwrnod...
Description
Sgroliwch i lawr i weld y testun Cymraeg / Please scroll down for Welsh
A Medicine Taster Day can help you choose where and what you want to study.
Our two identical events are fun and free and will provide you with lots of useful information about studying medicine at Cardiff University School of Medicine.
Try your hand at clinical skills

Meet our students

Chat to our staff

Ask our admissions team questions

Find out what it's really like to be a Cardiff medical student and junior doctor

Hear about our admissions processes and discover what Cardiff University School of Medicine is looking for in its candidates

See the great facilities we have to offer you as a Cardiff medical student
...and much more (including a free lunch).
Your day involves a mixture of workshops, talks and practical clinical skills sessions designed to help you make that important next step. Get advice on getting into med school, try your hand with clinical skills and simulation and find out more about where your MBBCh could take you.
We also have a carefully-crafted programme for a parent/guardian, teacher or careers advisor, should you want to book a place for them too (but please don't book yourself a place on the parent/guardian, teacher or careers advisor's programme if you are a student).
Demand is high and space is limited so, to be fair to everyone, please ensure that you book for one day only and bring no more than one accompanying person to the event. (Luckily it is just a short car or bus ride to Cardiff city centre, where there is plenty to see and do, including shopping, museum, art gallery, restaurants, cinemas, theatres, parks and lots more.)
Got that? Great, and we'll see you in June.
Not sure whether to book? See what our med students say about their course.
Is the date you want booked out? Come see us at one of Cardiff University's Open Days on Wednesday 27 March or Friday 5 July 2019.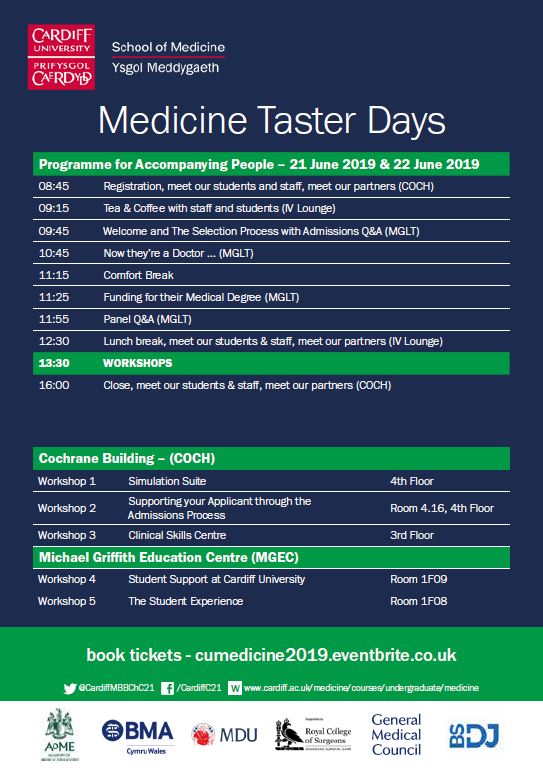 Gall Diwrnod Blas ar Feddygaeth eich helpu i ddewis beth i'w astudio a ble i'w astudio.
Bydd ein dau ddigwyddiad hwyl ac am ddim, sydd ag union yr un amserlen, yn cynnig llawer o wybodaeth ddefnyddiol i chi ynglŷn ag astudio meddygaeth yn Ysgol Meddygaeth Prifysgol Caerdydd.
• Cyfle i roi cynnig ar sgiliau clinigol
• Cwrdd â'n myfyrwyr
• Sgwrsio â'n staff
• Gofyn cwestiynau i'n tîm derbyn
• Dysgu am sut beth yw bod yn fyfyriwr meddygaeth a meddyg iau yng Nghaerdydd
• Clywed am ein prosesau derbyn a'r hyn mae Ysgol Meddygaeth Prifysgol Caerdydd yn chwilio amdano yn ei hymgeiswyr
• Gweld y cyfleusterau gwych sydd gennym ar eich cyfer chi fel un o fyfyrwyr meddygaeth Caerdydd
...a llawer mwy (gan gynnwys cinio am ddim).
Bydd eich diwrnod yn cynnwys cymysgedd o weithdai, cyflwyniadau a sesiynau sgiliau clinigol ymarferol i'ch helpu i wneud y cam pwysig nesaf. Cewch gyngor ynglŷn â sut i gael lle yn yr Ysgol Meddygaeth, cyfle i roi cynnig ar sgiliau clinigol ac efelychu, a chael gwybod mwy am lle gall eich MBBCh eich cymryd.
Mae gennym raglen a gynlluniwyd yn ofalus ar gyfer rhiant/gwarcheidwad, athro neu gynghorydd gyrfaoedd, os ydych am gadw lle ar eu cyfer hefyd (ond peidiwch â chadw lle ar gyfer eich hun ar y rhaglen i rieni/gwarcheidwaid, athrawon neu gynghorwyr gyrfaoedd os ydych yn fyfyriwr).
Mae'r galw yn uchel ac mae lleoedd yn brin, felly er mwyn bod yn deg i bawb, gwnewch yn siŵr eich bod yn cadw lle ar gyfer un diwrnod yn unig ac yn dod â dim mwy nag un person gyda chi i'r digwyddiad. (Yn ffodus mae canol dinas Caerdydd dim ond taith fer i ffwrdd mewn car neu fws, ac mae digon i'w weld a'i wneud yno, gan gynnwys siopa, amgueddfa, oriel gelf, bwytai, sinemâu, theatrau, parciau a llawer mwy.)
Popeth yn glir? Gwych, fe welwn ni chi ym mis Mehefin.
Dal ddim yn siŵr a ydych chi am gadw lle? Darllenwch farn ein myfyrwyr am eu cwrs.
A yw'r dyddiad sy'n well gennych yn llawn? Dewch i'n gweld yn un o Ddiwrnodau Agored Prifysgol Caerdydd ddydd Mercher 27 Mawth neu, dydd Gwener 5 Gorffennaf 2019.