Description
"Care Leadership: Guiding the Way in the 21st Century" will leave you feeling more confident about tackling some of the challenges faced by care homes in the 21st Century and help you to guide your team through the changes involved.
The half-day event will focus on the sector's drive to make digital care a reality and the need to improve the understanding and care for those living with dementia.
Care homes from the South West will share their experiences of implementing a digital care management system and how being paper-free at the point of care has led to a more efficient and responsive service whilst improving resident outcomes. There will be a supporting workshop with advice for the successful introduction of a digital system in your care home.
Dr Stephen Pearson, Research Lead at the ground-breaking organisation Re-Cognition in Plymouth, is aiming to find a treatment for dementia within 10 years and will be presenting the latest research into treatment for dementia.
There will be up-to-date training on the ethical issues of consent, including covert medication, Facebook and supported decision making; based on the Human Rights Act, Mental Capacity Act and The Care Act.
Liz Shepherd from the Royal Cornwall Museum will be talking about the 'Memory Box'reminiscence sessions available to care homes across Cornwall.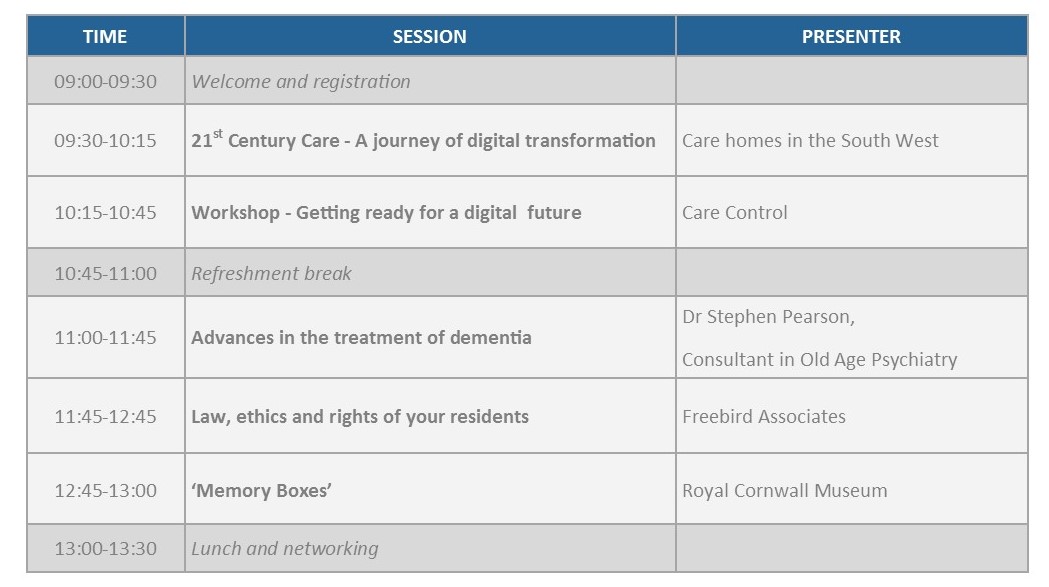 Don't miss out - Book your FREE ticket now!
Have a question? Contact laura@carecontrolsystems.co.uk