MAXIMISE YOUR JOB SEARCH - What to Do to Improve Your Job Search and Get Interviews
About this event
Looking for a new job but having zero luck getting hired can be incredibly demoralizing. Research shows that a well-prepared candidate is likely to be seeking a new role for a minimum of 4 months, with 1 in 10 still looking after 12 months.
If you are affected by furlough, downsizing, lost your job due to the pandemic, or simply just looking for a job, without having any tangible results, this event is for you!
The Biggest Job Search Challenges....
If you recently lost or quit your job and you're in the unwanted job-search game, life can be frustrating. After a couple of unsuccessful months, you found yourself in a very challenging situation where:
You Really Need a Job Now But, You Feel, You Lost Your Control Over the Job Search
Recruiters are Constantly Ghosting You which Affecting Your Self-Confidence
You Struggle to Find Job Opportunities
People Are Saying that 'Something Wrong with Your CV', but You Are Not Sure What to Change on it to Get Better Results
You Start Losing Focus and You Don't Know What You Want Anymore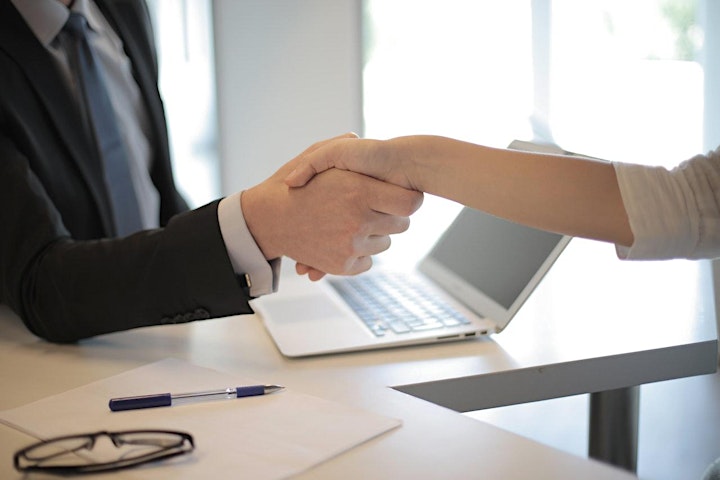 Training Agenda
On this 1 hour value-packed training you will learn:
Learn 3 of the Most Effective Ways to Speed Up Your Job Search
Gain Insight Into How to Turn Your CV into a Targeted, ATS Bulletproof Document
Our Top 4 Job Hunting Tools, Tips, and Tricks That Will Turn Your Search Around
Gain Your Lost Self-Confidence Back
Live Q&A with our Career Experts to Answer Questions You Have About Getting More Results from Your Job Search
About Your Hosts
Roland Tamas and Evelyn Sky both certified Career Experts and Co-Founders of The Career Jump Group where they train, support and upskill people to progress in their career and land new jobs.
They bring combined 23 years of coaching and advisory experience, as they personally worked with thousands of professionals and job seekers helping them to overcome challenges, achieve their career goals and get hired faster.
You can learn about them by visiting www.careerjump.co.uk/the-team
Event Details
Date: Monday, 14th December
Time:
London, UK 5:30 pm (BST / GMT+1h)
Barcelona, SPAIN 5:30 pm
Sofia, BULGARIA 7:30 pm
Johannesburg, SOUTH-AFRICA 6:30 pm
Dubai, UEA 8:30 pm
Mumbai, INDIA 10:00 pm
Toronto, CANADA 12:30 pm
New York, USA 12:30 pm (EST)
Where: this training will be delivered online via YouTube Live Stream.
Training Fee: Free (Valued £29)
Please note that seats are very limited.
Technical Details of the Event
This is a virtual training and will require internet access to view the materials being presented
We will email you login details upon registration, one week, 24 hours, and 1 hour before the event
We recommend using a computer, laptop, tablet or smartphone for the best experience
Don't see your sign-in link? Check your 'Spam', 'Promotions' or 'Updates' folders for an email from Career Jump or Eventbrite.
We suggest testing the audio and video on the device you will be using prior to the start time of the workshop
Organiser of Career Jump Pandemic Job Search Series #9 - MAXIMISE YOUR JOBSEARCH