About this Event
Welcome to City Careers Week
This is the final day of our 6 day making it in Industry careers week. Today's conference is focused on Creative Industries - Friday 10th July
Our line-up of amazing speakers will share their passion for their fields - in keynotes, talks, and Making It Happen sessions.
Jennifer Thomas - Director of Internal Communications at Direct Line
Charlie Turnball -Director of Product Management, Group Apps and Partner Content at Sky.
Nicholas Fenton - Music Executive at ITV
Marina Parker - Vice President, Transformation Delivery at Kantar
Josh Dresner - Digital Consultant at Spark
Hannah Soar - VP, Strategic Growth at Kantar
Kat Murray-Clark - Service Designer at SPARK
Dilys Uwagboe- Artist, Musician at Eckoes
Lindsay Nadin - Director at Pearson Uk schools
Lenna Lou - Founder/Director at The L factor
Rashada Harry - Founder at YFYA
On our virtual platform you can: Explore the Stage, Networking, Sessions, and Expo.
The event allows you to either participate or just observe. We recommend you get involved, ask questions, and make connections - to get most out of the day and engaging with the leaders and mentors that we have present.
The theme of the event and the entire week's conference is "Move To Equality". Our keynote speakers will share where they are now, how their business is trying to move to equality, and how they are going to #ActivateChange within their company and industry.
The #CityCareer Creative Industries event includes:
Talks and keynotes from Creative professionals
'Making It Happen' Masterclasses :
Application zone where you will be able to learn from HR professionals and recruitment leads
Employer & Volunteer zone where you will be able to engage with volunteering opportunities and employers looking to connect with talent.
Register now for free courtesy of Barclays, PWC and Compass Group.
- Make meaningful career progress as the economy reopens.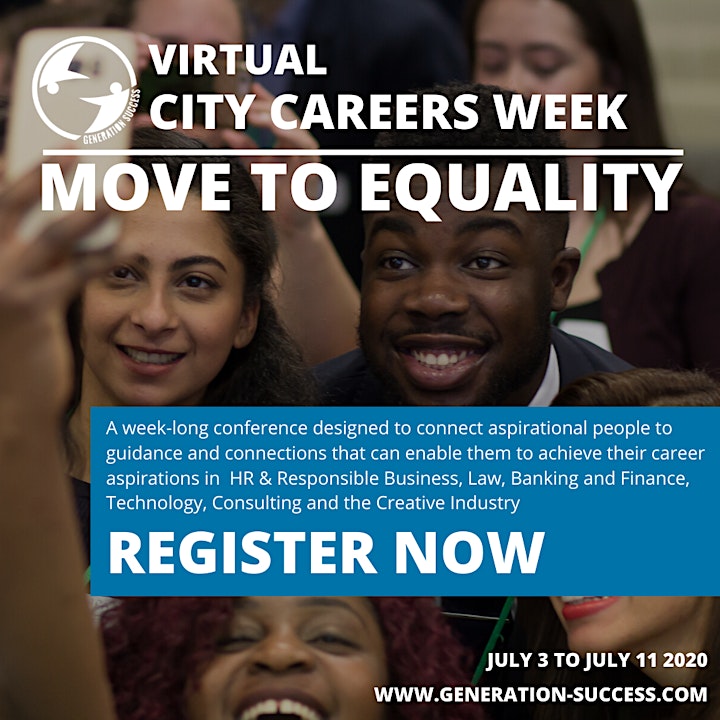 Event Agenda
4.30 pm Welcome, Opening Remarks and Keynotes (In main room)
5.15 pm 'Making It Happen' masterclasses:
Select your industry-focused sessions
6 pm - 7.45 pm Free time:
Move around the platform and decide to do any of the following things:
Speed Mentoring
Application Zone
Employer and Volunteer Zone
Feel free to stay for the entire period or leave at any point during the programme
7.45 pm: Closing remarks
8 pm: Event closes
You deserve a mentoring experience that connects you to the world of today:
Learn from senior leaders as to how they made it in their professions.
Benefit from attending small masterclasses where you can engage, learn and discuss how to break into the industry with leading professionals.
Learn from HR and recruitment leads the secrets to making a great application, standing out in an interview - to secure that coveted role.
Build a professional network and meet people in industry via automated one-to-one speed mentoring sessions.
Feel inspired with new work and volunteering opportunities currently available.
The Virtual City Careers Week 2020 is for you.
An hour of some of our speakers time is the same value as a bar of gold. It's an evening not to be missed.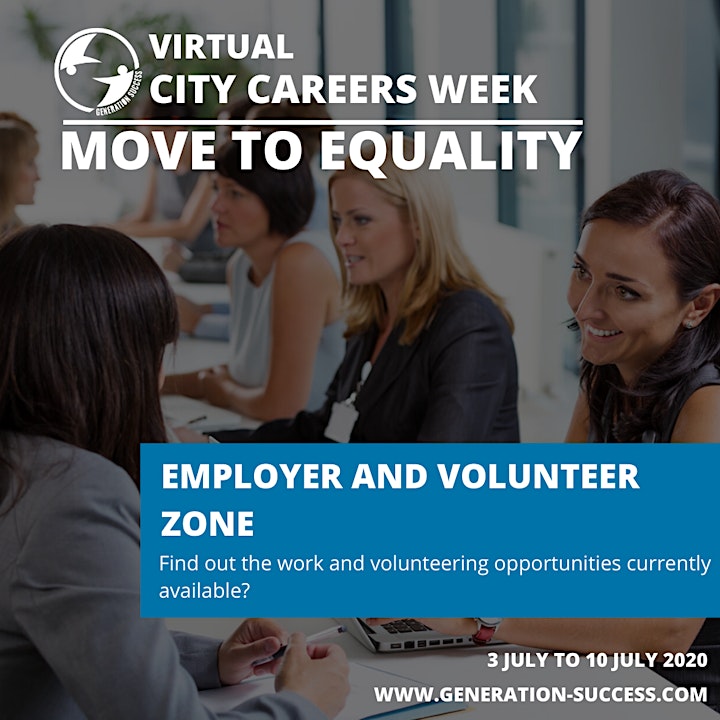 Free Time Employer and Volunteer Zone
Join sessions with employers, and learn more about their application process. Ask questions and make your next move.
You can learn more about them and what steps to take to apply. This gives you a chance to see what's out there and also to reach out directly.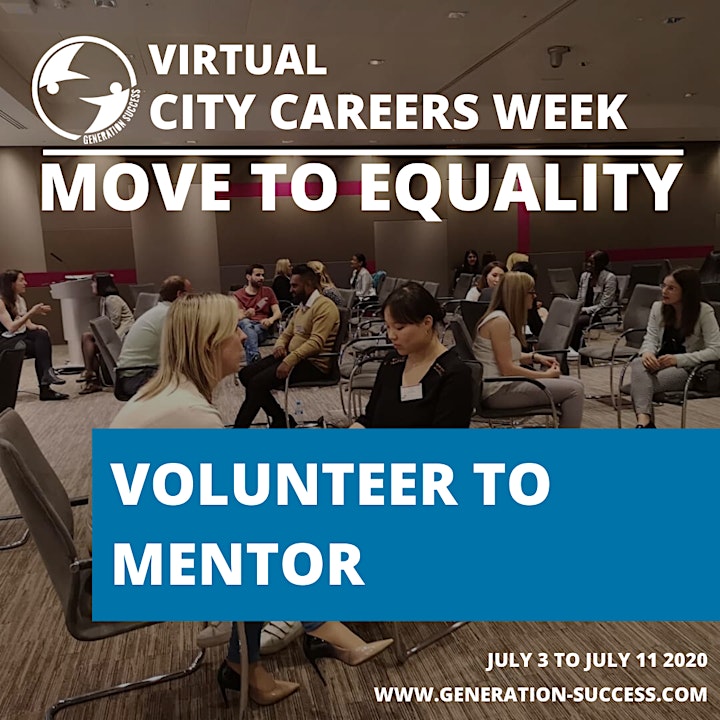 Free Time - Virtual Speed Mentoring - One to One with industry
In the speed mentoring zone you will be matched automatically at 10 minute intervals with our Creative Industry mentors. You will be able to speak to them via webcam on a one to one basis.
This automated system is designed to let you connect and learn from as many industry leaders as possible.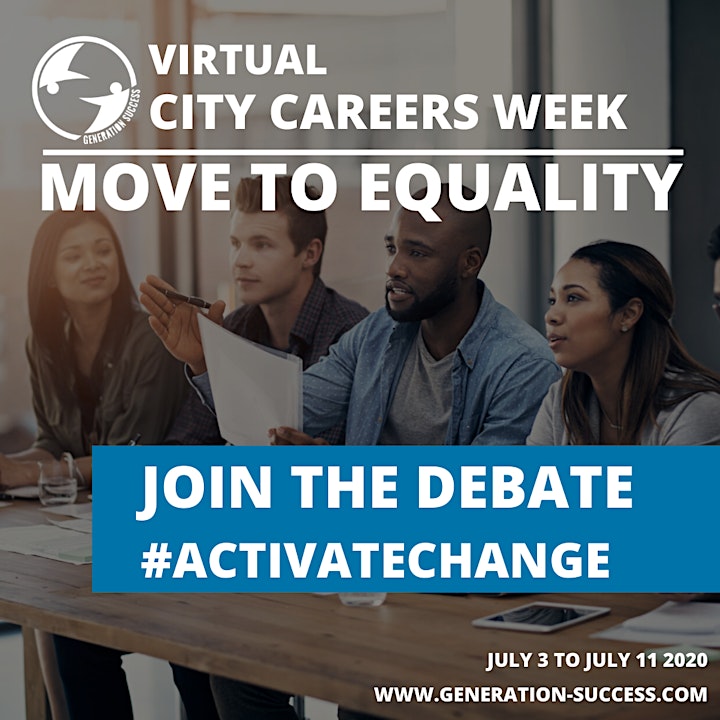 Our Mission
We hope to benefit as many attendees with ongoing support after the Week. Support includes mentoring and career days delivered in partnership with our sponsors.
Some attendees will be selected for ongoing support, including workshops, career days and access to some of our work experience and insight programmes at employers.
Note there are real active jobs and programmes that you will be able to engage with HR managers about on the day.
Our aims: Network, Learning, Achieving
To connect diverse talent to companies looking to hire diverse talent
Identifying influential business leaders from the community to share their career stories and the struggles they faced to get to where they are now
To inspire and help attendees move forward with their career path
Showcase career options and opportunities available
Our Guarantee:
A casual, welcoming atmosphere
Direct access to Leading figures
Top and secret tips about career progression
Diversity of audience
Speakers who are inspiring and want to inspire other people (paying it forward)
Opportunity to sign up to our mentoring program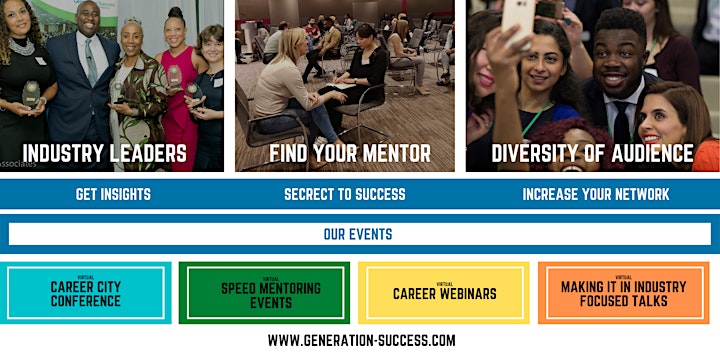 Date and Time
Location
Refund Policy