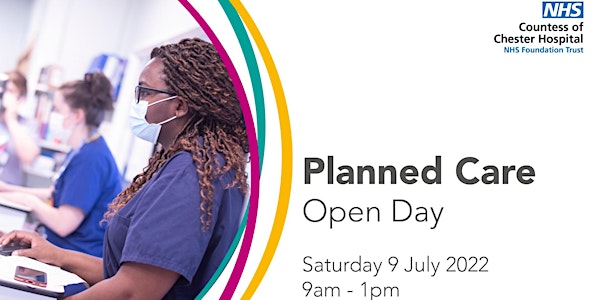 Careers Open Day Countess of Chester Hospital NHS Foundation Trust
Location
Countess of Chester Hospital NHS Foundation Trust, Education & Training Centre
Countess of Chester Health Park
Liverpool Road
Chester
CH2 1UL
United Kingdom
Interested in a career at the Countess of Chester Hospital? Want to know more about the exciting opportunities? Come along to our Open Day!
About this event
Planned Care Open Day 9th July 2022
Join #TeamCountess
Be part of something bigger
Countess of Chester Hospital NHS Foundation Trust
We have a number of fantastic opportunities available for Band 5 Registered Nurses, ODP's, Band 2 Health Care Assistant and Theatre Support Workers within our Planned Care Division.
Whether you are looking to work in Theatres, Day Surgery, Acute and Elective Surgical Wards, Outpatients or Critical Care, we will have something that should appeal to you.
Our Planned Care Division at The Countess of Chester NHS Foundation Trust is holding a Recruitment Event on Saturday 9th July 09.00-13.00. This is an opportunity to come and meet the teams and find out everything that you want to know about working at our hospital here at Chester.
What to expect on the day
We are holding the recruitment event in our Education & Training Centre which is situated on the Trust Hospital site. The event will run from 9am until 1pm.
During this event you will have the opportunity to attend and meet the teams. The teams will be available to answer any questions you might have. Department tours will be available on the day for Theatre and the Day Surgery Unit.
Same day interviews will be available at the event, you will be notified if successful on the day so you can leave the event with a secure job offer if successful!
We are really excited to meet you, please confirm your interest by clicking to register and if interested on a same day interview please complete the application form by clicking on the following link or you can copy and paste the link into a browser address bar http://jobs.coch.nhs.uk/job/v4258084
Free parking available on the day in the Jubilee and Education & Training Centre car parks.
Working for our organisation
The Countess of Chester Hospital NHS Foundation Trust consists of a 600 bedded large District General Hospital, which provides its services on the Countess of Chester Health Park, and a 64 bedded Intermediate Care Service at Ellesmere Port Hospital.
The Trust provides services in all of the surgical and medical specialties common to a District General Hospital with some specialist services. The Trust serves the whole of the local population currently in excess of 250,000 residents which geographically covers populations in England and North Wales.
The Trust strives to continuously improve and sustain the quality of its services for patients, providing care to more than 445,000 patients per year, with almost 4,000 staff working together putting quality and patient safety, at the heart of everything we do. The organisation provides a wide range of services offering health care to the whole spectrum of the population from birth to the end of life. The Trust complies with its terms of authorisation as a Foundation Trust.