What do programmers do? How do they change the world? Join us to hear from real-life programmers and ask them your questions. All welcome!
About this event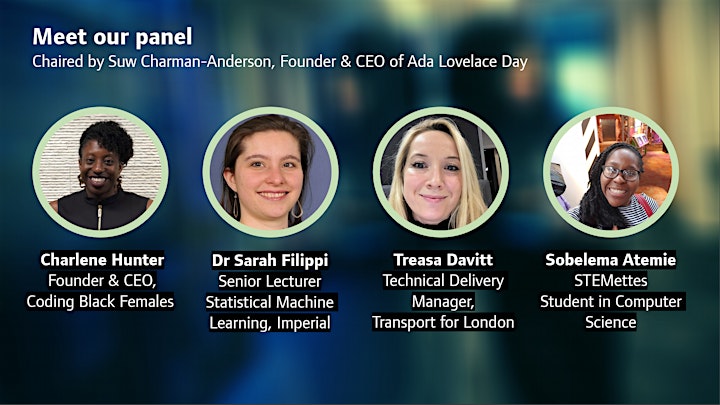 Many people associate computing with phones, games or a subject in school. But did you know that it also plays a big part in transport, healthcare, environment, sustainability, education and human rights?
This Ada Lovelace Day, you will get the chance to hear from real-life programmers and computer scientists who #CodeTheWorld on a daily basis and ask them your questions. What do they really do? Can they make the world a better place? And how can you become one?
This event is open to any young person who is interested in learning about different and exciting careers within computing, programming, computer science, software engineering, etc. Careers in computing are available and suitable for anyone, whether you are currently studying at school or at home, in between education stages or you are a school leaver.
This event celebrates Ada Lovelace Day which takes place on the second Tuesday of October every year.
Joining instructions
This webinar will run as a live stream with Q&A where attendees can submit questions to the panellists.
You will receive an email with a joining link after registering.
If you have any questions, please do not hesitate to contact education.programme@london.gov.uk.
Online careers events from the Mayor of London
Encounters with employers are important for attainment, motivation and skills. However, during the COVID19 pandemic, many young people will have found that their access to careers advice and work experience opportunities has changed.
The Mayor of London has created a series of online careers events to support students.
For this event, the Mayor joins forces with Ada Lovelace Day, STEM Learning, Coding Black Females and STEMettes to raise the profile of women in computing and the amazing career opportunities available to girls and boys in this exciting industry.
Ada Lovelace Day
Ada Lovelace Day is an international celebration of the achievements of women in Science, Technology, Engineering and Maths (STEM). It aims to increase the profile of women in STEM and, in doing so, create new role models to encourage girls and women to study STEM and support them in their careers. Each year, Ada Lovelace Day hosts a flagship science cabaret event in London, whilst around the world independent groups put on their own events.
Ada Lovelace Day also runs the Finding Ada Network, an online mentorship and knowledge sharing network for women in STEM, and the Finding Ada Conference, a fully online global conference for women in STEM and advocates for gender equality to be held on Tuesday 10 November.
Organiser of Careers with Impact: Meet the Programmers who #CodeTheWorld | Live Event