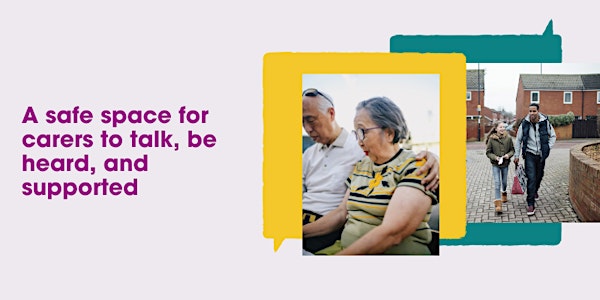 Carer Friendly Accreditation Workshop
A workshop to provide GP surgeries and schools with the tools and support to establish best practice when supporting carers in Newcastle.
About this event
A carer is someone who provides help and support on a regular basis - and is not employed to do this - to a family member or friend. Anyone can be a carer, at any time in their life. Some people might not think of themselves as having caring responsibilities and identify as a carer, consequently missing out on help and support. We know many GP surgeries and schools in Newcastle have already put into action ways to support carers, and we want to celebrate this great work. We also want to equip GP surgeries and schools with the tools, information and support to help them establish good practice when working with carers.
Why attend the Carer Friendly Accreditation Workshop?
Many GP surgeries and schools in Newcastle have already taken positive steps to improve carer identification and to provide support, such as leaflet displays and information boards, and changing their policies to include carers. We want to celebrate your achievements during Carers Week and share your good practice. This workshop will help to improve your understanding of carers and provide you with information on ways to support carers and embed these into your organisation's systems and processes.
This workshop will explore how you can gain our Carer Friendly Accreditation, a free and simple process.
What to expect
The workshop will be led by Claire Briston, Activities and Awareness Co-ordinator at Newcastle Carers. She will be joined by a young adult carer who will share their experience of being a carer to give you an insight into the carer's role.
Furthermore, we will share a short animation created by young carers about "top tips" for supporting young people with caring responsibilities.
You can also expect an overview of the Carer Friendly Accreditation (suitable for both schools and GP surgeries); information on how to apply; what you will gain from the accreditation; and how to demonstrate the ways you are supporting carers in your setting.
What are the benefits of attending this workshop?
To gain a greater understanding of carers and how you can identify, understand and support carers
To gain an understanding of how your organisation can achieve a Carer Friendly Accreditation
Carer Friendly Accreditation enables you to demonstrate to your service users, other professionals, standards inspectors (e.g. Ofsted, CQC), etc. that you are taking steps to support carers in your organisation.
The workshop is held during Carers Week 2022, and what better way to celebrate Carers Week than to join us and celebrate your achievements?!
This is an online event. The joining instructions with the workshop link will be sent one week before the event.
Please get in touch if you would like more information about our Carer Friendly Accreditation Workshop.