Description
Do you have staff with caring responsibilities and find it challenging to know how to support without losing them? Do you want to hear from others about how they have gone some way to get the balance right – helping both the employees and the business benefit?
By 2030 it is estimated that there will only be 63% of the population who are of working age, putting pressure on availability of skilled labour. That means we need to support those we currently have to stay in work, despite increasing caring demands on workers as the population continues to age.
Almost 395,000 people in work in Scotland are estimated to have caring responsibilities, equating to 1 in 7 of all workers. As the population ages, this figure will continue to rise. This is why it is so important to get the right workplace support and flexibility, employees who might otherwise have given up work to care are enabled to continue working, with employers retaining valuable skills and experience.
You are invited to this free seminar to learn about the Scottish Government's Carer Positive recognition scheme, and to understand the business benefits of supporting staff who may be caring for older, sick, or disabled relatives.
Carer Positive supports employers to develop carer friendly and inclusive workplaces which contribute to improved employee wellbeing and retention. In fact, Centrica, one of Carer Positive's Exemplary employers, found that they saved around £1.8 million per annum through the application of its carer policies for unplanned absences and presenteeism and a further £1.3 million per annum in retention savings.
The event will provide an overview of Carer Positive and the case for supporting working carers. It will also showcase best practice examples from a number of Carer Positive recognised employers including Centrica/Scottish Gas.
The Scottish Business Pledge encourages a range of Fair Work practices to help employers support their employees to, for example work flexibly and to achieve a good work/life balance, recognising that a balance of work and personal commitments offers a more engaged and productive team
Hosted by the University of Strathclyde, which is both a Carer Positive and Business Pledge employer, the event will give delegates the chance to discuss their own experiences of carer employees in their organisations and challenges they may have faced in supporting and retaining these staff members.
Agenda
8:45 Coffee/tea & pastries
9:15 Welcome and introduction:
Professor Sir Jim McDonald, Principal and Vice Chancellor, University of Strathclyde
9:20 Carer Positive and the business case
9:30 Best practice case studies from Carer Positive employers:

Andrea Barrett, Head of Corporate Citizenship at Centrica plc

Sonia Cottom, Director of the Pain Association Scotland
9:50 Links to the Scottish Business Pledge
10:00 Table discussions

10.20 Open discussion/Q&A
10.30 Seminar close

Organiser of Carer Positive and the Scottish Business Pledge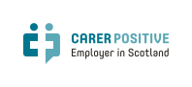 The Carer Positive employer award scheme is operated across Scotland by Carers Scotland on behalf of the Scottish Government.  As the population ages, more and more people in the workforce will find themselves balancing work and caring responsibilities. Carer Positive supports employers to provide a workplace environment where carers feel valued and supported. As well as supporting the wellbeing of staff who are carers, this can deliver real benefits to employers in terms of recruitment, engagement, and retention.
Over 140 organisations across Scotland have been recognised as Carer Positive Employers. The scheme is free to participate in, with access to resources, support and advice.
Visit the Carer Positive website for further information, or contact Sue McLintock on 0141 445 3070 or at info@carerpositive.org.