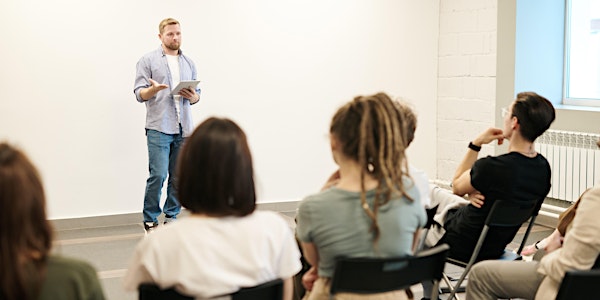 Carers Rights Day 2021: Speak Clearly - Communication with Professionals
Workshop will enable carers to begin to look at their communication skills and the power of language whilst speaking with professionals.
About this event
Event open to registered carers only
This event is only open to carers registered with Carers Support West Sussex, who either reside in West Sussex or look after someone who lives within the county. If you are a carer who would like to register, then please call 0300 028 8888 or visit our website www.carerssupport.org.uk.
Please note: by registering to attend this online event, you are also agreeing to abide by our Online Group Meeting Agreement - scroll to the bottom of the page to view.
What is Carers Rights Day?
Whether you are a new carer or have been caring for someone for a while, we believe that it's important that you understand your rights and are able to access the support that is available to you as soon as you need it. Each year, Carers Rights Day helps us:
ensure carers are aware of their rights
let carers know where to get help and support
raise awareness of the needs of carers.
To find out more about this national awareness day, visit Carers UK - Carers Rights Day 2021.
Carers Voice Network
We are thankful to all our Carers Voice and Carers Health and Training (CHAT) members who helped plan events and activities for Carers Rights Day 2021. To find out more about our Carers Voice Network, and how you can become a member, please visit our website: https://www.carerssupport.org.uk/carer-voice-network
Digital Support to Join Online Events
Are you unsure how to join the online sessions? We could help you to practice this prior to the event so that you feel confident to join the session either by phone or tablet/laptop.
To request support from the Digital Champions Service please call 0300 028 8888 or email volunteering@carerssupport.org.uk
The interactive workshop will cover
• Verbal and non – verbal communication such as speaking, body language and building rapport
• Understanding the important principles of a clear yes and no
• Techniques from Neuro linguistic programming (NLP)
• Exploring listening skills such as active listening
• Exploring passive and aggressive behavioural traits
• Assertiveness and speaking up for your loved ones wants and needs.
Host: Nick Llewellyn
Nick is the founder of Not a Care in the World resilience training.
As a secondary carer himself, Nick has witnessed first hand the loss of identity and life that can come from a caring role. Nick is a theatre director and communication skills trainer, with over 15 years experience working with community groups using creativity, Neuro Linguistic Programming and self care techniques.
Nick translates his vast knowledge to empower people to take charge of their lives and be the person the world wants them to be.
You can find out more about Not A Care in the World from their website www.notacareintheworld.co.uk

Carers Support West Sussex (CSWS)- Online Group Meeting Agreement
Joining in with an online virtual event or meeting can be daunting if it's a brand-new experience. We would like to establish some 'house rules' for the understanding and comfort of everyone involved.
By signing up to this online meeting, you agree and consent to the following:
I wish to participate in the online group session
I will treat any shared sensitive information with confidence and will remain within the group
I understand that others may be able to see and hear my space at home and that it is my responsibility to ensure this is an appropriate environment
I understand the session may be recorded by CSWS and may be shared or published in the public domain (CSWS will always make clear if any session is being recorded at the start of the meeting)
I will not forward the session invitation to anyone else
I will not take any 'screen shots' of the session – recognising others in the group may not wish their identity to be shared
I am responsible for providing the wifi/phone/laptop etc I need to access Zoom
I'm aware I can withdraw from the group at any time if I chose not to participate
If I wish to prevent my name from showing on the screen, I will choose to rename it when joining the meeting.
Carers Support West Sussex Privacy Policy and Online Community House Rules
Eventbrite Privacy Policy | Zoom Privacy Policy