A virtual tour of Ben Cross's nursery live and direct from inside the greenhouses!
About this event
Event open to registered carers only
This event is only open to carers registered with Carers Support West Sussex, who either reside in West Sussex or look after someone who lives within the county. If you are a carer who would like to register, then please call 0300 028 8888 or visit our website www.carerssupport.org.uk.
British Flowers Rock!
Ben Cross, a 4th generation flower grower at Crosslands Flower Nursery, will be giving a virtual tour of his nursery live and direct from inside the greenhouses!
Ben Grows over 70 varieties of the British Alstroemeria and will talk about how he grows and maintains his crop.
With over 90% of cut flowers in the UK now being imported he will also talk about his BRITISH FLOWERS ROCK campaign and how you can help and support our British growers and keep Britain Blooming!
About Alstroemeria Ben
Ben is a 4th generation grower at Crosslands Flower Nursery which was established in 1936 in West Sussex and is one of the last flower nurseries producing cut flowers in a full colour range all year-round.
Ben's British Alstroemeria is a very sustainable crop. His flowers are not sprayed with any chemicals after being harvested and go into recyclable, reusable boxes and arrive with customers the next day. No soil cooling techniques are used to force production and some flower beds are over 20 years old, still producing premium quality stems. Under 5% of the crop is replanted a year so sterilizing the soil is kept to a minimum.
The British Alstroemeria is known as a 'Cool Crop' and a 'Dry Crop' so doesn't take much heat input or watering. Optimum heat at night through the winter is just 13°C via a biomass boiler and the crop is watered for just 20 minutes once a month in the winter and just 20 minutes once every 10 days in the summer unlike flowers grown in warmer countries that use a lot more water resource.
When Ben's flowers have been picked they don't go into big freezers, the cooling storage system at Crosslands is usually turned off between November and March. When the flowers need to be stored in warmer weather they're only chilled at about 6°C instead of 0.5°C like most imported flowers. They are only stored for a couple of days before they are with the customers. They are a lot fresher than flowers that go all around the world. Most importantly all the stems are harvested at a 'ripe' big fat bud stage giving a bigger more vibrant flower unlike the imports that are harvested too tight in bud just so that more can be transported in boats and planes.
Ben also only employs local people and more importantly does apprenticeship schemes with local horticultural colleges and goes into floristry colleges to give his British Flowers Rock Talks
Next to being a fulltime grower, Ben is an avid campaigner for British Flowers and takes any opportunity he can to spread the word that British Flowers Rock!
Ben won the Grower Award in 2019! And won the Gold Sussex Environmental award in 2020
Ben donated his blooms to St Richards Hospital and West Sussex care homes during the COVID 19 lockdowns.
You can buy Ben's flowers by contacting him on his social media channels - twitter and Instagram @alstroemeriaben and on facebook at Crosslands Flower Nursery.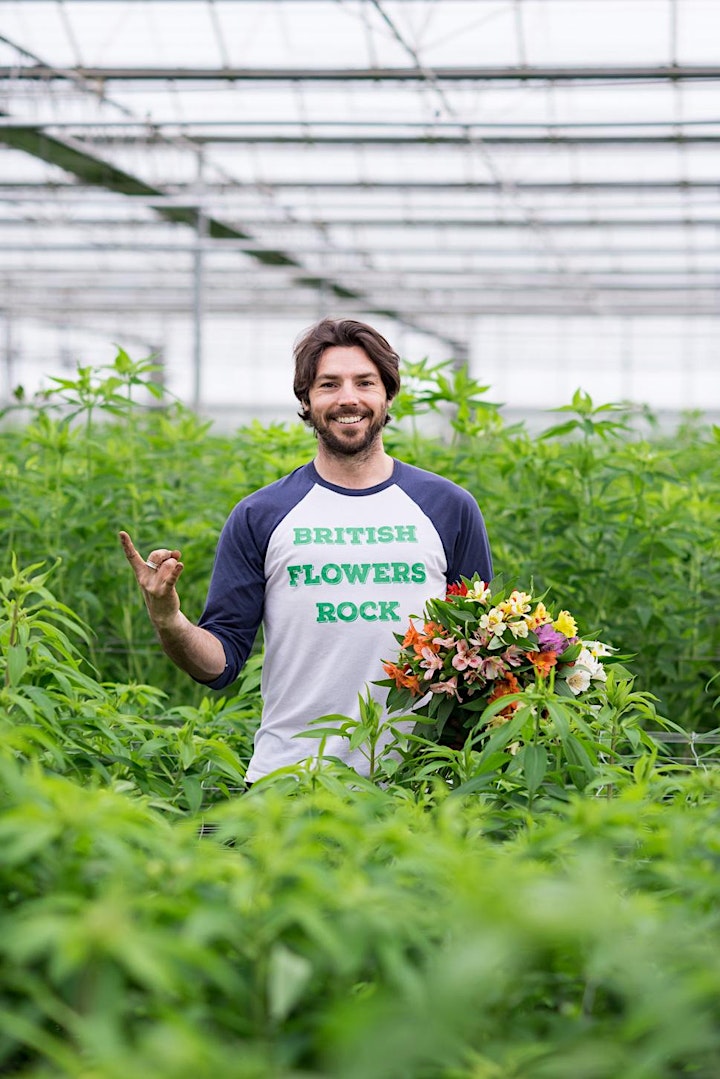 Carers Support West Sussex - Online Group Meeting Agreement
Joining in with an online virtual event or meeting can be daunting if it's a brand-new experience. We would like to establish some 'house rules' for the understanding and comfort of everyone involved.
By signing up to this online meeting, you agree and consent to the following:
I wish to participate in the online group session
I will treat any shared sensitive information with confidence and will remain within the group
I understand that others may be able to see and hear my space at home and that it is my responsibility to ensure this is an appropriate environment
I understand the session will not be recorded, either by Zoom, CSWS or by anyone participating. I will not share or publish it in anyway to external parties
I will not forward the session invitation to anyone else
I will not take any 'screen shots' of the session – recognising others in the group may not wish their identity to be shared
I am responsible for providing the wifi/phone/laptop etc I need to access Zoom
I'm aware I can withdraw from the group at any time if I chose not to participate
If I wish to prevent my name from showing on the screen, I will choose to rename it when joining the meeting.
Carers Support West Sussex Privacy Policy and Online Community House Rules
Eventbrite Privacy Policy | Zoom Privacy Policy

Organiser of Carers Week 2021 - Ben - British Flowers Rock