Caring for Carers (Foster Carers, Kinship Carers and Adoptive Parents)
Event Information
Refund policy
Contact the organiser to request a refund.
Eventbrite's fee is nonrefundable.
A workshop for Carers, the aim is to reduce stress and to improve mental health while parenting during a global pandemic
About this event
Are you caring for a child who has experienced trauma or who has additional care needs?
Does lockdown and school closures fill you with anxiety and dread?
Are you experiencing an increase in stress and becoming overwhelmed with your emotions?
The workshop is about learning to look after you and understanding how to care for you. You will find out where overwhelming feelings and negative thoughts come from and why certain behaviours trigger your reactions and can leave you feeling sad, drained and guilty and so much more....
Life as a Foster Carer, Kinship Carer or as an Adoptive Parent can be one of the toughest roles to fulfil. The demands of caring for a child who has experienced trauma because of Adverse Childhood Experiences (ACE's) is a challenge at the best of times but parenting during a global pandemic with the restriction of lockdown, well that's a different story altogether, that takes us to a completely different book, on a completely different shelf in a completely different library, written in a completely different language that we might not even understand!
We can help you minimise the effects of stress by maximising your insight into Self-care.
Self-care is not selfish or self indulgent! We understand the demands on adults caring for children who have had Adverse Childhood Experiences and we know Self-care is a core element to avoiding burnout, compassion fatigue and maintaining resilience.
During these unprecedented times, you are having to manage your own fears and anxieties whilst continuing to fulfil your caring role. In addition to the emotional stressors, you are also being asked to juggle the never-ending everyday practical tasks that can seek to overwhelm you, all while experiencing the loss of the short period of respite and calm that an educational setting can offer.
Lockdown can lead to feeling 'locked-in' and this can be an overwhelming experience, it can increase levels of stress and anxiety and may have a debilitating effect on mental health and physical wellbeing. The intensity of it all can then become overwhelming. Keeping all those plates spinning seems impossible.
So can you keep those plates spinning….Is it even possible?
YES ! And we can offer you tools and strategies to help you stop them crashing to the ground.
Gie's Peace will show you how a Mindful Approach can help you maintain your equilibrium so you can keep those plates spinning. (no climbing to the top of a mountain needed nor do you need to put yourself in a meditative state for hours (unless you want to of course!) ).
In this workshop for Foster Carers, Kinship Carers and Adoptive Parents, we will show you how to use a common-sense Mindful Approach to manage emotions, improve mental health and offer tools to navigate the stressors and challenges you face in your daily family life. Our aim is to demonstrate to you how this can be achieved using practical and common sense approaches that can fit into your already busy lives.
The workshop is all about you, learning to care for you and having a better understanding of how to make you the best you can be.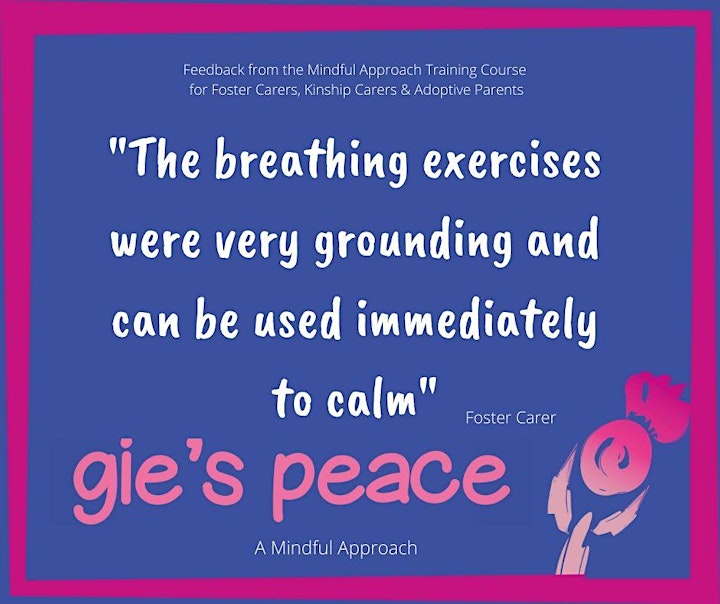 Date and time
Location
Refund policy
Contact the organiser to request a refund.
Eventbrite's fee is nonrefundable.
Organiser of Caring for Carers (Foster Carers, Kinship Carers and Adoptive Parents)
Gie's Peace Mindful Parenting is here to suppport you to learn mindfulness techniques and how to use these in your day to day parenting.  Our aim is to give you the tools you can draw upon to help you take control of the emotions and triggers that can fuel our angry / frustrated responses to our children. You will leave the course with the confidence to take control of your emotions and not be driven by them. Gie's Peace will provide you with the foundation to build an ongoing MIndfulness Practice going forward.