A group discussion on young people's mental health and how to apply research knowledge to understand and support young people.
About this event
While mental health problems can affect us at any stage in our lives, 75% of people who experience mental health problems report that their problems first emerged before the age of 25. One in three children and young people in every classroom have a diagnosable mental health problem such as depression, anxiety, eating disorders, and self-harm. The COVID-19 pandemic has raised referral to NHS services to an unmanageable level. This group discussion event will provide an opportunity for attendees to discuss this important topic with a speaker with both research and clinical expertise on young people's mental health.
Group discussion:
Grab a cuppa and engage with experts in a friendly, relaxed environment. There won't be any slides, notes or formality here - just the chance to ask questions and listen to some of Scotland's leading thinkers and practitioners on various subjects.
For group discussions on Zoom, the audience will be visible to others taking part in the event (unless you choose to turn off your camera). To encourage discussion and allow everyone an opportunity to ask questions, we have limited the number of spaces available.
To participate in a group discussion you MUST be aged 16+
Chair:
Diane Stewart, RSE Research Awards Programme Coordinator
Speaker:
Professor Stella Chan FRSE, Charlie Waller Chair in Evidence-Based Psychological Treatment, University of Reading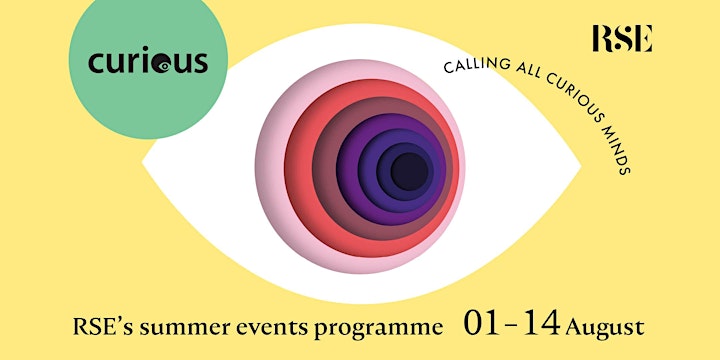 Calling all curious minds
The RSE invites you to Curious, its summer events programme running from 1 - 14 August. Take part in a series of free, online, and in-person talks, group discussions and outdoor activities on key contemporary topics and ground-breaking ideas with some of Scotland's leading thinkers.
Health and wellbeing; covering mental and physical health, while examining broader wellbeing matters.
Innovation and invention; from the inventions which created the modern world to the innovation that drives our path forward
Our planet; including climate change, biodiversity, conservation, and ecology.
Year of Stories; stories, whether spoken, written, sung, or filmed, give a sense of place, history or belonging. In recognition of Scotland's Year of Stories 2022.
You can view the full line-up at www.rse-curious.com
Important points to note
This event is suitable for age 16+
This event will cover potentially distressing material related to mental health
Accessibility statement: We aim to make events as accessible as possible. If you have any accessibility requirements or any questions about how we can support this event, please contact public_engagement@theRSE.org.uk