Carnal Flowers, Charnel Flowers: Perfume in the Decadent Imagination
Description
Join us on Thursday the 24th of May 2018 at 6.00pm as we explore Victorian literary culture through scent & perfume with Professor Catherine Maxwell (QMUL) author of Scent and Sensibility: Perfume in Victorian Literary Culture. The event will take place in the Event Space of the Davison Building, and be followed by a Q&A with Catherine and a wine reception.
This event was originally scheduled in the picture gallery on March 1st but had to be postponed - please note the change of venue.
Who is this event for
Everyone. The event is free but there are limited numbers.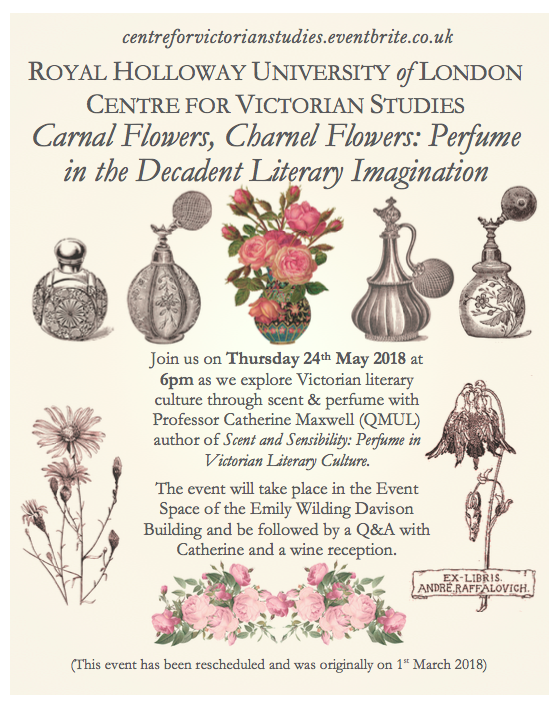 Where is the event?
The event will take place in the Event Space of the Davison Building
About the speaker
Catherine Maxwell, Professor of Victorian Literature, Queen Mary, University of London
Catherine Maxwell read English literature for her BA and D.Phil. at St Hugh's College, Oxford where she was subsequently a British Academy Postdoctoral Fellow from 1990-1993. She then joined the School of English and Drama at Queen Mary, University of London, becoming Professor of Victorian Literature in 2009. She is the author of The Female Sublime from Milton to Swinburne: Bearing Blindness (Manchester University Press, 2001), Swinburne (Northcote House, 2006), and Second Sight: The Visionary Imagination in Late Victorian Literature (Manchester University Press, 2008), as well as numerous articles on Victorian poetry and prose.
About Scent & Sensiblity
This lively, accessible book is the first to explore Victorian literature through scent and perfume, presenting an extensive range of well-known and unfamiliar texts in intriguing and imaginative new ways that make us re-think literature's relation with the senses. Concentrating on aesthetic and decadent authors, Scents and Sensibility introduces a rich selection of poems, essays, and fiction, exploring these texts with reference to both the little-known cultural history of perfume use and the appreciation of natural fragrance in Victorian Britain. It shows how scent and perfume are used to convey not merely moods and atmospheres but the nuances of the aesthete or decadent's carefully cultivated identity, personality, or sensibility.
A key theme is the emergence of the olfactif, the cultivated individual with a refined sense of smell, influentially represented by the poet and critic Algernon Charles Swinburne, who is emulated by a host of canonical and less well-known aesthetic and decadent successors such as Walter Pater, Edmund Gosse, John Addington Symonds, Lafcadio Hearn, Michael Field, Oscar Wilde, Arthur Symons, Mark André Raffalovich, Theodore Wratislaw, and A. Mary F. Robinson. This book explores how scent and perfume pervade the work of these authors in many different ways, signifying such diverse things as style, atmosphere, influence, sexuality, sensibility, spirituality, refinement, individuality, the expression of love and poetic creativity, and the aura of personality, dandyism, modernity, and memory. A coda explores the contrasting twentieth-century responses of Virginia Woolf and Compton Mackenzie to the scent of Victorian literature.