A unique opportunity to witness the creation of a collaborative poem between six diverse and multilingual writers live online!
About this event
International poet and artist Caroline Bergvall leads her ground-breaking online writing event Night & Refuge. This live event has been specially-commissioned by the Oslo International Poetry Festival.
27 Nov 2020
7-10pm Oslo CET / 6-9pm London GMT / 1 - 3pm NYC/Montreal EST / 10pm - 1am Abu Dhabi UAE
Caroline has invited five international poets and performance artists to write a poem following a strict brief while discussing important themes of migration, identities under pressure, ancient and new cultural memory as well as art as a refuge.
This event will explore what it means to seek refuge and how to renew and restore our life and art energy for new communal practices at this time of intense global crises. The backdrop to the work is the internet, where networks are created and experiences exchanged to develop a shared respite that blends borders, languages, identities and performance practices.
Night & Refuge aims to be restorative and engaged, committed to using the digital space as a conduit for fostering conviviality, translocal understanding and mixed language use through a unique live format of poetry and exchange.
Watch the process, engage and join in for FREE by reserving a space via eventbrite. Audiences can comment and take part on Twitter on the night using the hashtag #nightandrefuge.
The event closes with a reading of the poem by the six poets.
"Amazing how intimate it felt, and it was wonderful to connect with like-minded poets and thinkers from across the globe."
- Attendee on previous Night & Refuge event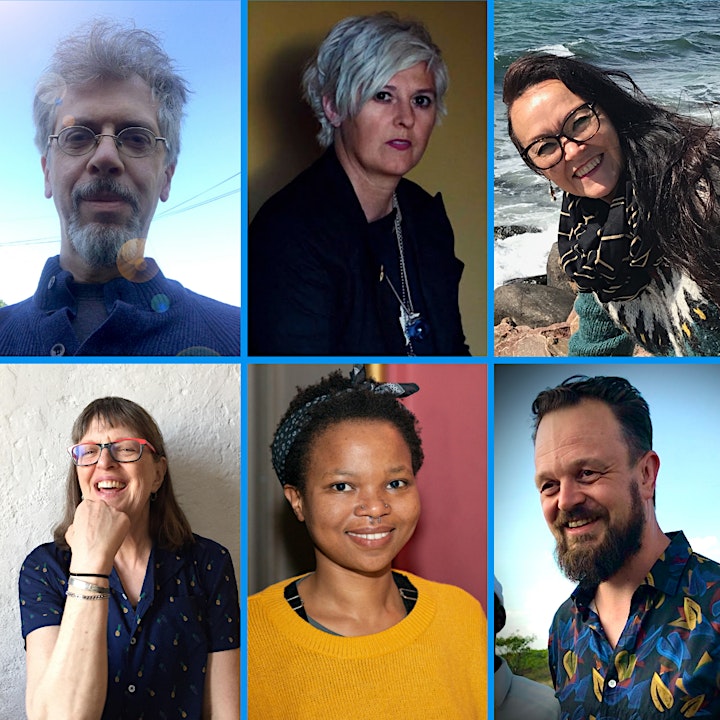 Gunnar Wærness is a Norwegian poet. He made his literary début in 1999 with the poetry collection Kongesplint, for which he was awarded the Tarjei Vesaas' debutantpris. Among his other poetry collections are Takk from 2002, and Hverandres from 2006.
Jessie is an Inuk from Greenland based in Copenhagen. Trained at the Tuukkaq School of Theatre, and printmaking at the former Grafisk Værksted, she is a performance poet and visual artist. Her next book is titled " Arkhticos doloros", the same name of her performance video work from the Blue Lake at Sermeq Kujalleq, the Icecap near Ilulissat (2019).
Erín is one of Canada's most eminent and respected poets and is also a translator of verse from Spanish, French, Galician Portuguese and Ukrainian to English. Erín has published a host of incredible work including 18 books of poetry, a volume of essays, a book of articles on translation, a biopoetics and two memoirs, to name but a few. Her latest book is The Elements (Anansi, 2019).
Edwin was born in New York City and is editor of the inter-genre anthology, The Body In Language: An Anthology (Counterpath Press). The author of ten poetry books, Edwin is a lingualisualist, rooted in the languages of sight and sound. He is also known for his performances and live shows which combine vocal and physical improvisation and theatre. See some of Edwin's recent work in November's Jacket2.org and BrooklynRail.org.
Mandla is a Queer Zimbabwean artist, poet, producer, programmer, facilitator and theatre-maker living in Manchester. Mandla's work explores power dynamics, heritage and mental health. They are currently developing their first solo show: 'as british as a watermelon' with support from ACE.
Caroline is the initiator and host-poet. An international writer, artist, and performer, Caroline works across art-forms, media and languages. She has recently announced a very special series of small-group, three-hour-long workshops to motivate and provide a new type of support to creative writing, which will become part of a new Writing Series.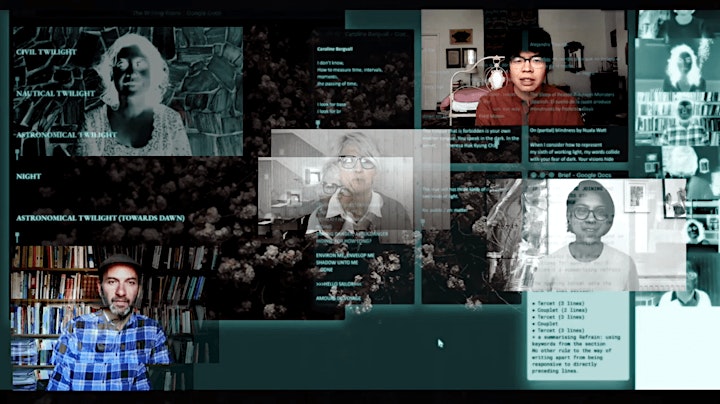 Commissioned by Oslo International Poetry Festival. Oslo poesifilm is funded by Arts Council Norway, City of Oslo, Viken filmsenter and is made in partnership with Deichman Library, Grünerløkka.
Night & Refuge is a project within Bergvall's cycle of interdisciplinary and multilingual performances Sonic Atlas (2016-2021). This cycle of works is dedicated to exploring languages in migration and in transformation through speech, sounds, songwork in a range of performative situations.
Sonic Atlas is funded by Arts Council England and supported by Cement Fields.