Description

CAROLINE FULTON:
A STUDIO SALE IN COLLABORATION WITH DRINK IN ART
PROCEEDS WILL BE DONATED TO LEITH SCHOOL OF ART

27th May at 7 pm and
28th May between 10am – 3pm (please select a date)
at the Artist's Studio
2/39 Sheriff Brae, Leith


Collect your invitation and secure your free ticket chosing your preferred day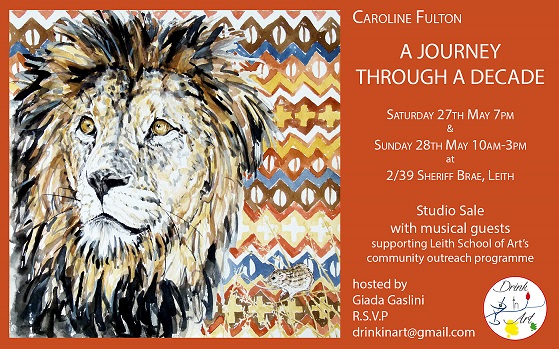 ABOUT THE ARTIST

Caroline graduated in 2004 with a BA(hons) in Fine Art from Newcastle University. The same year, her work was included in a Selected Graduates Exhibition from Scotland and the North East. In the following years, Caroline lived and worked in India and Morocco before returning to Edinburgh in 2013. Her drawings, watercolours and paintings of animals became influenced by specific colours and traditional patterns, which she used to celebrate and reference the cultural heritage that connected people and animals to the land. Caroline has often sought to collaborate with community arts projects, wildlife and children's charitable organisations. Inspired by the concept of PayItForward, the idea of passing an act of kindness on to someone who will pass it on in turn, Caroline is fundraising for Leith's community classes through this studio exhibition of her work.
Caroline was a finalist in the BBC Wildlife Artist of the Year 2009 competition. Her work is held in private collections internationally, including by H.R.H of Morocco and Dame Jane Goodall DBE.
ABOUT THE EXHIBITION
"Last September, after many years focusing on painting wildlife, I enrolled on a year long course at
Leith School of Art
with the intention of
developing
my art practise.
I was lucky enough to experience the wonderful teaching and positive environment at
L.S.A as a young teenager. Returning to the School has been a reminder of the importance and impact
of good mentorship. When I was approached by Giada to collaborate for this event, I saw it as an occasion to fund-raise and help
give others the same opportunity that I have enjoyed." Caroline.
ABOUT L.S.A
The School's ethos is to encourage and welcome all those who want to learn about art and design, irrespective of age, ability or personal circumstances. L.S.A is a Registered Charity, L.S.A receives no public funding and relies on the generosity of individuals and organisations to undertake their Charitable Aims. Those Aims are:
- to offer Assisted Places to those whose financial circumstances would prevent them from studying at L.S.A
- to run Community Classes for local people on a low income
- to work with Edinburgh Schools, particularly with disadvantaged young people.


ABOUT DRINK IN ART
Drink in Art is a project of travelling exhibitions to promote Artists in Edinburgh in private properties. Everyone can apply for hosting an event. How? You replace your frames with an artist's creations

and we can help you
organizing everything.
We would love to hear from you, please send an email to us if you are interested.

Thank you,
Giada Gaslini
drinkinart@gmail.com
If you cannot attend and would like to order paintings, Caroline can post them also internationally.