About this Event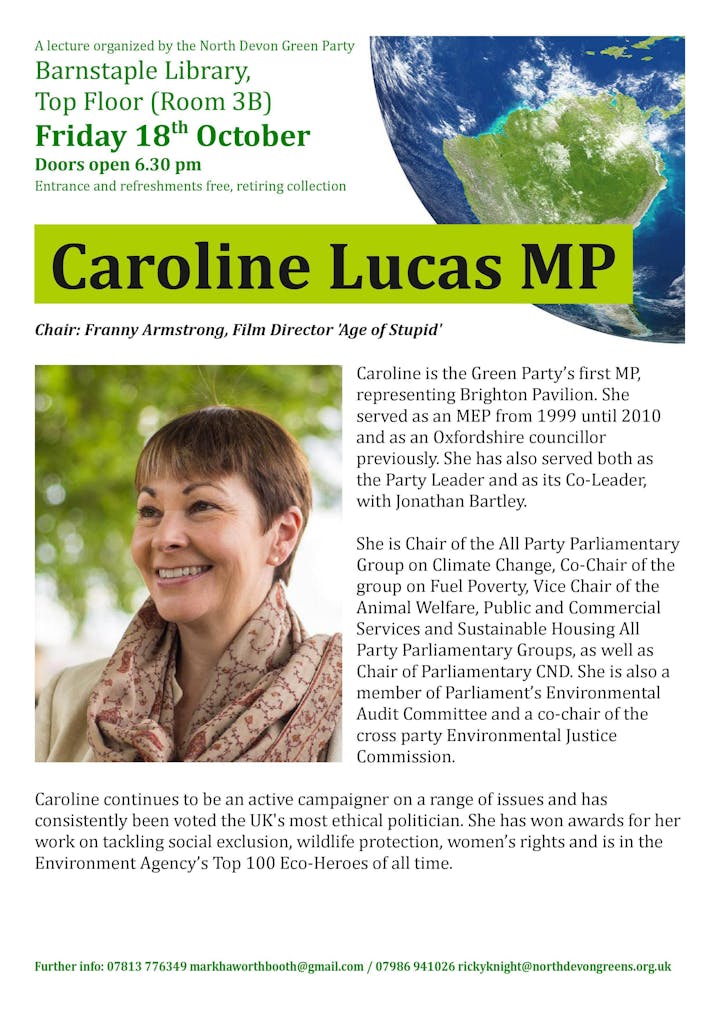 Barnstaple Library,
Top Floor (Room 3B)
Friday 18th October
Doors open 6.30 pm
Caroline Lucas MP
Chair: Franny Armstrong, Film Director 'Age of Stupid'
Caroline is the Green Party's first MP, representing Brighton Pavilion. She served as an MEP from 1999 until 2010 and as an Oxfordshire councillor previously. She has also served both as the Party Leader and as its Co-Leader, with Jonathan Bartley.
She is Chair of the All Party Parliamentary Group on Climate Change, Co-Chair of the group on Fuel Poverty, Vice Chair of the Animal Welfare, Public and Commercial Services and Sustainable Housing All Party Parliamentary Groups, as well as Chair of Parliamentary CND. She is also a member of Parliament's Environmental Audit Committee and a co-chair of the cross party Environmental Justice Commission.
Caroline continues to be an active campaigner on a range of issues and has consistently been voted the UK's most ethical politician. She has won awards for her work on tackling social exclusion, wildlife protection, women's rights and is in the Environment Agency's Top 100 Eco-Heroes of all time.