Bristol Cathedral Choir and the BBC's John Telfer bring you the unmissable festive Christmas concert of music and readings
About this event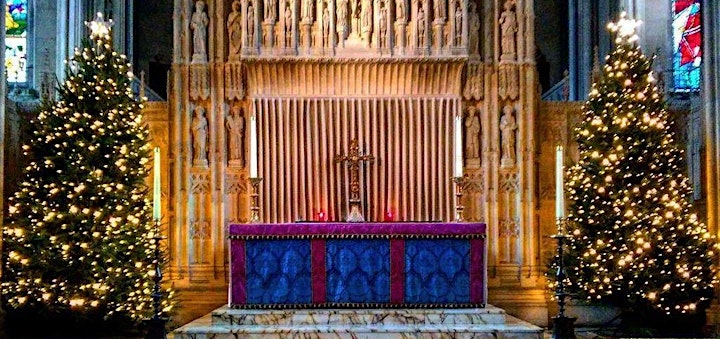 The Cathedral Choir processing round a candlelit Cathedral to set alight your Christmas cheer; festive readings from John Telfer (BBC's The Archers) that will warm your heart; classic Christmas carols to join in with and belt out this Christmas, just like the ones you used to know. It's Carols by Candlelight: the unmissable festive treat to put the cherry on your Christmas celebrations.
Christmas is back in Bristol. With bells on.
COVID INFO
Our first priority is that those that come to the Cathedral are kept as safe as possible and enjoy their visit. This information is provided n the light of the recent announcements by the UK Government about the Omicron variant. They have introduced new measured which include a mandate to wear masks in retail premises and on public transport. Whilst the Cathedral isn't either of those two settings we are offering the following guidance which we ask you to follow with regard to your visit to Bristol Cathedral.
• We would like all people visiting the Cathedral, whether for a service, an event or to look around our historic building to wear a mask for the entirety of their visit. This includes when you are singing as part of a service.
• For those coming to services or events we ask that you take a lateral flow test before you attend – as close to the service or event as possible. These can be ordered free of charge from the Government. https://www.gov.uk/order-coronavirus-rapid-lateral-flow-tests
• If you have any of the main Covid symptoms please don't attend. https://www.nhs.uk/conditions/coronavirus-covid-19/symptoms/main-symptoms/
• If you have any other symptoms that may be Covid please don't attend. Here is a link to the latest research by ZOE (supported by Kings College London) on most common symptoms. https://covid.joinzoe.com/post/what-are-the-symptoms-of-covid#part_2
We will be taking the following precautions to ensure that the events are as safe as they can be with regard to Covid.
• Clergy, staff and volunteers will be wearing masks unless they are speaking, reading, preaching etc as part of a service.
• The choir will be wearing masks unless they are singing.
• The choir will be taking lateral flow tests before services, and will not be taking part if they have any symptoms of Covid.
There is the possibility that government guidance will change as things develop. We will be keeping a close eye on it, and reviewing our plans as needed. We will be back in touch if anything changes.
Thank you for your support in helping us to keep everyone at the Cathedral safe. We hope that you enjoy a your visit to Bristol Cathedral.
Note: Wheelchair spaces are indicated on the venue map with the legend "WC". Book the adjacent seat which can either be taken as the wheelchair user's ticket, or for a carer (with the wheelchair user in the adjacent space, so only one seat need be booked).