Kick off the festive season with mothers2mothers' Carols by Candlelight
About this event
Our beloved festive event is back! On Thursday 9 December, mothers2mothers (m2m) will host the fourth edition of our annual Carols by Candlelight concert, in the beautiful setting of St Paul's Church, Knightsbridge.
Many of the countries where m2m operares have a shared philosophy called Ubuntu, meaning "I am, because we are". In the spirit of that philosophy—whatever your beliefs and traditions are—join us for a special evening of singing and readings, as we celebrate our shared connections and stand hand in hand with the communities we serve across sub-Saharan Africa this festive season!
This year—which marks our 20th anniversary—our line-up will be inspired by m2m's African roots, and celebrate all that we have achieved over the last two decades. Since m2m was founded in South Africa in 2001, an incredible 12 million women and children under the age of two have been reached with life-saving health services, and over 11,000 jobs have been created by m2m for women living with HIV.
Tickets are from £30, and children can attend for free. All profits from ticket sales will go directly to m2m's life-changing work in sub-Saharan Africa. By buying a ticket, you can join us in our mission to build healthy, and thriving communities across the 10 African countries we operate in!
Thank you so much for your support and we look forward to seeing you there!
The 2021 Line-up
m2m Ambassador Christian Brassington will lead the celebrity readings, featuring British-Nigerian poet Theresa Lola, British-Ghanaian TV presenter Claudia-Liza Vanderpuije, and writer and podcaster Remi Sadé. Guests will also be entertained by special performances by South-African Jazz vocalist Sandile Gontsana and St Paul's Church Choir.
Following the evening's performances, you are invited to join us for mulled wine and mince pies. We simply cannot think of a better way to get in the festive spirit!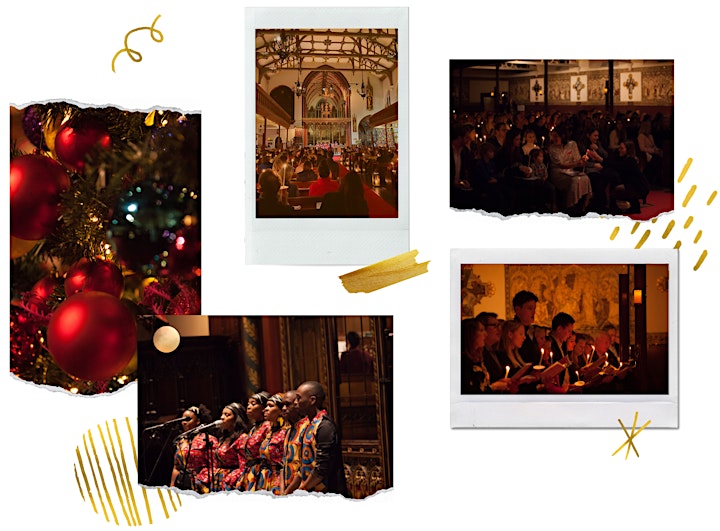 A Special Thanks to our 2021 Host Committee
Christian Brassington, Diane Chilangwa Farmer, Gemma Collins, Katinka Donagemma, Kerry Evans, Colleen Ebbitt, Ariberto Fassati, Damiana Foscari, Keith Kibirango, Caroline Lough, Derek & Janet Lubner, Carolina Manhusen Schwab, Annabelle McGregor, Maria Means Cote, Abena Mills, Atalanti Moquette, Maartje Skare, Victoria Wall.
m2m follows appropriate COVID-19 safety guidelines, and may request additional precautions or safeguards during the event.
Organiser of Carols by Candlelight 2021
mothers2mothers (m2m) is an African NGO that is building healthy, thriving families and communities, and an end to paediatric AIDS. m2m has been lifting up girls for almost 20 years. Since its creation in 2001, it has employed over 11,000 women living with HIV as frontline health workers, reaching more than 11 million women and children under two with life-changing health education and services across ten different African countries.
Today, m2m is training and employing a new generation of inspirational role models - Peer Mentors, aged 20 to 24, who use their experiences living with HIV and understanding of their communities to create a support network for their peers. By providing youth-friendly health services and education on sexual and reproductive health and HIV, they make sure that girls and young women access vital health services and education.
All proceeds from ticket sale will go to mothers2mothers.
mothers2mothers is registered in the United Kingdom as mothers2mothers (UK) Limited, a charity registered with the UK Charity Commission (Number: 1119721).