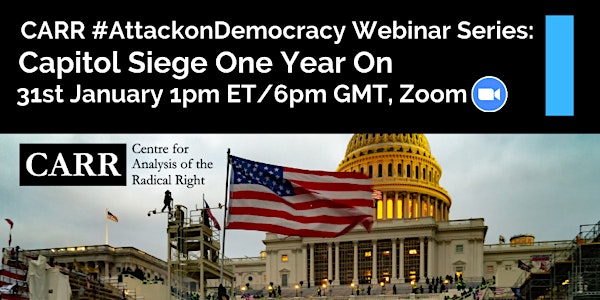 CARR #AttackonDemocracy Webinar Series: Capitol Siege One Year On
Was Jan. 6 a terrorist attack on the US Capitol? Is something similar going to happen again? Join us for an expert webinar debating these.
About this event
As we enter 2022, the Centre for the Analysis of the Radical Right will be kicking off a series of public webinars aimed at shining a light on global events and trends that intersect with the radical right and which in our eyes pose a threat to democracy, entitled '#AttackonDemocracy'. At CARR, we will continue to highlight the severity of the threat that radical-right extremism presents to democracy, past, present and future.
The first of these events will take place as a virtual panel discussion on 31st January at 1ET/6pm GMT, where CARR Fellows Mark Potok, Kesa White and other guests will be presenting about their research and reflections on Capitol Siege one year on. Chaired by Culturico's Politics & Government Editor, Dr Uday Chandra, please join us for a timely and stimulating discussion. The event is kindly co-sponsored by Gale, a global provider of learning and research resources.